Marjaree Mason Center's 38th Top Ten Professional Women and Business Awards
38th Annual Top Ten Professional Women and Leading Business Awards Thursday, October 14th, 11:15am- 1pm at Chukchansi Park
About this event
Presenting Sponsor CalViva Health is honored to partner with Marjaree Mason Center to host the 38th Annual Top Ten Professional Women and Leading Business Awards, a prestigious awards ceremony honoring local professionals, will recognize outstanding individuals in our community while also raising awareness about domestic violence in Fresno County and beyond. This event pays tribute to ten women who have served as role models and given back to their communities, all while making strides in their professions. One business is also honored as the Leading Business of the Year for its support of women and women's issues.
We're excited to announce this year's speaker, sponsored by Valley Children's Healthcare, will be April Hernandez-Castillo.
April Hernandez Castillo's dream became a reality when she booked her first commercial as the "Yo girl" in the Visa Check Card spot starring Yao Ming and Yogi Berra. The commercial would air for the Super Bowl and become a sports classic. She then went on to star in television shows such as; Law & Order: SVU, The Following, Person of Interest, and Elementary. April garnered a recurring role on Showtime's Dexter which she was nominated for a SAG nomination for Best Ensemble cast. April is most noted for her powerful portrayal as "Eva Benitez" in the hit movie Freedom Writers starring Oscar- winner Hilary Swank. She recently worked on NBC's popular show, New Amsterdam and is now filming FOX's hit show, The Prodigal Son.
April has also graced a different stage as a public speaker. Her message of resilience, overcoming adversity, and the ability to move beyond trauma has taken April on a journey across the United States and internationally. Reaching an array of audiences from high schools, universities and conferences, she has spoken on some of the most prestigious stages starting from Harvard University, Q Conference to her biggest stage to date, TEDx.
This year's honorees are (listed in alphabetical order by last name):
Rama Ambati, President, Ambati Properties
Colleen Curtis, President and CEO , United Health Centers of the San Joaquin Valley
Dr. Teresa Daniele, Chief of Cardiology, UCSF - Fresno
Shantay R. Davies-Balch, President & CEO, BLACK Wellness & Prosperity Center and Founding Director, African American Coalition, Fresno Economic Opportunities Commission
Valerie F. Davis, President, Fresno Unified School District Board of Trustees
Ivonne Der Torosian, Vice President, Community Health & Well-being, Saint Agnes Medical Center
Dr. Luz E. Gonzalez, Dean of the Fresno State Visalia Campus, California State University, Fresno
Sara Mirhadi, Chief Program Officer, Poverello House
Sally Orme Moreno, District Attorney, Madera County
Lorna Roush, Secretary/Treasurer, Schultz Ranch, Inc.
2021 Leading Business:
Central California Food Bank, Co-CEO's, Kym Dildine and Natalie Caples
For even more info, visit us at https://mmcenter.org/top-ten
You can also follow us on Facebook, Instagram, and Twitter!
La 38ª edición anual de los Premios a las Diez mejores mujeres profesionales y a la Empresa líder, es una prestigiosa ceremonia de premios que honra a los profesionales locales, reconociendo a las personas más destacadas de nuestra comunidad y a la vez creando conciencia sobre la violencia doméstica en el condado de Fresno y más allá. Este evento rinde homenaje a diez mujeres que han servido como modelos a seguir y que han retribuido a sus comunidades, todo ello mientras logran avances en sus profesiones. Una empresa también es honrada como la Empresa líder del año por su apoyo a las mujeres y a los problemas de la mujer.
Para más información, visítenos en https://mmcenter.org/top-ten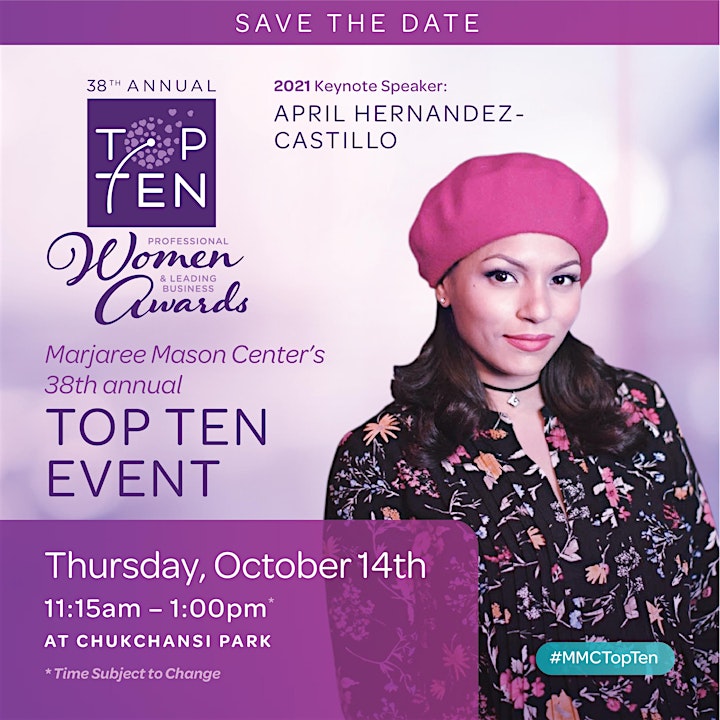 Organizer of Marjaree Mason Center's 38th Top Ten Professional Women and Business Awards