Description
Please join us for an unforgettable evening of Art, Entertainment, and Inspiration as we bring together Atlanta's business, philanthropic, and creative communities to support transformative educational efforts in the Agalta Valley of Honduras.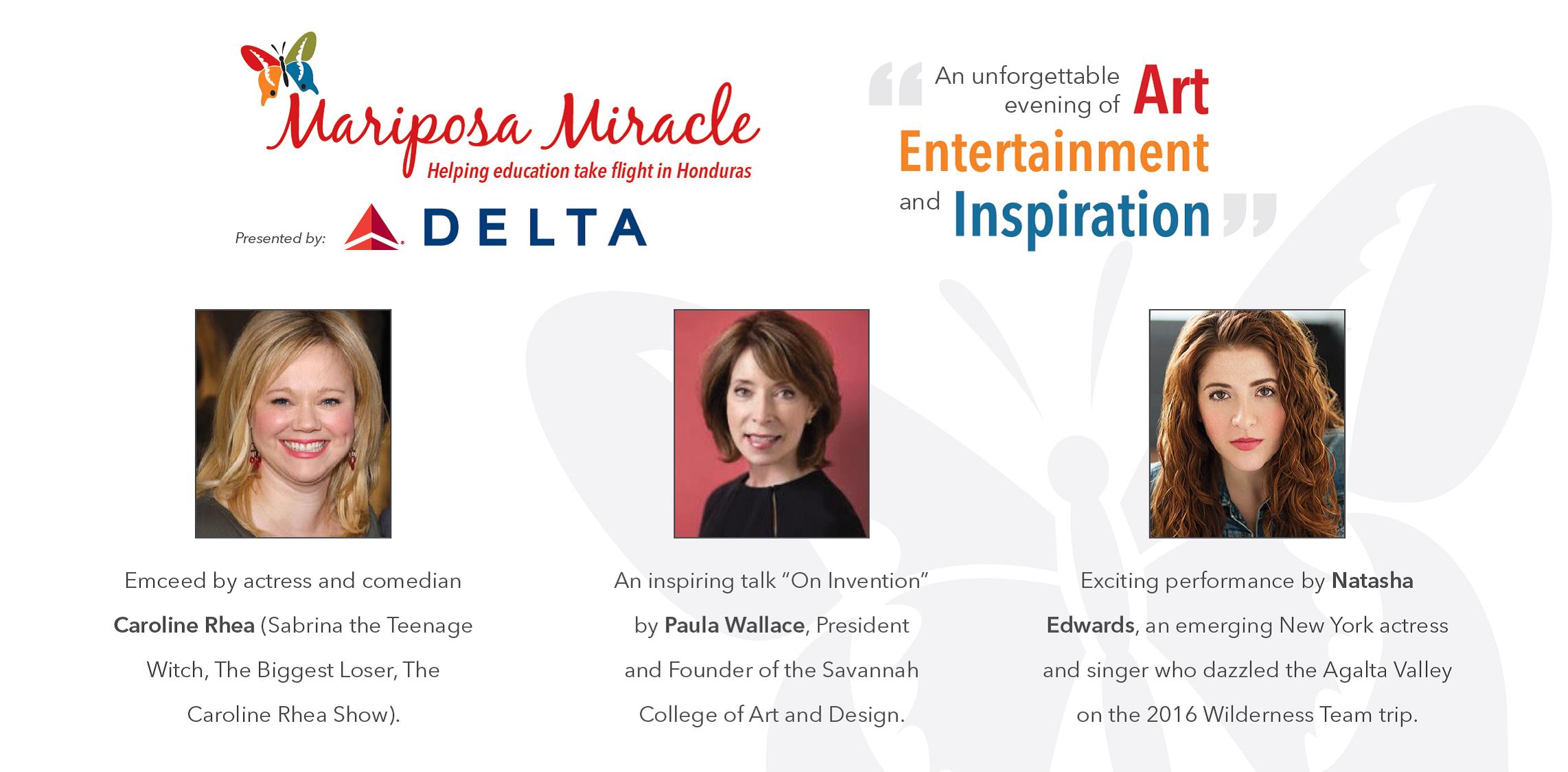 The evening begins with a silent auction and dinner reception with beer, wine, and authentic Latin cuisine by Pollo Compero.
The program will be emceed by actress and comedian Caroline Rhea (Sabrina the Teenage Witch, The Biggest Loser, The Caroline Rhea Show) and will feature an inspiring talk "On Invention" by Paula Wallace, President and Founder of the Savannah College of Art and Design, and an exciting performance by Natasha Edwards, an emerging New York actress and singer who dazzled the Agalta Valley on the 2016 Wilderness Team trip.
The event concludes with an after-party. Stay for more drinks, music, and some fabulous raffle items.
$100 Patron Ticket includes VIP Reception with Caroline Rhea, Paula Wallace, and Natasha Edwards as well as some of Atlanta's top business and philanthropic leaders
$50 General Admission Ticket
Unable to attend? Please consider a donation of any amount via the GetTickets link.
For sponsorship opportunities please email Clark Dean at clark.dean@transwestern.com
Proceeds support The Honduras Agalta Valley Education (HAVE) Foundation, which was formed 10 years ago as a 501(c)(3) to help fund educational efforts to serve children and families in the Agalta Valley of Honduras in partnership with Honduras Outreach, Inc. (HOI). Since then, HAVE has contributed nearly $1million to area schools and leveraged its relationships with organizations like Rotary International and MAP to bring a host of new resources to the area:
A full-time English faculty position
A Computer lab with internet connection
Sewing machines for a sewing program
Science Laboratory equipment
Hundreds of textbooks for the library
A new roof for the elementary school
Building expansions at the elementary and middle schools
Landscaping for the campus
An abundance of medical supplies
Construction and distribution of localized water filter systems
A beautiful soccer field named after legendary Georgia Football Coach Vince Dooley
and two full high school scholarships that are given each year to a graduating 9th grade girl and boy
Sponsorships, tickets, and donations from this Annual Mariposa Miracle event provide the majority of HAVE's annual operating funds and help the people of the Agalta Valley rise out of poverty.
For more information, visit www.havefoundation.org or our facebook page www.facebook.com/HAVEfoundation