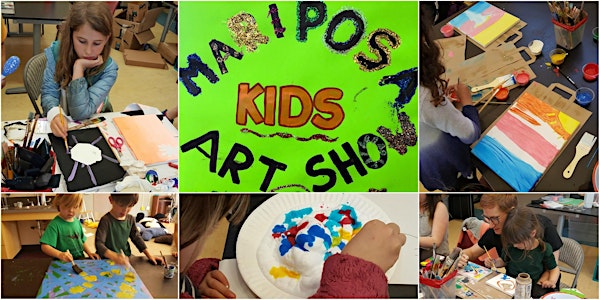 Mariposa Kids Art Show 2018
Date and time
Saturday, May 12, 2018 · 6 - 11pm PDT
Location
Grael Gallery 1458 San Bruno Avenue San Francisco, CA 94110
Description
Join us to celebrate the tremendous talent of our Mariposa Kids and local artist during our 6th annual Art Show Fundraiser (2012-2018). This years gallery will feature paintings, sculptures, and recycled art. Suggested door donation $10. Student and local artwork will be available for purchase as well as raffle tickets to win a variety of great prizes!
Our fundraising goal for this year is $5,000. Come enjoy a fun night out for the whole family and support the creativity that makes San Francisco such a beautiful place to call home!

Mariposa Family Community Hour: 6:00 - 7:00 pm
Mariposa Happy Hour: 7:00 - 11:00 pm
At 7:00 pm we will assemble a walking train with all of the students from the gallery to the Mariposa Clubhouse where they will share a meal catered by Jeremy Moran followed by activities and a movie!
Childcare available from 7:00 - 11:30 pm. Please register for childcare on our website.

Please RSVP by Monday, April 30
Contact Scott (scott@sfmariposakids.com) with any questions.
About the organizer
An explorer. An artist. A dreamer. A dancer. A reader. A skater. A community member. At Mariposa Kids, we look at the world from every angle, then try to climb on it, jump on it and dance around it.