Catch Marion Meadows featuring Natural Change In Concert, 8 PM CST, on May 14 , 2021 @ The Warehouse in Fort Worth, hosted by Sam Putney.
About this Event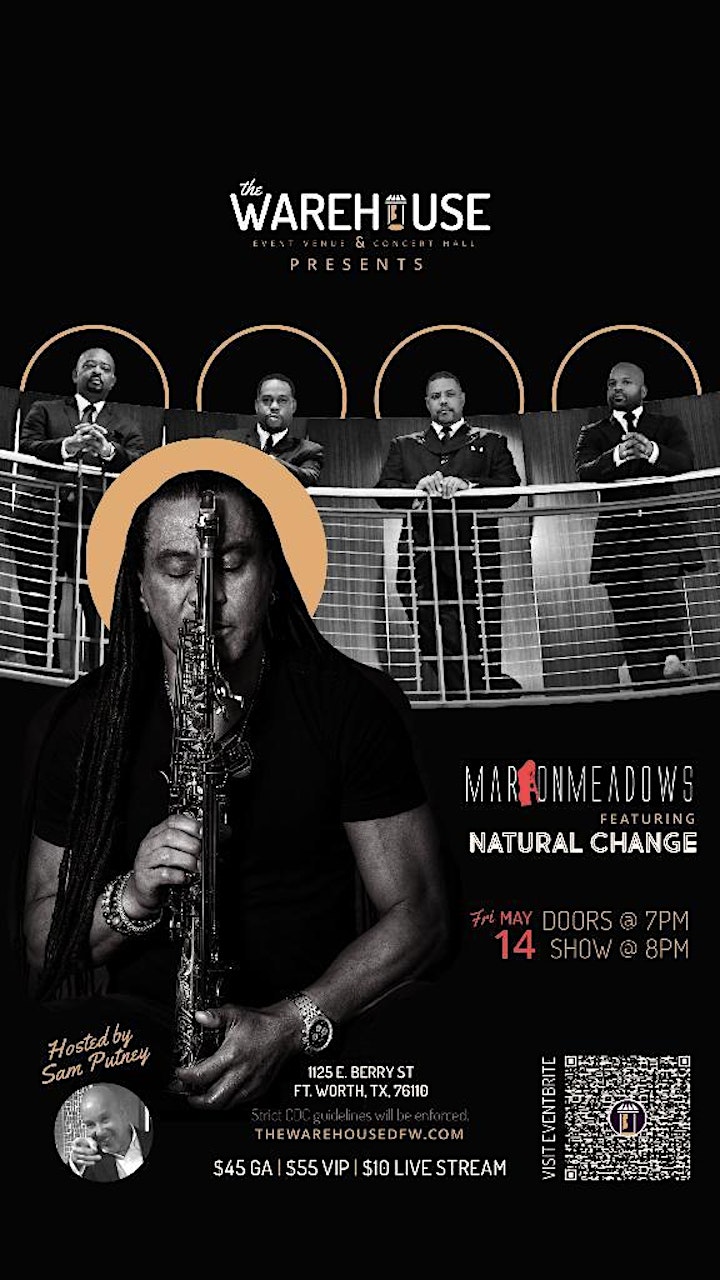 In Concert: Marion Meadows featuring Natural Change on Friday, May 14, 2021, 8 PM CST, at The Warehouse, 1125 E. Berry Street, Fort Worth, TX 76110. (817) 923-9305 . Hosted by Sam Putney.
Limited seating available. Live stream available.
Doors Open: 7:00 PM CST
Concert: 8:00 PM CST
Tickets:
GA: $45 Advance | $50 Door
VIP: $55 Advance | $60 Door
Live Stream Link: $10.00
Self-Parking: $5.00
Vendor Booth: $100.00
Hotel Special Rate:
Radisson Hotel Fort Worth North-Fossil Creek. 2540 Meacham Blvd., Fort Worth, TX 76106. (817) 769-4023. Special Rate: $55.00++. Code: Jim Austin Online
Food and Beverages for Purchase from WhoDaq? Daiquiris
Table Seating Available
Reservations for Groups Accepted
Special Celebration Reservations (Birthdays, Anniversaries, etc.) Accepted
Event Location Website:
Vendor Opportunities Available
Call (817) 923-9305
Sponsorship Opportunities Available
Call (817) 9293-9305
Inquiries:
Jim Austin Online Team | (817) 923-9305
Email: Receptionist@JimAustinOnline.com
WANT MORE LIVE MUSIC??? WANT TO ADVERTISE YOUR BUSINESS TO A NEW AUDIENCE?
Be sure to join us for upcoming Live Music Events at the Warehouse!!
Visit JimAustinOnline.com to purchase tickets and sign-up to receive the E-Newsletter, Livestream Concert info and exciting updates!
VENDOR & EVENT SPONSOR OPPORTUNITIES
Sponsorship & Vendor Opportunities are available for all scheduled concerts and events at the Warehouse.
Call the Jim Austin Online Business Office (817) 923-9305 or email Receptionist@jimaustinonline.com for details.
PUBLIC POLICY NOTICE
Out of an abundance of care for our guest and artist, and in compliance with current regulations, social distancing seating, temperature scan at entrance; and mask are requested to be worn when away from your socially distanced seating area.
(Complimentary mask will be available if you do not have one).
Thank you for your compliance as we care for the well being of one another.
MARION MEADOWS
Meadows was born in West Virginia and grew up in Stamford, Connecticut. He began playing the clarinet and studying classical music at the age of nine. He started playing tenor sax in high school, and then migrated to soprano sax. His passion for various types of music led him down an eclectic musical path. He was intrigued by the styles of jazz musicians, like Stanley Turrentine, Sidney Bichet, Johnny Hodges, John Coltrane, Sonny Stitt, Rahsaan Roland Kirk, Dexter Gordon, Cannonball Adderley, Coleman Hawkins, Sonny Fortune, Joe Henderson, Grover Washington and many others. After studying jazz at Rippowam High School in Stamford, CT with Anthony Truglia, Meadows attended Berklee College of Music. There he majored in arranging and composition. He later went to the SUNY Purchase School for the Arts. During his college years he played in a number of bands including disco, R&B and various jazz ensembles. I got a lot of sideman jobs in college, and I have always said I got my real graduate degree playing clubs, says Meadows, who perfected his craft studying with Sonny Fortune, Joe Henderson, Dave Liebman and Eddie Daniels. "Not long after I finished school, (drummer) Norman Connors recorded one of my songs, "Invitation" and then asked me to join his band. I later produced his Passion album with my colleague Jacques Burvick (Aquarium Dream) . Things just fell into place. Meadows first hit the airwaves in 1991 with "For Lovers Only", but his career really began one day in the late '80s at New York's Grand Central Station. He had been a sideman with Connors for three years, with only vague notions of eventually going solo. One day, while waiting for a train, he pulled out his horn and began playing under the huge dome. His sweet sound caught the attention of fellow traveler, producer and TV composer Jay Chattaway, who happened to be passing by on his way to the train. Chattaway was so impressed with Meadows' sound that he hooked Meadows up with legendary keyboardist Bob James. Meadows and James collaborated on a recording which unfortunately went unreleased. The experience put him on the road to his eventual success. Meadows hooked up with numerous artists and musicians and became a well known sideman in his own right, recording or performing over the years with Brook Benton, Eartha Kitt, Phyllis Hyman, Jean Carne, The Temptations, Michael Bolton, Angela Bofill, Will Downing , Bob Baldwin, Chuck Loeb, John Lee, among many others. In the late '80s, Meadows stretched his boundaries by becoming a member of a New York avant-garde band called the Aboriginal Music Society. In 1990 Meadows submitted a solo project to Steve Backer at Novus/RCA and was signed to a recording contract, thus marking the beginning of his solo career. Meadows' first RCA release "For Lover's Only" was a huge success and was followed by his ground breaking "Keep it Right There" album. He became a staple of the contemporary jazz format with his subsequent recordings, which include Body Rhythm (1994) and Forbidden Fruit (1996), Passion (1997), Another Side Of Midnight (1999), Next To You (2000), In Deep (2002), Players Club (2004), Dressed To Chill (2006), Secrets (2009) Whisper (2013) and most recently Soul Traveler, the first installment of his Soul Trilogy which now showcases his current release, Soul City" on the New York based Shanachie Label. Meadows is a semi-pro cyclist, graphic artist and designer. Marion received a doctorate from Wilberforce University in 2016. His artwork can be viewed at: www.marionmeadowsatmospheres.com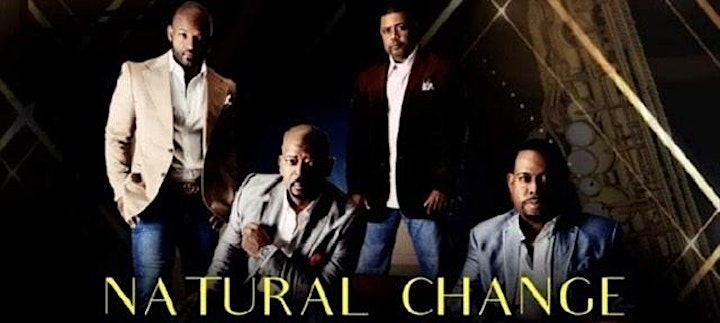 NATURAL CHANGE
Welcome to our world. The band you have come to know as "Change of Pace" is now known as Natural Change. A name befitting a group that has gone through the "natural change" of growth and development, that has defined our signature sound, as well as each of us growing in our musical talents and skills. Originally formed 15 years ago, as Change of Pace, the group started with five members and later came down to the present four. Over the years our friendship has grown to be like blood brothers as well as our musical bonds, which defines the very fiber and cohesiveness of the band. We would like to take time and give thanks first and foremost to God, from whom all blessings flow. He saw fit to bless each of us with a unique musical talent and place us together to make a wonderful sound, that is enjoyed by all that hear us. Secondly to our families, who have supported us from the beginning, Now, and until the end. Lastly, to all our faithful fans, we thank you so much for supporting us and following us from place to place, unwavering in your loyalty to us, we are truly indebted to you. Soon, we plan to at least have the first single from our album ready to go. We know you have been anxiously awaiting an album from us, we are just as anxious to get it out there. Continue to pray for us, and we hope you enjoy the website. Please keep checking back with us, as we will be updating and growing the site more and more. Until we meet again, peace be unto you and God Bless.