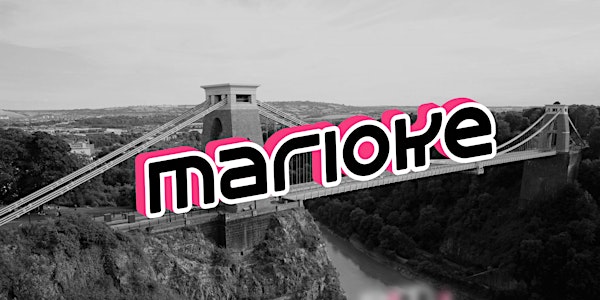 Date and time
Thursday, August 8, 2019 · 6:30 - 11pm BST
Location
The Bristol Improv Theatre 50 Saint Paul's Road Bristol BS8 1LP United Kingdom
Description
For the first time ever, the international smash hit video game Karaoke night comes to Bristol. What the heck else do you need to know?
Doors open at half six, sign ups start at seven, singing begins at half seven, SHARP. There is a bar (cash and cards) so over 18s only.

If you haven't already started hammering the Tickets button, then here's the details straight from the Marioke team:
What is Marioke?
Marioke is karaoke with a stupid, amazing twist: all of the songs have been rewritten to be about videogames...
What?
Seriously. We've taken 400 of the best songs ever and changed their lyrics so they're about games. The next step is simple: we sing them with you at Marioke nights across the world.
What can I expect at a Marioke show?
Every Marioke event is an inclusive riot of brilliant songs, stupid jokes and amazing moments. We operate a strict Safe Space policy and you get to be involved in the on-stage chaos much or as little as you like. There's no forced fun — sign up or sing from the back, be a superstar or cheer on the singers as part of the crowd. We run Marioke like it's the best concert of your life.
What if I can't sing?
We don't care. If you choose to take the stage you won't be judged on pitch, only commitment, and the hosts and the audience are there to back you up. You have the mic, but everyone sings together. There's only one rule at Marioke and it's this: no-one dies alone. Sounds good?

You can find more details and the full songlist here: https://www.singmarioke.com/

About the organizer
(James Parker helps runs the Bristol Games Hub, he has been attending Marioke events the world over for the last five years. There's a slim chance that this event at least partially celebrates a milestone birthday for him)