Description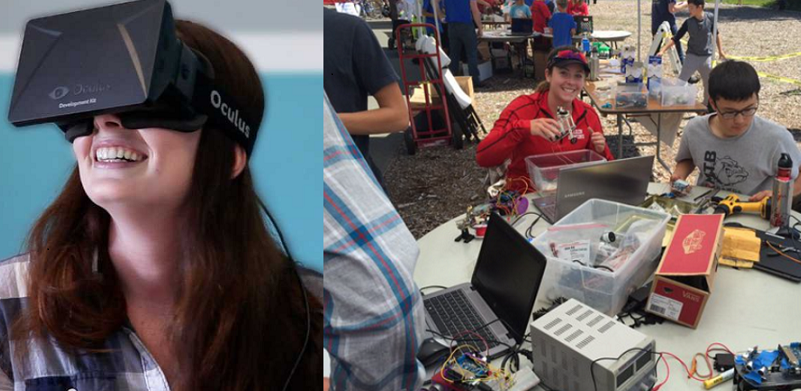 At the intersection of Science Art and Technology. The 4th annual MARINOVATORS highlights the work of our Marin County student scientists, artists, engineers, designers, and entrepreneurs. Join us on April 22, 2017 at the College of Marin to get a glimpse of the future and meet the students and teachers from some of Marin County's most innovative school programs. CELEBRATE EARTH DAY April 22 at MARINOVATORS!
Projects themes for 2017 include Alternative Energy, Smart Cities, Environmental Science, Mobile Apps, Robotics, Drones, Virtual Reality, Immersive Learning, Coding for Good, Media and Music MAKERS, The INTERNET of Things, VR Art, Digital Health, Hack Your Biology, and Digital Fashion.
Download Event Map and Schedule Here
Who is going to be there?
Davidson Middle School Makers

White Hill Inventors Lab and Engineering Design

Del Mar Middle School Design Lab and Robotics

COM Academy - Sir Francis Drake High School Digital Arts

Hack4Health student hackathon winners

San Rafael High School Physics Academy

Community Media Center of Marin

Music and dance performances by the Marin School of the Arts. High Tech dance created by dancers and product design students.

Live music by Marin School of the Arts rock band Funkschway.

Virtual Reality Theater - Immersive experiences from Google Expeditions, HTC Vive, Oculus, Microsoft Hololens, Lifeliqe, Dynamoids, Steel Wool, zSpace and others.

Autodesk Virtual Reality Museum - Autodesk Emerging Technologies

Minecraft Education by Microsoft

Buck Institute for Education

College of Marin Earth & Life Sciences

Mark Day School Open Lab Maker Space

MVcode - Student Project Showcase

Tamiscal High School TEAM program

Marinovation Learning Center Media Center and Maker Space- Novato USD

College of Marin Fine Arts and Architecture

Branson - The Amazing Bot Maze and Autonomous Robots

The Marin School - Fab Lab Project Showcase

Marin County Free Library and San Rafael Public Library

Buck Institute for Aging

San Marin High School Biotech Program

Girls Who Code

North Bay Science Discovery Day

KidSAT - Student project to launch CubeSAT mini satellite

Reaching Out With Robotics - Tamalpais High School Student STEM Robotics Mentors for Martin Luther King and Mill Valley Middle Schools.

Family Code Night - MVgate

Cascade Canyon School - Automation and Creativity Projects

TAM Makers -

Lycée Français Maker Artists - Timemachine

Marin Clean Energy

TinkerTech

Girls Make Apps

Play-Well TEKnologies

College of Marin electric vehicle program

San Marin Robotics Club

ELIX - Incubator for high school social entrepreneurs

Coding Corps Marin powered by #YesWeCode