Marine/Estuarine Conservation Target Identification Workshop - St. Petersbu...
Description
The Peninsular Florida Landscape Conservation Cooperative (PFLCC) invites you to participate in our Marine/Estuarine Priority Resource & Conservation Target Identification Workshop. The PFLCC partnership is working to develop a set of Conservation Targets for each Priority Resource (listed in the workshop schedule below).
The workshop will provide partners an opportunity to help shape the future conservation landscape. This registration is for the workshop in St. Petersburg at the FWRI building.
The goals of the workshop are to:
Gather input on potential Conservation Targets for each priority resource

Conduct initial review of potential Conservation Targets using PFLCC criteria
Workshop Schedule
During this workshop the marine and estuarine priority resources sessions will focus on identifying conservation targets.
Conservation Target discussions/brainstorming will be addressed for each Priority Resource — each in a half-day session. Participants are welcome to attend any/all of the sessions they prefer. The schedule for the Priority Resource sessions in St. Petersburg is below:
4/24/17 Tuesday 1:00–5:00pm Salt Marsh
4/25/17 Wednesday 8:00am–12:00pm Mangrove
4/25/17 Wednesday 1:00–5:00pm Seagrass
4/26/17 Thursday 8:00am–12:00pm Corals
4/26/17 Thursday 1:00–5:00pm Overall Marine/Estuarine Discussion
If you cannot attend, please consider sending someone else from your organization. If you know of someone that should be involved, feel free to forward this event invitation.
For additional information on the PFLCC Priority Resource and Conservation Targets: http://peninsularfloridalcc.org/page/conservation-targets
---
Parking Information:
Hotels that provide shuttles (please double check when booking!):
Hilton is in walking distance (8-10 minutes)
Staybridge Suites
Hollander Hotel
Hotel Indigo
Hampton Inn and Suites
FWC VEHICLES: (must have FWC tag) park in the Mahaffey Theater Garage parking lot on the 2nd level only. This is about an 8-10 minute walk from the Institute. Please see map below.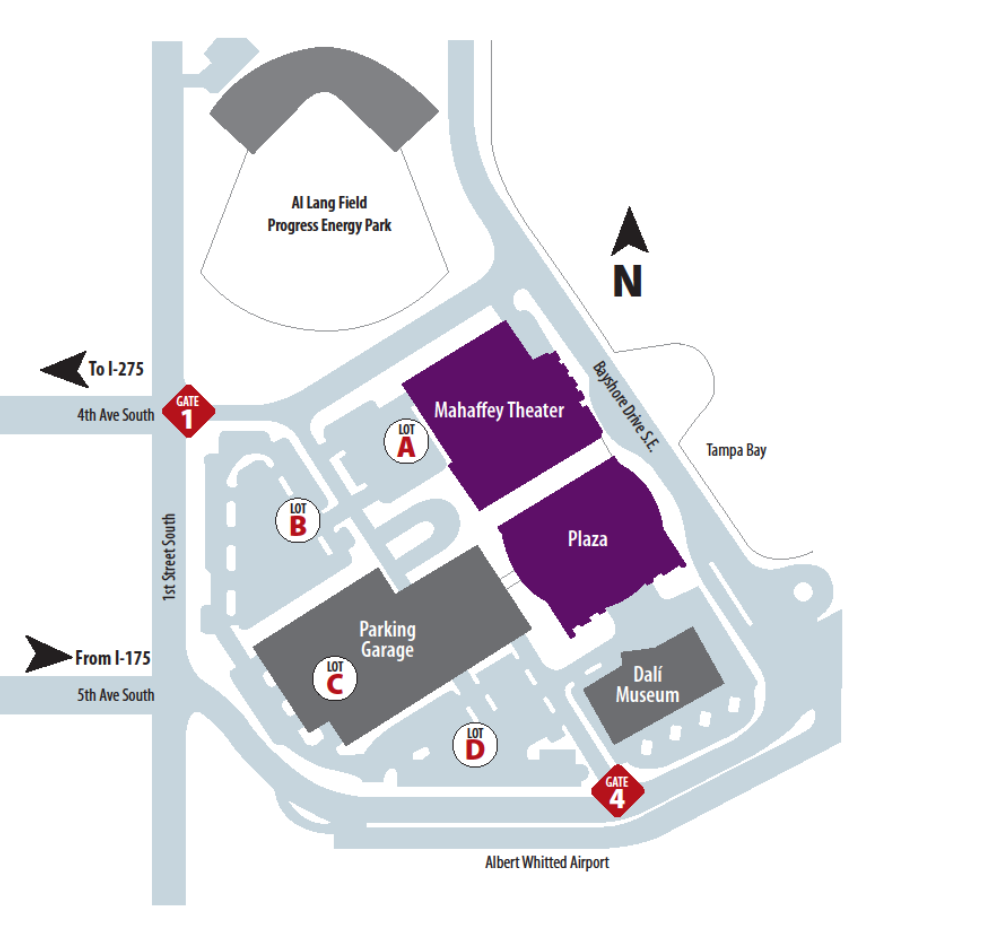 ALL OTHER VEHICLES: USF St Pete Visitor Parking in the Parking Garage;

a one day pass is $5 and can be purchased online or from the parking permit machine (cash, Visa, Mastercard) located in the elevator lobby of the USFSP parking garage. Visitors can park on levels 2-5.
---
PFLCC Priority Resource/Conservation Target Background Information
The Priority Resources and Conservation Targets (terms defined below) are the PFLCC's shared measures of conservation success. For the PFLCC, the purpose of Conservation Targets is for use in biological planning and conservation design, and to serve as a performance management tool that allows for collective landscape-scale conservation. They provide a focus for collaborative monitoring of environmental trends related to the quality and quantity of ecological and cultural resources, and coordination to identify knowledge gaps and increase our understanding of ecological and cultural resources. Conservation Targets provide accountability and transparency to partners, constituents and funders about conservation objectives and the necessary resources and time frames to achieve them.
Priority Resources

are the set of biological, ecological and cultural features and ecological processes collaboratively identified as most important, and are the focus of the PFLCC's planning. Priority Resources should be identified collaboratively, represent the most significant resources for the focus geography, embody the key components, and reflect the mission, vision, common interests and values of the focus geography partners.

A series of web-workshops were held in March 2016 to reach consensus on the PFLCC's Priority Resources — see the list in the Workshop Schedule above.

Conservation Targets are the measurable expressions of desired resource conditions that will help inform us easily and quickly about the overall condition of Florida's diverse and complex resources. More specifically, Conservation Targets are the quantifiable biological, chemical, physical or cultural attributes of a landscape that are important or valued to stakeholders identified during the biological planning process. Conservation Targets consist of three elements: the measurable attribute, the metric and the target. The measurable attribute is a quantifiable characteristic that informs us about landscape conditions, the metric denotes the unit of measure used to quantify the measurable attribute, and the target represents the numerical endpoint of the measurable attribute used to direct biological planning, conservation design, and conservation actions to track conservation progress.