Description
---

---


---
The Marine Corps' birthday is a day of pride and respect, and its celebration is one of the most revered traditions in the Marine Corps. Each year, on November 10th, Marines around the world celebrate what they see as their "second" birthday, the day the United States Marine Corps was born.
The tradition runs deep. For years, Marines who have served and are currently serving have been telling each other "Happy Birthday" on November 10th and attending Marine Corps Birthday Balls in cities across the globe. On November 4th, 2017, we cordially invite you to come and celebrate the 242nd Marine Corps Birthday with the Marines of Recruiting Station Tampa.
"We are all members of the same great family … On social occasions the formality of strictly military occasions should be relaxed, and a spirit of friendliness and goodwill should prevail."
MajGen John A. Lejeune
13th Commandant of the Marine Corps (1920–1929)
---
---
Schedule of Events:
6:00 PM - 7:00 PM Cocktail Hour
7:00 PM - 8:00 PM Ceremony
8:00 PM - 9:00 PM Dinner
9:00 PM - 11:00 PM Celebration
---
---
Menu:
Grill House Salad with Apple Cider Vinaigrette (Cucumbers, Tomatoes, Red Onion, Bacon)
Entrees (choice of one):
Lemon Oregano Chicken with Red Pepper Beurre Blanc, Smashed Fingerling, and Green Beans
or
Grilled Sirloin with Signature Steak Oil, Smashed Fingerling, and Green Beans
or
Seared Atlantic Salmon with Beurre Sauce, Brown Rice, and Green Beans
---
---
Hotel Information:
The hotel has made rooms available to us for a rate of $149/night. Book before 5:00 PM on Thursday, October 19th to take advantage of this rate! Complimentary self-parking for all attendees.
http://www.marriott.com/meeting-event-hotels/group-corporate-travel/groupCorp.mi?resLinkData=US%20Marines%20Corp%20Ball%20%5ETPAMS%60USMUSMA%60149.00%60USD%60false%606%6010/31/17%6011/8/17%6010/10/17&app=resvlink&stop_mobi=yes
---
---
Photographs will be provided by Star Image Portrait Studio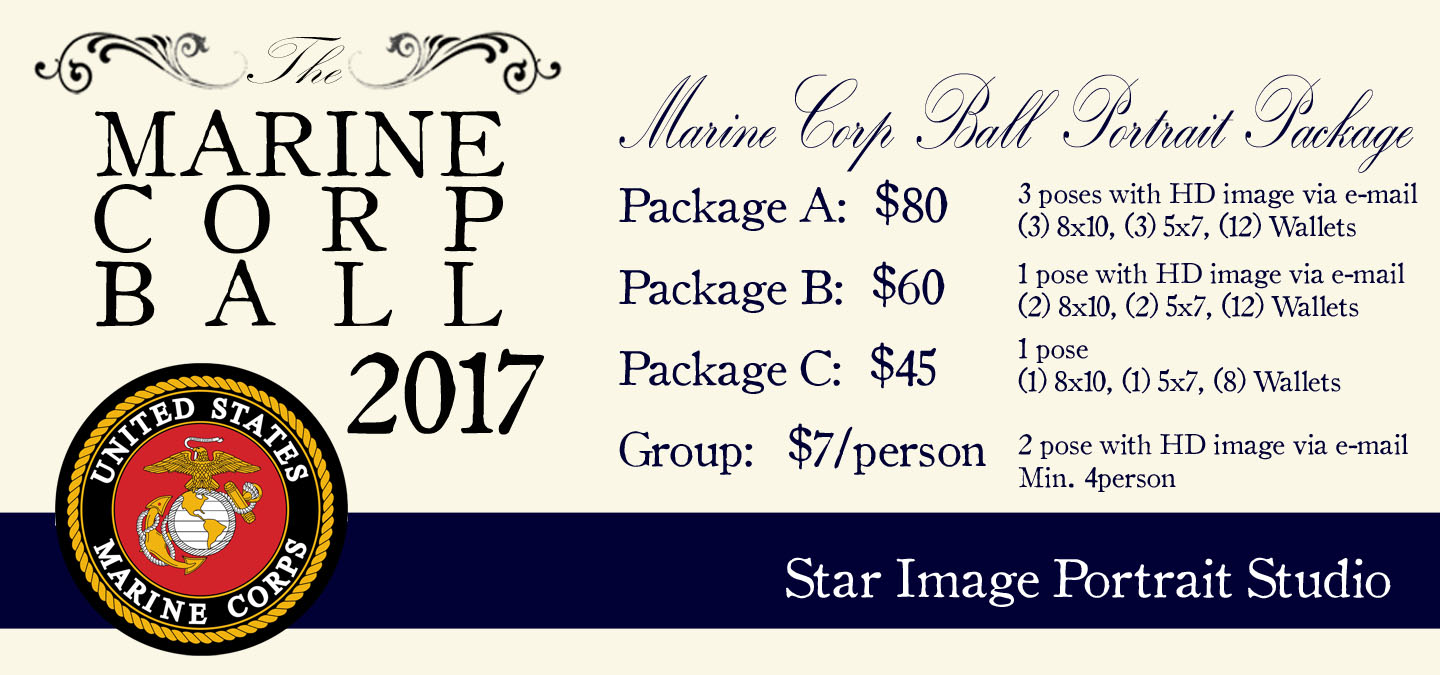 ---
---
FAQs
Who should I contact if I should have any questions about ticket purchasing?
Contact Gunnery Sergeant Eladio Chavez at 407-249-5870
Will child care be provided?
Yes, child care will be on site. Please inform the organizer no later than Oct. 27th if you would like to take advantage of this opportunity.
Do I have to bring my printed ticket to the event?
No, you do not have to print the ticket or bring it the day of the event.
Date and Time
Location
Clearwater Beach Marriott Suites on Sand Key
1201 Gulf Boulevard
Clearwater, FL 33767, to be held at the Sand Key Ballroom
Refund Policy