From Islands to the Deep – A fully immersive, multi-sensory, underground marine science experience.
About this event
A fully immersive, multi-sensory experience, built on the sights, sounds, and smells collected from marine predator field sites across decades of Tasmanian and Antarctic research.
Go behind the scenes and experience what it's like to be a researcher working at field sites on remote islands to the life of a marine predator swimming underwater, diving deep into the abyss, and finally returning to the lab to get down and dirty with the data.
Opening Hours
Friday 13th - 4 – 8pm*🍻
Saturday 14th - 10am – 4pm
Sunday 15th - 10am – 4pm
Friday 20th - 4 – 8pm*🍻
Saturday 21th - 10am – 4pm
Sunday 22th - 10am – 4pm
*🍻 There will be alcohol (beer and cider) available on that night via donations!
This is a FREE event. Donations welcome. Proceeds will directly support ongoing scientific research.
This event is part of the National Science Week 2021.
https://www.scienceweek.net.au/event/marine-predators-from-islands-to-the-deep-an-immersive-underground-marine-science-experience/hobart/
Accessibility
This event is accessible via ramp for mobility aids (wheelchairs, walking frames, scooters) or prams. If this affects you, please email (claire.mason@utas.edu.au to discuss further).
Sneaky Entrance Details:
While the official address is on 16 Argyle St, the entrance to the Town Hall Underground is actually on Elizabeth St, between Franklin Square and Town Hall (see photo below).
We'll make sure there's ample signage on opening days :)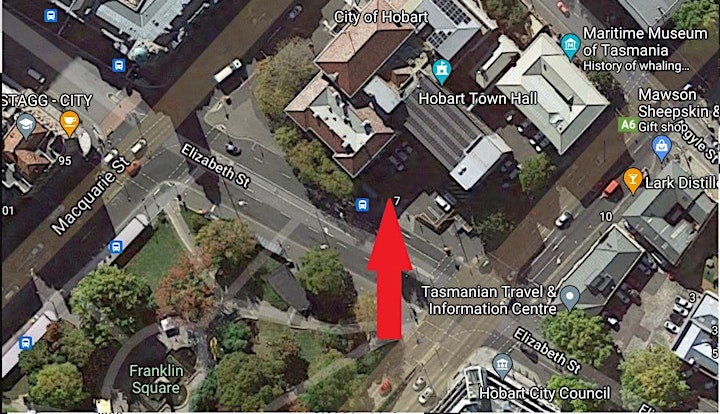 Facebook event: https://www.facebook.com/events/1358633454507904
Our socials:
https://instagram.com/mpred_lab
https://twitter.com/mpred_lab
Organiser of Marine Predators: Immersive underground marine science experience