Sales Have Ended
Ticket sales have ended
The mission of the Marine Corps Reserve Toys for Tots program, "to collect new, unwrapped toys during October, November and December each year, and distribute those toys as Christmas gifts to less fortunate children." Volusia County Toys for Tots volunteers are determined to carry-out the mission with excellence. Last year, 2016, we collected over 39,000 toys and distributed them to 9,600 less fortunate children. Our program will be especially important this Christmas season as many families in our areas have been affected by Hurricane Irma. This year we truly want to double numbers and we believe we can make that happen. We are seeking the support of individuals, businesses, community leaders, media influencers and more, to help us continue to make this campaign successful. Our goal is gaining support of many, in effort to impact thousands of young lives this holiday. "The Casino gaming tables are provided for entertainment purposes only by Casino Party Nights Florida Inc., tel (407) 968-6000" . All donations and proceeds go to the Volusia County Toys for Tots Campaign. *Must be 18 Years or older to play *I fully understand that the Casino Gaming Table are Provided for Entertainment Purposes Only and that no Gambling is taking place. Who: Volusia County Toys for Tots When: December 2nd, 2017 | Time: 6 PM – 11 PM Where: Hilton Oceanside Resort 100 N Atlantic Ave, Daytona Beach, FL 32118
Sales Have Ended
Ticket sales have ended
The mission of the Marine Corps Reserve Toys for Tots program, "to collect new, unwrapped toys during October, November and December each year, and distribute those toys as Christmas gifts to less fortunate children." Volusia County Toys for Tots volunteers are determined to carry-out the mission with excellence. Last year, 2016, we collected over 39,000 toys and distributed them to 9,600 less fortunate children. Our program will be especially important this Christmas season as many families in our areas have been affected by Hurricane Irma. This year we truly want to double numbers and we believe we can make that happen. We are seeking the support of individuals, businesses, community leaders, media influencers and more, to help us continue to make this campaign successful. Our goal is gaining support of many, in effort to impact thousands of young lives this holiday. "The Casino gaming tables are provided for entertainment purposes only by Casino Party Nights Florida Inc., tel (407) 968-6000" . All donations and proceeds go to the Volusia County Toys for Tots Campaign. *Must be 18 Years or older to play *I fully understand that the Casino Gaming Table are Provided for Entertainment Purposes Only and that no Gambling is taking place. Who: Volusia County Toys for Tots When: December 2nd, 2017 | Time: 6 PM – 11 PM Where: Hilton Oceanside Resort 100 N Atlantic Ave, Daytona Beach, FL 32118
Description
The Toys for Tots Ball/Gala will be held at the Hilton Daytona Beach Resort in the Grand Ballroom December 2nd 2017.
Full-sized casino tables

Cash bar and hors d'oeuvres

Professional step and repeat photography

Marines in Dress Blues and other military service members

Great raffle prizes
This Toys for Tots event is to designed to help collect exceptional toys for our education initiative and raise money for the Marine Corps Toys for Toys Campaign in Volusia County. Bring a toys valued at $30 or more to receive an additional Gold Card with 5,000 in chips
The ultimate success of this fundraising event depends on the support of the local community and the generosity of the people who donate toys. Have a blast and support a great cause!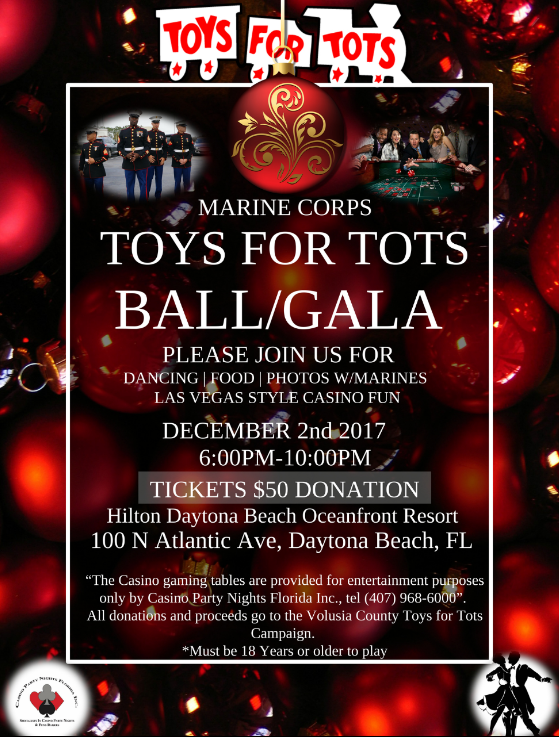 www.CasinoPartyNightsFlorida.Com
Celebrating Serving America for Twenty Seven Years Nov 05th 1989 - Nov 05th 2016.

Preferred Casino Vendor at the PGA National Golf, Hotel and Spa, Palm Beach Gardens Florida. The Official Casino Company for the Miami Heat 2015, 2016, 2017.
#ToysforTotsBall #T4TBall #ToysforTots #VolusiaCountyToysforTots #DaytonaBeach #DeLand