Marina Social Mixer & Sound Journey Hosted by Amaya + Healing Sound Alchemy
Description
Marina Social Mixer & Sound Journey
Hosted by Amaya + Healing Sound Alchemy
Join us for an eclectic social gathering overlooking the beautiful pacific ocean right on the marina's edge. We'll begin our evening with an inspirational talk by Amaya and continue with an immersion into the Alchemist's Sound Lab experience brought to you by Andrea Sáenz and Naseem Murakami of the Healing Sound Alchemy featuring uplifting live music, an invigorating DJ set followed by a ki-activating light breathwork, movement exercises and a sound bath experience.
Featured Speaker: Amaya
Enter the multidimensional consciousness of the Maya and how they used the life/death/rebirth process to ascend planet Earth.
https://www.instagram.com/atlantis_academy/
---
Special Guest: Millionaire Brain Yoga with Brandi Veil

Are you ready to activate your brain's potential to reach your desires? Take control of your money mind, monkey brain, relationships, career, and life. Learn how to balance your energy body through MBY six step brain activation practice.

Learn how to use sound and breath to help entrain your brain and wake-up the areas of your neurology to change old belief patterns. Brandi is an educator transformational speaker and midbrain worker using Energetics, Integrative NLP practice, and soundwaves as a way to shift the patterns of the brain. Brandi Veil founded Millionaire Brain Yoga, a blend of neuroscience, Yogi philosophy and experiential entertainment to transform the lives of its participants.

http://brandiveil.com
---
Sound Healing & Music Performances: Healing Sound Alchemy
Take a journey into the healing sound vibrations to release the old, let go, wind down, and awake into a renewed self, grounded in deep relaxation, peace, gratitude, and love.
*Raffle tickets, food & drinks available on purchase.
**Ambassador Tickets will include complimentary 2 drinks, food, and 3 raffle tickets!
A portion of the income raised from this event will be donated to ShyneSD.org
To learn more about who we support:
"Supporting survivors of domestic violence and human trafficked women developing their small businesses and leadership skills for their long term economic strength."
Shyne San Diego https://www.shynesd.org/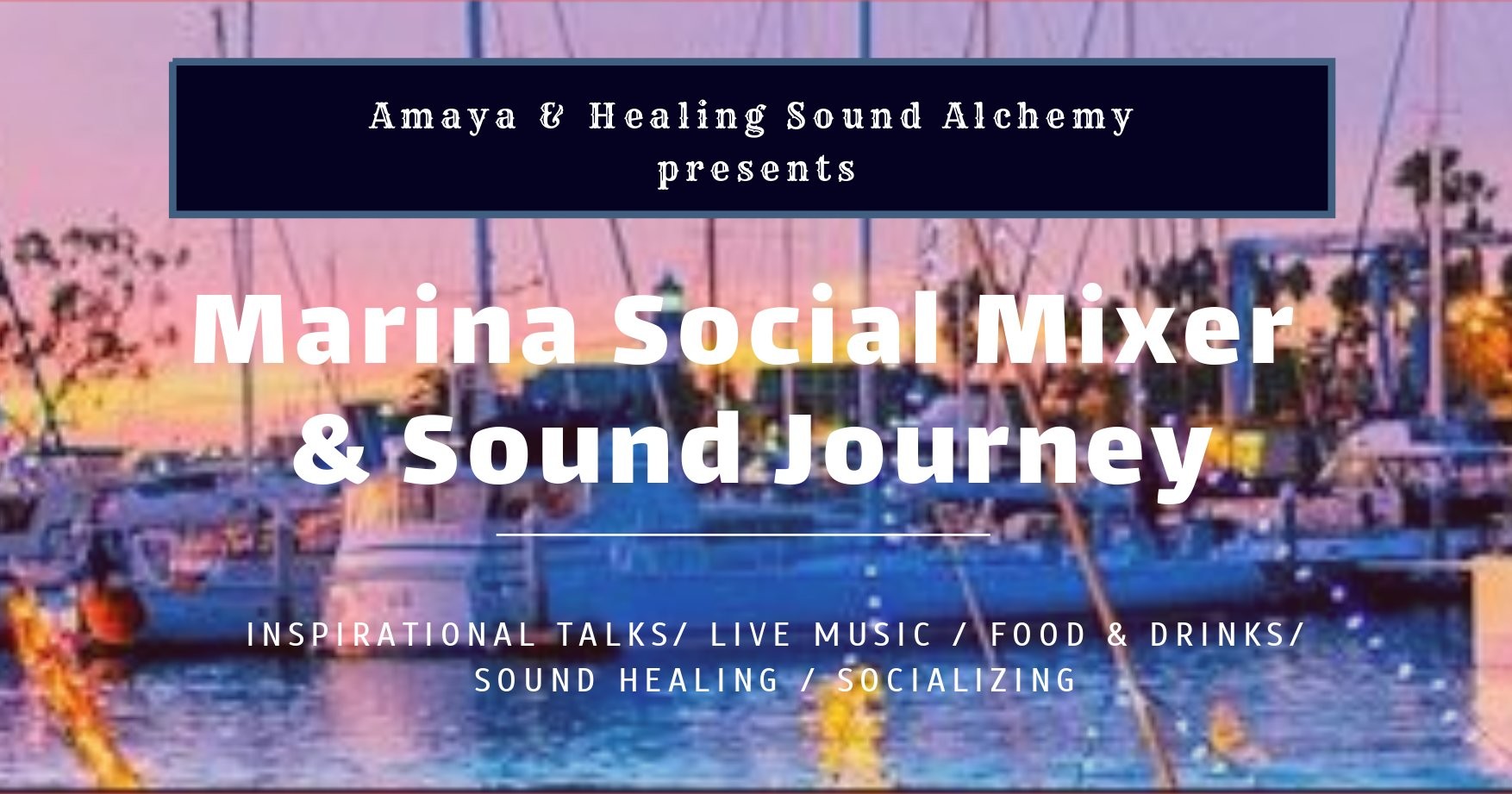 Location:
Marina Del Rey
13900 Marquesas Way
Marina Del Rey 90292
***We will follow up with the private guest parking info will be provided once you RSVP for tickets.
-Cancellation Policy -
THIS IS A BENEFIT EVENT: Due to the low price of tickets and the high cost of putting on the event all ticket purchases/sales are considered donations to this event and are NONREFUNDABLE once registered. If you are unable to attend the event, then the ticket purchases/sales will be considered a donation to keep our event going and to benefit our charity beneficiary. Thank you for your understanding and support.
Organizer of Marina Social Mixer & Sound Journey Hosted by Amaya + Healing Sound Alchemy
Healing Sound Alchemy was founded by an award winning artist/actress/producer Andrea Sáenz and accomplished artist/musician turned healer Naseem Murakami. We produce high vibrational music, sound bath events and concerts. We also lead The Elixir of Life retreats to various exotic destinations worldwide. Our Mission is to create invigorating experiences through the power of sound, energy transmissions and other alchemical integrations to raise vibrations and create a catalyst for paramount transformation and healing.