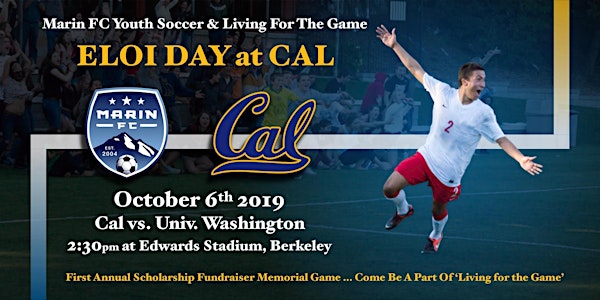 Marin FC Youth Soccer Living For The Game: Eloi Day at CAL
When and where
Location
Edwards Stadium/Goldman Field 2223 Fulton Street Berkeley, CA 94704
Description
This newly edited memorial fundraising event honors Eloi Vasquez (1995-2015), a lifelong Marin resident, Marin FC youth soccer standout and UC Berkeley student-athlete. Eloi was tragically killed in a car accident in southern California on March 28, 2015. All proceeds from this annual event support the Eloi Vasquez "Living for the Game" Marin FC youth soccer scholarship fund, a grant annually awarded to male and female youth soccer players that embody Eloi's dedication to family, strength of character, commitment to personal growth and academics, and passion for the game.
It is with great pleasure that we announce a partnership with CAL Bears Soccer Team, Eloi's college Alma Mater, to launch this amended annual event. Eloi was an incredible young man. Not only was a stellar athlete, but he also trained young student athletes in order to be able to afford to play – team dues, travel expenses and spending money was earned by providing clinics to friends and younger youth players. Eloi gave his time and talent endlessly – all to share his love for the game of Soccer. We honor Eloi today and look forward to celebrating his life annually in partnership with CAL.
Marin FC shows great pride in providing opportunities for athletic growth for all youth regardless of socio-economic status. We are building a culture of giving at Marin FC and hope that many of our Marin FC youth teams and youth club athletes from around the Bay Area will participate in this special day.
Fundraising Prizes for Marin FC Youth Soccer Families/Teams: in accordance with NCAA rules and regulations (6th grade and under only). Winners will be announced on Oct 1.
1st Place: Winning team with highest participation and fundraising $ to walk CAL Bears onto field for televised game against University of Washington (for '08 teams and younger)
2nd Place: Win a real game against the CAL Bears Men's Team (date based on CAL availability). YES!
3rd Place: Largest individual donor will receive signed and framed CAL Bears Jersey
Eloi Sweatshirts, designed by his brother, Julian, for purchase and to be worn on game day. You don't want to miss out on 2019 Sweatshirt. Get them while supplies last. Sweatshirt purchases can be made once credit card details entered for your ticket purchases.
We look forward to seeing you at the game!