Marilyn Monroe Poolside Reception & Communal Wine Dinner at Viviane (Avalon...
Description
Los Angeles Wine Tasting and the Andrew Weiss Gallery are teaming up to honor the late silver screen icon with a party under the stars (she would have turned 90 in June this year). Rendezvous at Viviane at the emblematic Avalon Hotel in Beverly Hills to enjoy a 1960's Palm Springs-style soirée. During a poolside reception from 6-8pm, guests can toast the legendary beauty with a glass of Piper Heidsieck (drinks are not included in eventbrite ticket), Marilyn's favorite champagne! The evening will feature an exclusive exhibition/silent auction of Marilyn Monroe photographs presented by the gallery, DJ live music, mingling and more.
Explore these glamorous years with the Andrew Weiss Gallery which owns the world's largest archive collections of Marilyn Monroe original photographs by the most famous photographers of her time, from her very first to her very last photos. For over 4 decades now, Andrew Weiss has been collecting 20th century photo artwork for his exclusive private clientèle & galleries around the world as well as prestigious auction events at famous houses (Christie's, Sotheby's..). Andrew Weiss is a founding member of the IFAA, International Fine Art Appraisers , and is well renowned worldwide for his expertise..

The auction proceeds' LA Wine Tasting portion will benefit the Downtown Women's Center. Founded in 1978, it is the only organization in Los Angeles exclusively dedicated to addressing the needs of women overcoming poverty and homelessness in Skid Row. The Downtown Women's Center's mission is to provide permanent supportive housing and a safe and healthy community fostering dignity, respect, and personal stability, and to advocate ending homelessness for women. DWC is one of the largest providers of permanent supportive housing for women in the United States.
Jazz Remixed: The First Ladies – Enjoy a curated soundtrack of sultry female voices and lounge beats by resident musicologist, Marlon Fuentes as he hand picks from the vaults of Verve, Blue Note, Impulse, Decca, and Capitol Records. Remixed with jazzy electronic lounge, the evening will be sure to please all of your senses. From Marilyn Monroe, to Miles Davis.


------> 6 TO 8 PM POOLSIDE RECEPTION TICKETS INCLUDE Reception Access until 8PM + Marilyn Monroe Photo Exhibit & Silent Auction (closing at 9:30pm) to benefit the Downtown Women Center + DJ Live Lounge Music + Complimentary Tray-Passed Gourmet Bites during the first hour (6-7PM) + Extension of Happy Hour Prices on Drinks & Appetizers until 8PM (see menu) + a Perfect Mingling & Networking Atmosphere with other Angelenos at an Amazing Venue + $25 of Free Ride Credit with Lyft (new users only - see details below ***). PRICE: $15. Tickets available at the door unless event sells out. PLEASE NOTE: EVENTBRITE TICKETS DO NOT INCLUDE CHAMPAGNE, WINE, DRINKS OR DINNER.

------ If you are interested, a special tasting of 4 different wines guided by Viviane's Wine Director Emmanuel Faure is offered for $20 ------

------> 8 PM COMMUNAL DINNER RESERVATION ON EVENTBRITE PAGE. Order food & wine à la carte from the restaurant's regular menus. You will be billed directly by Viviane. DO NOT FORGET TO MAKE YOUR RSVP IF YOU WANT TO STAY FOR DINNER. Eventbrite tickets do NOT include dinner. SEE A LA CARTE DINNER MENU.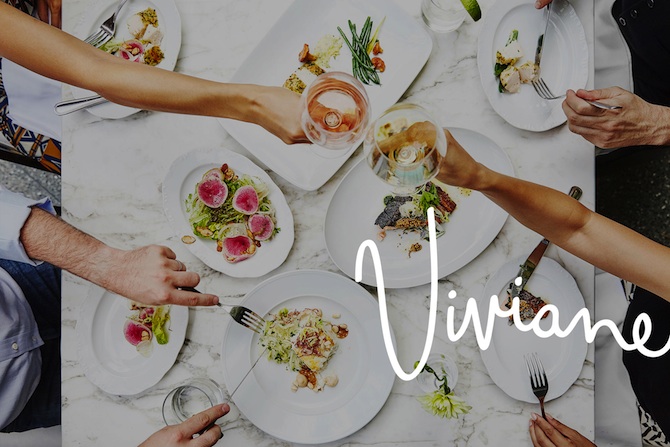 MUST BE 21 AND OVER TO ATTEND. EVERY GUEST'S ID WILL BE CAREFULLY VERIFIED UPON CHECK-IN. ABSOLUTELY NO EXCEPTIONS. PLEASE ENJOY RESPONSIBLY.
DRESS CODE - Important: Business/Upscale Casual, Cocktail Chic. NO T-Shirts. NO Sneakers. Jacket Recommended for Men. Dress Shoes.
Check out vivianerestaurant.com for more details about this absolutely unique urban retreat!
*** Don't worry about taking your car... and take Lyft to the hotel! Your ticket includes a $25 credit for new users with code LAWINE. Lyft is a mobile app that lets you request a ride from a fully-vetted, hand-selected community of drivers at the push of a button. For this soiree attendees, Lyft has kindly offered $25 of free credit (first users only). Just download the Lyft app and enter LAWINE under settings to take a free trip on us.
POOLSIDE RECEPTION Ticket Policy: All sales are final. NO CREDIT. NO REFUNDS. A name change however can be done anytime until the event starts.
Question? email at info@lawinetasting.com


EVENT FEATURED on NBC and in LOS ANGELES magazine's APRIL ISSUE!!