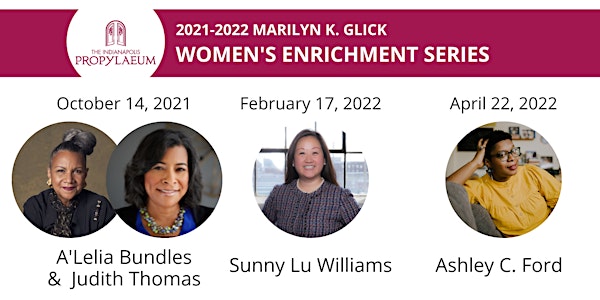 Marilyn K. Glick Women's Enrichment Series 2021-2022
The 2021-2022 Marilyn K. Glick Women's Enrichment Series will feature A'Lelia Bundles & Judith Thomas, Sunny Lu Williams, and Ashley C. Ford
Refund Policy
Contact the organizer to request a refund.
Eventbrite's fee is nonrefundable.
About this event
The Marilyn K. Glick Women's Enrichment Series is our yearly three-part lecture series featuring Indiana women who have "broken the mold." The 2021-2022 series will focus on entrepreneurship in a variety of aspects, including its role in the vibrancy of a community. This series offers a chance for the community to meet and hear from women leaders who hold all types of positions, from top philanthropists, to pioneers in the judiciary, to business leaders, athletes, and activists. The Marilyn K. Glick Women's Enrichment Series is a one-of-a-kind program that is unmatched in Indiana for its innovation, scope, and focus. This is a not-to-be-missed experience. Each program of this year's series will feature a slightly different format, so read below for the in-person/virtual nature of each program.
About our 2021-2022 Speakers:
A'Lelia Bundles and Judith Thomas- Oct. 14, 2021
Entrepreneurial Communities on Indiana Ave: Then and Now
A'Lelia Bundles, author of On Her Own Ground: The Life and Times of Madam C.J. Walker, & Judith Thomas, Deputy Mayor of Neighborhood Engagement, will be discussing the important role small businesses played in the Indiana Ave. community and current the rejuvenation efforts for the Avenue. Special musical guest Teresa Reynolds, accompanied by Rob Dixon, will provide a musical introduction and conclusion to the event.
This program will be completely online via Zoom at 6pm on Oct. 14th . The week prior to the program, there will be an intimate, in-person reception with A'Lelia Bundles and Judith Thomas for our VIP Series ticket holders. Space is limited.
Sunny Lu Williams, President of Tech Serv Corp.- Feb. 17, 2022
Sunny's passion is in improving community and public health through education and access facilitated by a healthcare driven workforce. Tech Serv is a consulting and project management firm focused on Public Health, Public Safety & Higher Education sectors supporting strategic planning, grants & program management, training and technical assistance, and technology enabled data collection and outcomes measurement.
This program will be offered in-person or online via Zoom. All ticket holders will receive a link to the program recording following the event. There will be a reception for VIP ticket holders with Sunny Lu Williams beginning at 5pm on Feb. 17th.
Ashley C. Ford, Author of Somebody's Daughter- April 22, 2022
Writer, Host, and Educator Ashley C. Ford will discuss her memoir, Somebody's Daughter. Ford is the former host of The Chronicles of Now podcast, co-host of The HBO companion podcast Lovecraft Country Radio, seasons one & three of MasterCard's Fortune Favors The Bold, as well as the video interview series PROFILE by BuzzFeed News.
This program will be offered only in-person and will not be recorded. There will be a reception for VIP ticket holders with Ashley C. Ford beginning at 5pm on April 22nd.