Description
Marijuana Media will host a Fire Safety / Regulator's Forum designed for Fire Departments and marijuana producers, led by the Denver Fire Department. This Forum is designed for:
Fire Chiefs

Fire Safety Inspectors

Hazmat Units

Facility Planning Departments

City and Government Officials involved in licensing and approvals

Marijuana Extraction and End Product Producers
The Forum will include a 2-hour session led by Denver's Fire Inspector, Brian Lukus, PE, who will provide an overview of the commercial marijuana industry by discussing the hazards and fire regulations surrounding the growing and processing of marijuana. The 15 members of the City of Denver's inspection team now conduct over 600 facility inspections per year, and Denver FD is the only Fire Department in the country to have adopted and created Fire Codes specifically to address the needs of the marijuana industry, based on their experience enforcing fire regulations in Denver since marijuana's decriminalization in 2010.

Topics discussed will include CO2 enrichment systems, construction, occupancy, fumigation, fire suppression, and each different extraction process, including liquefied gas extractions, super/subcritical CO2 extractions, and flammable liquid extractions as well as 'post oil processing', which involves the dewaxing or winterizing (purifying) of the oil concentrate after extraction, commonly using flammable liquids.
The Fire Forum is for regulators, with industry insight and participation. Extraction and processing of marijuana involves the use of volatile gases and requires specific enclosures to ensure safe and proper management of marijuana processing. The Facility, Safety, and Inspection Forum will cover issues such as ensuring and monitoring air quality, proper venting and exhaustion, electrical load for machinery, and the management and disposal of waste and chemicals, all of which factor into the manufacturing and processing of vape oils, food products, and concentrated forms of marijuana (dabs, shatter, waxes). Many facilities today have not been inspected for Fire Code Safety and Compliance, which will become mandatory with licensing within the regulated CA industry. If you run a manufacturing plant or plan on opening a facility, this forum is a must-attend event covering compliance, safety, and standards.
Agenda:
INTRODUCTION: Drivers of change: Medical Understanding, Consumer Taste, Technology, and Regulations
MANUFACTURING, CODE, COMPLIANCE & FIRE SAFETY (9:30), Brian Lukus, FPE, Denver Fire Department
AM Break
FACILITY SETUP (11:30), Jeffrey Raber, The Werc Shop
Lunch Break (12-12:30)
MEET THE MACHINES (12:30)

CO2 Manufacturing – Cool Clean – Dr. Nelson Sorbo

BHO Manufacturing - BHOgart – Thomra Oxendine

Distillation – Escet – Joseph Payack & Ian Kessler

Rosin – Pure Pressure – Eric Vlosky

Safety Enclosures – HAL Enclosures – Linn Havelick
MEET THE PRODUCER (1:30)
Incredibles Edibles - Derek Cummings & Max Eisler

BAS Research - Dr. Bao Le
There are currently 35 cities across CA who will be attending the forum, with more expected to attend. Lunch and refreshments will be provided for all attendees. Please reserve today - space at this Forum is limited and will sell out.
City Fire Departments confirmed and attending:
Los Angeles, Riverside, Culver City, Beverly Hills, Costa Mesa, City of Orange, City of Hanford, California City, City of Blythe, Redwood City, City of Williams, Shasta Lake, Dixon, as well as other City groups and local associations.
State, Regulator, & Association Supporters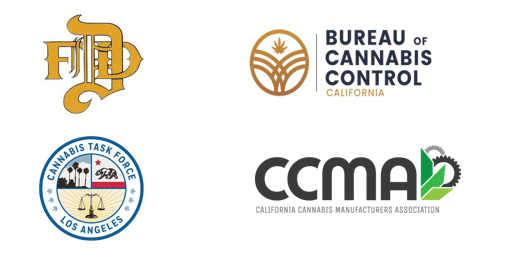 Industry Presenters: