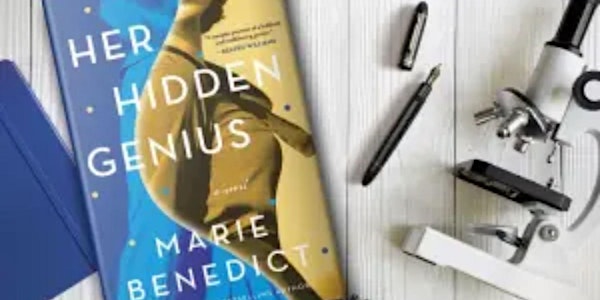 Marie Benedict Virtual Author Visit
Bestselling author Marie Benedict joins us via Zoom to discuss her latest novel, Her Hidden Genius.
About this event
​Marie Benedict is a lawyer with more than ten years' experience as a litigator at two of the country's premier law firms, who found her calling unearthing the hidden historical stories of women. Her mission is to excavate from the past the most important, complex and fascinating women of history and bring them into the light of present-day where we can finally perceive the breadth of their contributions as well as the insights they bring to modern day issues. She embarked on a new, thematically connected series of historical novels with THE OTHER EINSTEIN, which tells the tale of Albert Einstein's first wife, a physicist herself, and the role she might have played in his theories. The next novel in this series is the USA Today bestselling CARNEGIE'S MAID -- which released in January of 2018 -- and the book that followed is the New York Times bestseller and Barnes & Noble Book Club Pick THE ONLY WOMAN IN THE ROOM, the story of the brilliant inventor Hedy Lamarr, which published in January of 2019. In January of 2020, LADY CLEMENTINE, the story of the incredible Clementine Churchill, was released, and became an international bestseller. Her next novel, the Instant NYTimes and USAToday bestselling THE MYSTERY OF MRS. CHRISTIE, was published on December 29, 2020, and her first co-written book with the talented Victoria Christopher Murray, the instant NYTimes bestseller and Good Morning America Book Club Pick THE PERSONAL LIBRARIAN, was released on June 29, 2021.​ Her latest novel, HER HIDDEN GENIUS, about the brilliant British scientist Rosalind Franklin who discovered the structure of DNA but whose research was used without her permission by Crick and Watson to win the Nobel Prize. And, in January of 2023, she will release THE MITFORD AFFAIR, which explores the role that history's most notorious sisters -- the beautiful, brilliant, eccentric Mitfords -- played in the rise of World War II, both for and against the Nazis.​ Writing as Heather Terrell, Marie also published the historical novels The Chrysalis, The Map Thief, and Brigid of Kildare. ​Marie's novels have been translated into twenty-nine languages.