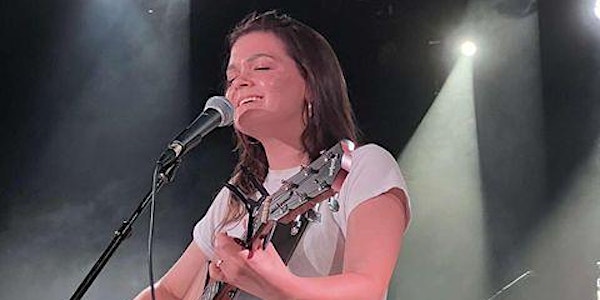 Marian Hunter
Baffin Records + DC9 Presents:
Performers
Marian Hunter
The Infinite Daisy Chains, Uruguay
Location
DC9 Nightclub
1940 9th St NW
Washington, DC 20001
with Uruguay, The infinite Daisy Chains
Marian Hunter

Marian Hunter is an Alexandria, VA based singer & songwriter. Her 2021 self-written and self-released single "Happy Fall" catapulted her onto the DC-area music scene, and there is no sign of her slowing down. In addition to writing and releasing music with bedroom-pop band Couch Club, Marian is becoming a regular at Virginia and DC live music venues as she prepares to release a new track "@80" with Alexandria-based Baffin Records in 2022. A prolific and award-winning songwriter at only 17, Marian Hunter is quickly becoming one of the most promising new artists in the region.

The Infinite Daisy Chains

WEBSITE | FACEBOOK | INSTAGRAM | TWITTER | SPOTIFY

From meeting at a rehearsal in a dimly lit garage to tying the knot five years later in marriage, Ian Dandridge and Kristina Westernik-Dandridge now set off to spread a much-needed message of hope. Inspired by their honeymoon experience in the Californian desert, they decided to combine their love for creating and performing music, forming what they now refer to as 'The Infinite Daisy Chains'. They are both well established and trained musicians who have been creating music for years in the DC Metropolitan area. Kristina specializes in the violin, vocals, and Ableton push, whilst Ian is the guitarist of the duo. The Infinite Daisy Chains are building momentum with their latest EP, Between You and Me. The duo self-produced, wrote, recorded in their bedroom studio and released in late 2021. Collectively, they want nothing more than for their reverb-drenched productions to serve as a salute to the music that brought the two of them together.

Uruguay

WEBSITE | FACEBOOK | INSTAGRAM | SPOTIFY | SOUNDCLOUD

Stepha is an Afro-Indigenous artist from the A Ni Sa Ho Ni (Blue/Medicine) clan of the Cherokee and Arapaho ancestry. Together, Uruguay is striving to bring a stronger and louder Native voice and presence to the music industry.

Uruguay's live show is vibrant and transient, highlighting lush instrumentation and Stepha's vocals which have been described by The Deli Magazine as, "deceitfully soulful, brimming with emotion... She carries the tune effortlessly, without affectation, almost like a specter" (The Deli Magazine). We have also been featured in Buzzfeed, PASTE Magazine, PRØHBTD, and Rookie Mag.