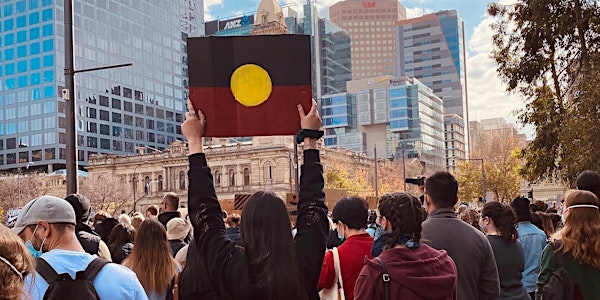 Maria Giannacopoulos - Nomocide or the Nonperformativity of Colonial Law
Maria Giannacopoulos will present "Nomocide or the Nonperformativity of Colonial Law" at the next ACBS network seminar
Date and time
Thursday, August 4, 2022 · 12 - 1:30am PDT
About this event
We are pleased to announce that Maria Giannacopoulos (UNSW) will present "Nomocide or the Nonperformativity of Colonial Law" at the next ACBS network seminar on Thursday August 4 , 2022 at 5pm on zoom. A discussant (to be announced) will provide brief commentary on the paper before an open discussion.
Zoom details will be made available closer to the date. Please register if you wish to attend as spaces are limited.
Nomocide or the Nonperformativity of Colonial Law
Refugee and migration scholarship within and about settler-colonial societies where original sovereignty (and indeed law) was never ceded, must centre the ongoing colonial ordering role played by state law. This critical and decolonising research praxis would require refugee and migration scholars to substantively incorporate the now regular acknowledgement that First Nations peoples have never ceded their sovereignty and laws into intellectual work as a way of following through on the logic of this acknowledgement. If Indigenous sovereignty was never ceded, then it must follow that the legal infrastructure (nomopoly) that is built upon unceded sovereignty is also illegitimate as it effaces unceded Indigenous laws. Based on a longer chapter, this paper argues that if Australian or other colonial laws are appealed to for the granting of rights to refugees without challenge to its coloniality, such appeals cement the nonperformativity of colonial law and leave its violence in place. Theorising colonial law as nomocidal is central to the task of decolonising critical migration and refugee studies especially if this scholarship advocates for refugee and migrant access to and rights upon Indigenous lands where both sovereignty and law have never been ceded.
Bio: Dr Maria Giannacopoulos is Associate Professor of Criminology in the Faculty of Law and Justice at the University of New South Wales, Sydney. Born to post war migrants from Greece on unceded Gadigal lands she has been impacted by and is driven to unravel the workings of white supremacy and Indigenous dispossession. She has degrees in law, literature, and a PhD in Cultural Studies from Macquarie University, supervised by Professor Joseph Pugliese. She works across the disciplines of law and criminology to reveal the complicity of Australian law with ongoing colonialism.