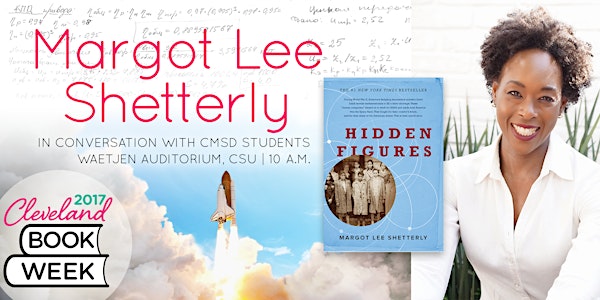 Margot Lee Shetterly discusses "Hidden Figures" at Cleveland State Universi...
Location
Waetjen Auditorium
2121 Euclid Avenue
Cleveland, OH 44115
Description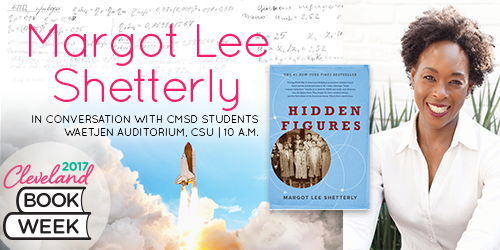 Thank you for your interest. This event is currently sold out.

You can watch Margot Lee Shetterly accept her Anisfield-Wolf Book Award for Hidden Figures on September 7 live via web stream at www.anisfield-wolf.org.

As part of Cleveland Book Week, "Hidden Figures" author Margot Lee Shetterly will appear at the Waetjen Auditorium in a student-focused event presented by the Cleveland Foundation, the Anisfield-Wolf Book Awards, and Cleveland State University. Following a Tri-C Creative Arts Dance Academy performance inspired by the work, Cleveland Metropolitan School District students will interview Shetterly about how her 11-year-long research into this "unseen" story became a juggernaut, riding atop the bestseller and box-office lists across the nation. This is a free event, but tickets are required. Seating is limited.
ABOUT THE ANISFIELD-WOLF BOOK AWARDS AND CLEVELAND BOOK WEEK

Cleveland poet and philanthropist Edith Anisfield Wolf established the Anisfield-Wolf Book Awards in 1935, in honor of her father, John Anisfield, and husband, Eugene Wolf, to reflect her family's passion for issues of social justice. Today it remains the only American book prize focusing on works that address racism and equity. Past winners have presented the extraordinary art and culture of peoples around the world, explored human-rights violations, exposed the effects of racism on children, reflected on growing up biracial, and illuminated the dignity of people as they search for justice. The Cleveland Foundation has administered the Anisfield-Wolf prize since 1963. Visit www.anisfield-wolf.org for more information. In 2016, the first Cleveland Book Week established a week of celebration and awareness around the Anisfield-Wolf Awards, highlighting the year's winners while showcasing Cleveland's literary community.
ABOUT THE CLEVELAND FOUNDATION
Established in 1914, the Cleveland Foundation is the world's first community foundation and one of the largest today, with assets of $2.13 billion and 2016 grants of $93.6 million. Through the generosity of donors, the foundation improves the lives of residents of Cuyahoga, Lake and Geauga counties by building community endowment, addressing needs through grantmaking and providing leadership on vital issues. The foundation tackles the community's priority areas – education and youth development, neighborhoods, health and human services, arts and culture, economic development and purposeful aging – and responds to the community's needs.