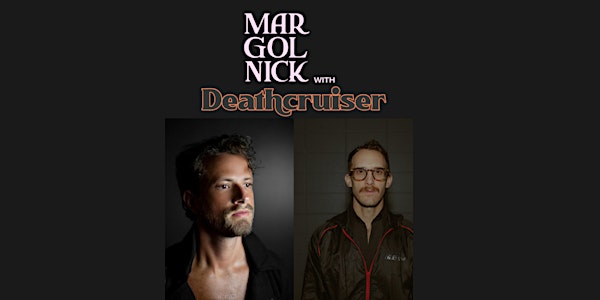 Margolnick with Deathcruiser
Location
The Evening Muse
3227 N. Davidson Street
Charlotte, NC 28205
Margolnick with Deathcruiser
About this event
Drake Margolnick knows that sometimes you have to hit the restart button. He knows that change is not only inevitable, but necessary, both in your personal life and in your art. He knows that becoming who you're meant to be can require letting go of who you've been. It's these sentiments that inhabit Margolnick, the songwriter and musician's debut solo album under the eponymous moniker Margolnick.
After spending years playing with his longtime band Flagship and releasing two full-length albums, Drake found himself ready for the next chapter. The musician, who was born on the RAF Lakenheath Air Force base in Suffolk, England and raised in Charlotte and Queens, had found himself stuck, musically uninspired and caught in a whirlwind of personal strife. In the summer of 2018, he abandoned ship for Peru, where he spent a week immersed in ayahuasca ceremonies. The experience completely broke him down, and Drake was determined to answer an internal call to go to London, where he met producer Eddie Jenkins.
"I just knew I had to go to the U.K. to get started," Drake notes. "Braden Merrick had set up a writing session with Eddie and I, and the musical chemistry was automatic. The first song we wrote together was 'Breathe It All In,' which I feel is the strongest song on the album. After that song I knew that I had to write the rest of the album with Eddie there in London, and that's what we did. London itself was a big inspiration for the album as well, the city seeped into each song in different ways."
The duo wrote over 30 songs, eventually selecting 10 to comprise the album. Drake recorded half the songs with Jenkins in London, and then enlisted Joe Chiccarelli to help finish the tracks in Los Angeles last fall at Sunset Sound. The process, which Drake calls "magical," rounded out the songs, expanding on the clever, hook-laden tunes that appeared on Margolnick's debut EP Pop Tart. While the album's tracks are unabashedly pop, they're also deeply personal, revealing the age-old story of failure and redemption.
"It's about starting at a really low point and finding hope," Drake explains. "It may sound cliché, but I've lived a pretty turbulent life and messed up a lot, and I ended up finding the right path and getting my shit together. It's very personal, but it's also very relatable. A lot of people have messed up – at some point we all do – and you can make huge life changes. This album captured a moment in my life when I wanted to be better. It's ultimately quite hopeful. There are a lot of beautiful, uplifting moments alongside the dark ones."
"Sugarcube City," a piano-based anthem, was written the morning after Drake decided to stop drinking, and the original vocals from his first demo appear in the final emotive track. "I had the worst hangover I've probably ever had – and I've had some bad hangovers," he notes. "You can hear in the song that I'm coming to the conclusion of 'I can't do this anymore.' That's when things started to look up for me. I knew the last battle was coming to an end."
"Kill My Panic," the album's raucous opening number, sees Drake urging himself not to give in to crippling anxiety, while "Breathe It All In" embraces the highs and the lows, suggesting that it's worth appreciating the moment you're alive in right now. "American Dream" hits back at Drake's Southern roots, recounting the tale of a couple who are chasing a dream that may or may not exist. "It's me mourning the fact that the American Dream isn't real, but I'm still going to chase after it anyway, because maybe it is real," Drake says. "I'm trying to go after this nearly impossible dream of making it in music. For whatever reason I believe I can do it, but I haven't realized it yet. This song is about chasing that dream despite your fear that it may not come true."
In many ways, Margolnick is Drake being his most authentic self. The songwriting is accessible and relatable, with real intention behind it. Nothing in the songs is contrived or self-indulgent, and there's no need to be cool. For Drake, who is free-floating until he's able to find himself back in London again, pushing himself to go solo has meant beginning again as an artist and as a human. It's through that new beginning that he's been able to reconnect with himself, but, more importantly, to connect with his listeners. Margolnick was created inside one person, but it will now drift out into the world, offering itself to anyone who needs some comfort or to know they aren't alone. It's a reminder that something good always comes from the struggle and that change can be the thing that saves us.
"I want to be there for the people who listen to my music and connect on a human level," Drake says. "I want to go beyond the normal fan to musician connection and have it be deeper. That's where everything I'm doing is coming from right now."
********
Deathcruiser
Adam Roth was already hard at work on his debut solo EP when the right band name came to him. He was sitting in the studio, staring at an image of a sugar skull—a decorative skull often used in the annual Mexican celebration of the dead, Día de los Muertos—and thinking about what music has meant to him during difficult times. "A lot of this music was written during a time when I was grieving," he says, explaining that his father passed away just before the pandemic began in 2020, and that he was dealing with other personal challenges as well around the same point. "Music's always been a vehicle to help me get through the hard times and struggles, and it's always sort of been a salvation, away from pain and suffering, whether it was a breakup when I was younger, or whether it's death. Music has literally been my Deathcruiser."
Originally from Pensacola, Florida, Roth made his name as a founding member of Grizfolk, the Swedish-American alternative group that won legions of fans around the world with their unique blend of modern rock and electro-pop. But this new collection of music he was working on felt different—a more personal, gritty sound, rooted firmly in Americana, written as a response to some of those serious challenges in his life. Out on the heels of Grizfolk's third LP, 2021's Grizfolk, Roth's first release as Deathcruiser, the Deathcruiser EP, actually roots back to 2018, when Roth made the decision to get sober from alcohol and hard drugs. "It's the feeling of having a whole new life," he says, reflecting on that commitment.
"Life Number Two," a symphonic folk waltz that practically levitates with joy, tackles the emotions of earning a clean slate the hard way—and is assisted with the talents of singer/songwriter Lydia Luce, who contributes backing vocals and performs strings. The song, which is indebted as much to John Prine as Sturgill Simpson, was written and recorded in Nashville, where Roth is now based, at the home studio of Randall Kent, who co-produced the EP with Roth. It leads off a set of five songs that serve as a heat check from Roth, who balances careful balladry with Springsteenian fireworks on massive songs like "Night on Fire" and "Put Your Hands on Me." Going from tender to epic and back again, Roth's reintroduction to audiences finds him channeling postmodern pop in the same vein as acts like Father John Misty and Local Natives, but with a Southern kick to it—and a pinch of stoned Willie Nelson in there for good measure, too. (Roth partially credits replacing harder substances and antidepressants with a micodose regimen of psilocybin for his current sound.)
Some will also pick out a subtle sonic debt to the late Tom Petty on the Deathcruiser EP, which is a detail guided by both design and fate. Roth says he was thinking about the Traveling Wilburys and Petty's solo album Wildflowers when writing the songs—and that he wanted to tap into a tried-and-true Petty method of having as many musical details as possible mapped out before hitting the studio. "Every little word, every nuance was solid," he recalls. As if ordained, Roth then seized an opportunity to record with legendary Heartbreakers drummer Steve Ferrone at EastWest Studios in Hollywood. On four of the five EP tracks, Ferrone's rock-solid playing helps lift the songs into the arena-worthy stratosphere.
And that's ultimately what Roth hopes to do with Deathcruiser: be a band for all, that everyone sings along to, regardless of what's going on in the world. "In this day and age, we're all very divided," he says. "And I've always wanted to bring everyone together. It's never been, like, 'I want to get half of the country together for my concert.' I just want everybody to get together and have a good time."
On "Night Machine," the EP's soaring finale, Roth practically offers an invitation to anyone out there who wants to go along for the ride—an invitation that also functions as a request for himself: "Can you find me a lover, a stranger, or a friend," he sings "Night Machine / Take me where I've never been."