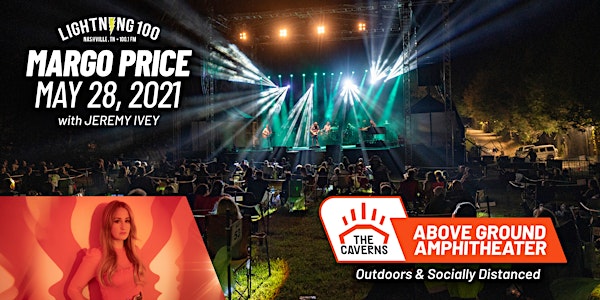 Margo Price at The Caverns Above Ground Amphitheater
On May 28, 2021, live music returns with Margo Price at The Caverns with Jeremy Ivey— outdoors and in socially distanced pods.
When and where
Location
The Caverns 555 Charlie Roberts Road Pelham, TN 37366
Performers
Headliners
More Performers
About this event
Margo Price Pods
6 Person Pod ($60/person, $360/pod + tax/fees)
4 Person Pod ($75/person, $300/pod + tax/fees)
2 Person Pod ($85/person, $170/pod + tax/fees)
You will receive an order confirmation with your purchase; however, your pod assignment will come at a later date. Pods will be assigned best available based on when your purchase was made. All purchases are non refundable - artist(s), times & date all subject to change.
The Caverns Above Ground Amphitheater
Outdoors & Socially Distanced
In Grundy County, Tennessee, in a timeless, picturesque valley near the base of the Cumberland Plateau, you'll find The Caverns—a labyrinth of subterranean caves and above ground beauty.
This concert will take place outdoors on a hillside above The Caverns cave music venue and overlooking the beautiful Payne's Cove.
Guests will arrive at staggered times, be asked COVID-19 screening questions, receive a temperature check, and enjoy the show from 2-person, 4-person and 6-person socially distanced pods. Bring your own unbagged chairs for this show as seating will not be provided.
Masks will be mandatory, except when guests are in their pods. All concessions and merchandise will be ordered through an app and delivered contactless to your pod eliminating lines and limiting the need to leave your pod.
While the music plays on above ground, restrooms will be used inside The Caverns subterranean music venue to give guests an opportunity to duck below the surface to see the home of Bluegrass Underground as seen on PBS nationwide.
With the concerts taking place outside on an hillside, the venue is not handicapped accessible.
For more information including frequently asked questions, click here.