Description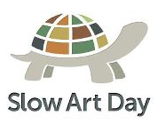 Turner Contemporary
Art viewing: 11:00 AM - 1:00 PM
Lunch: 1:00 PM - 2.00 PM
At Peter's Fish Factory if it's sunny, Papp's Fish & Chips if it's not!
Host: Kellie Hogben, contact Kellie via e-mail
Slow Art Day is a worldwide celebration of art that encourages people to look at art SLOWLY – and thereby experience art in a new way. You can see more about Slow Art Day and the mission behind it on our website: http://SlowArtDay.com.
As Slow Art Day approaches, you'll hear from your host with more information, as well as instructions about what to do when you arrive for Slow Art Day.
More info about Slow Art Day movement: facebook | twitter | tumblr
Facebook page for Kellie's event: https://www.facebook.com/events/301705353263122/?fref=ts
The exhibitions that will be on at Turner Contemporary in April will be Rosa Barba, Carl Andre and JMW Turner's perspective drawings. For more information on these, please check the gallery's website: www.turnercontemporary.com
Entry to the gallery is free.
UPDATE:
The five pieces I have chosen for us to look at are:
'Subconcious Society' (2013), a film installation, by Rosa Barba
'4 x 25 Altstadt Rectangle' (1967), a minimalist sculpture by Carl Andre
'Conversation Piece III' (2001), bronze sculptures by Juan Munoz
'Two Cubes, One Rotated 45 degrees' (1986), a glass pavilion by Dan Graham
'Reflections in a Single Polished Metal Globe and in a Pair of Polished Metal Globes' (c. 1810), oil and graphite drawing by JMW Turner