Sales Have Ended
Ticket sales have ended
Online ticket sales for the First Annual Margarita Showdown have now ended.
Sales Have Ended
Ticket sales have ended
Online ticket sales for the First Annual Margarita Showdown have now ended.
About this Event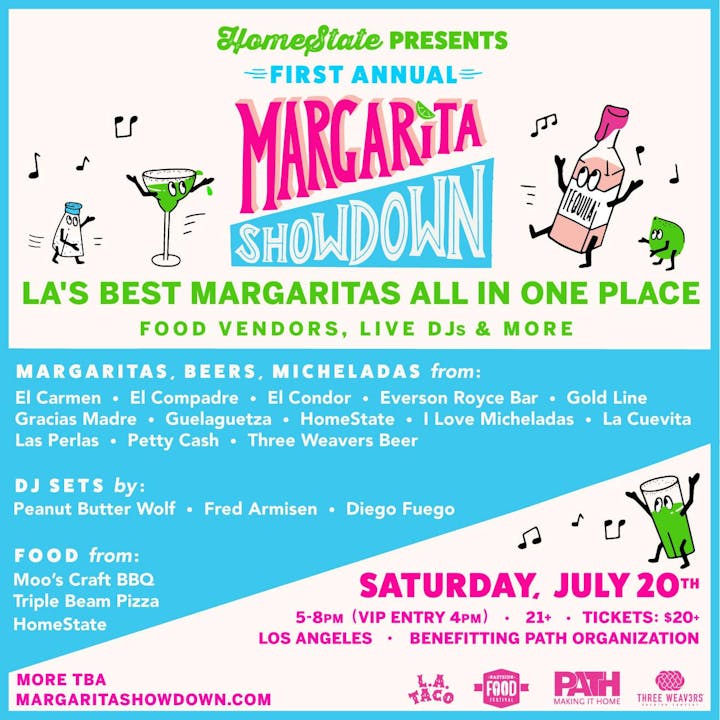 The 1st Annual Margarita Showdown comes to Highland Park, Los Angeles on Saturday, July 20
In celebration of #NationalTequilaDay (happening on July 24), HomeState, a Texas Kitchen in L.A., will host the 1st Annual Margarita Showdown, with support from the producers of EastSide Food Festival. Popular margarita makers from around the city will come together in a light-hearted competition to determine who can make THE BEST margarita in Los Angeles. From 'tried and true' classics to modern renditions, the event will feature tastes from bartenders, restaurants, cocktail connoisseurs and more.
DRINK: Margarita Showdown's main attraction will be the many margarita vendors, serving up their take on the drink. Attendees will be able to taste the best margaritas from all over Los Angeles. Each admission tier includes a select number of drink tickets, redeemable at any of the event's margarita vendors for 8 oz margaritas.
EAT: Guests will be able to eat from great food vendors like Triple Beam Pizza, Moo's Craft BBQ , and of course, tacos from HomeState. Food is not included in the admission price of the Showdown, but can be purchased to order directly from the food vendors on-site.
MUSIC: Popular DJs spinning music will round out the experience with guests like Stones Throw Records' Peanut Butter Wolf, Portlandia actor Fred Armisen and more.
THE SHOWDOWN: Get involved! The Margarita Showdown will culminate with a "Best in Show" award as selected by a small panel of judges + a popular vote.
VIP HOUR: VIP ticket holders will be allowed early entry at 4 PM for the VIP tasting hour! This tasting hour includes all-you-can-drink tastes from the margarita vendors.
THE STORY: One of HomeState's fundamental goals is to share the food and culture of Texas with the Los Angeles community. Margaritas are a big part of that culture, as well as a big part of the Los Angeles cocktail experience. Margarita Showdown seemed like a natural way to showcase and celebrate the iconic cocktail with the community. To bring you the event, HomeState has teamed up with EastSide Food Festival who recently celebrated their 5 year anniversary with some of the eastside's best restaurants.
CHARITY BENEFACTOR: HomeState and EastSide Food Festival are proud to extend their ongoing partnerships with PATH Organization - People Assisting the Homeless. A portion of ticket sales will go to PATH, a family of agencies working together to end homelessness for individuals, families and communities.
Margarita Showdown is a 21+ event.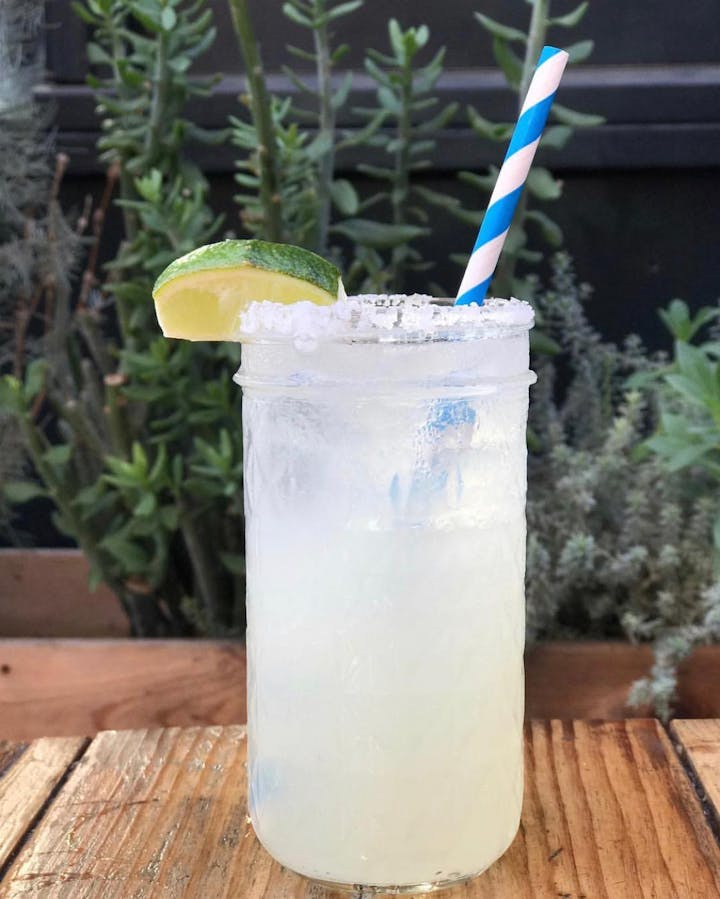 TICKET TIER DETAILS
General Admission Details:
All GA Ticket Package allows access to Margarita Showdown from 5 PM - 8 PM.
Each GA Package comes with a specified number drink tickets for 8 oz margaritas.
VIP Admission Details:
The VIP tickets also include:
Early entry at 4 PM for the VIP Happy Hour. The VIP Happy Hour features unlimited tastes from our margarita vendors, during the 1st hour
3 additional drink tickets for full 8 oz margaritas after 5 PM
Exclusive access to our VIP lounge, all day long
VIP Gift Bag
Ultimate VIP Package Details:
The Ultimate VIP Package includes all of the above, plus:
Bonus gifts from our partners
A food voucher, redeemable at any of our food vendors