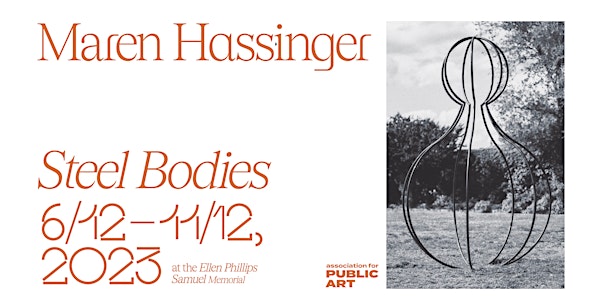 Maren Hassinger: "Steel Bodies" Opening Reception
Join us for our 151st Annual Meeting to celebrate the opening of Maren Hassinger's exhibition "Steel Bodies"
By Association for Public Art
Date and time
Wed, Jun 14, 2023 6:00 PM - 8:00 PM EDT
Location
Ellen Phillips Samuel Memorial, Central Terrace 9 Schuylkill River Trail Philadelphia, PA 19130
About this event
The Association for Public Art (aPA) will host its 151st Annual Meeting celebrating the opening of Maren Hassinger's Steel Bodies at the Ellen Phillips Samuel Memorial along Kelly Drive on June 14, 2023 at 6pm.
The public is invited to attend this event, which will feature a special presentation by artist Maren Hassinger followed by a reception with light refreshments.
This event is free, but registration is required.
Steel Bodies
The Association for Public Art (aPA) presents Maren Hassinger's Steel Bodies at the Ellen Phillips Samuel Memorial in Philadelphia. Steel Bodies offers a restorative and inspiring message centered on shared humanity. It is the first contemporary public art exhibition at the historic memorial.
Juxtaposed against the formal, terraced garden setting and existing figurative artworks, Hassinger's sculptures invite viewers to engage with the memorial in unexpected and poetic ways. Ten metal sculptures are refined, minimal constructions suggestive of three-dimensional, differentiated line drawings in the landscape. Inspired by iconic ancient vessel archetypes, the sculptures simultaneously reveal both the inside and outside of vessel forms which articulate the surrounding environment. Nothing is private or hidden from view in these open "steel bodies" that encourage the viewer to engage with them through shared public space that vividly connects art and nature. According to Hassinger, "if we can share the sky, we can share other things."
Steel Bodies provides opportunities to reflect on spirituality and the ways that art can transform perspectives about history, humanity and equity. Instead of dwelling on our differences, Hassinger encourages us to think positively about what we share in common. Though each sculpture is unique with varying sizes and shapes, they each symbolically accept, contain, and protect. With these artworks the artist suggests, "We are ALL vessels capable of compassion, and we are all equal. We share our humanity."
MAREN HASSINGER (b. 1947, Los Angeles, CA) lives and works in New York, NY. She received her BA from Bennington College and her MFA in Fiber Structure from the University of California, Los Angeles. The artist has built an expansive practice that articulates the relationship between nature and humanity. Carefully choosing materials for their innate characteristics, her sculptures reflect the sensibilities and education she experienced as a sculptor in the Fiber Arts Program at UCLA. Hassinger was the Director Emeritus of the Rinehart School of Sculpture at the Maryland Institute's College of Art in Baltimore, where she served as the school's Director for over twenty years before retiring in 2017. She has exhibited widely in both the United States and abroad and her work is included in the permanent collections of the Art Institute of Chicago; Baltimore Museum of Art; Los Angeles County Museum of Art; Museum of Modern Art, NYC; the Smithsonian's Hirshhorn Museum; and the Whitney Museum of American Art, NYC, among others. Hassinger has recently been commissioned to create outdoor works for Socrates Sculpture Park, Sculpture Milwaukee, Dia Bridgehampton, the Smithsonian Museum, the Rockefeller Foundation, the Aspen Art Museum, and Destination Crenshaw. This will be the first outdoor exhibition of her artworks in Philadelphia.
Maren Hassinger: Steel Bodies was originally presented and commissioned by Socrates Sculpture Park, New York with support from the Lenore G. Tawney Foundation. Artworks courtesy of the artist and Susan Inglett Gallery.
MAREN HASSINGER
Headshot, 2019
Photo Credit: Grace Roselli, Pandora's BoxX Project
The Central Terrace of the Ellen Phillips Samuel Memorial.
Top image: Vessel One, Maren Hassinger, Steel Bodies, Socrates Sculpture Park, 2022. Image by Byron Guinanzaca
GETTING TO THE ELLEN PHILLIPS SAMUEL MEMORIAL
The Ellen Phillips Samuel Memorial is a series of three terraces located along Kelly Drive between Boathouse Row and the Girard Street Bridge.
Pedestrians & Cyclists
The site is easily accessible to pedestrians and cyclists via the Schuylkill River Trail, which runs along the eastern bank of the river right past the terraces of the Memorial alongside Kelly Drive.
Taxi & Ride-Share
There is a small parking lot immediately south of the Girard Street Bridge that can be used for drop offs. This parking lot is near the northernmost of the three terraces.
Driving & Parking
If you are driving and need to park, the nearest parking lot is the Oval Parking Lot between the Art Museum and Lloyd Hall, near the Azalea Garden. It is a 10-15 minute walk from the parking lot to the Memorial, and there will be directional sidewalk stickers leading to the site starting at the end of Boathouse Row.
Transportation options via SEPTA:
32 bus (direction Ridge-Lyceum): Poplar St. & 30th St stop, and about a 15-20 minute walk from there (approximately 1 mile)
48 bus (direction 27th-Allegheny): 27th St. & Brown St. stop, and about a 15-20 minute walk from there (approximately 1 mile)
49 bus (direction 33rd-Dauphin): Pennsylvania Avenue & 29th St stop, and about a 15-20 minute walk from there (approximately 1 mile)
7 bus (direction 33rd-Dauphin): 27th St. & Brown St. stop, and about a 15-20 minute walk from there (approximately 1 mile)
About the organizer
The Association for Public Art (aPA, formerly the Fairmount Park Art Association) is the nation's first private, nonprofit organization dedicated to integrating public art and urban planning. Founded in 1872, aPA commissions, preserves, promotes, and interprets public art in Philadelphia.