Description
Mardi Gras Second Line Umbrellas.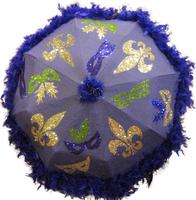 Make a statement with your Mardi Gras decor this year!
You may choose from glittered masks, fleur de lis or all of the above!
This class will cover making an umbrella for either second lining or decoration.
Class will include all the supplies to make an umbrella similar to the one pictured.
Included: umbrella, stencils, glitter, boas.

If you would like a large feathered boa around the edges, you can bring your own- it will take two.
You bring the partakables!
Registration fee includes all the supplies!