Mardi Gras Club Crawl 2016

Tuesday, February 9, 2016 at 6:00 PM

-

Wednesday, February 10, 2016 at 2:00 AM (HST)
Event Details
16th ANNUAL CHINATOWN MARDI GRAS
Rhythm, Dance, Costume, Fine Food & Thousands of Mardi Gras Revelers
---

HOW DO YOU DO THE #MardiGrasCrawl?!?
Zydeco, Jambalaya, Samba, Sazeracs, Roaming Brass Band, Caipirinhas, Choreographed Dance, Costumed Revelers, King Cakes, Hurricanes, Live Funk, Coxinha (Brazilian tapa), Shrimp Gumbo, Samba Lessons, Shrimp Po'boys, Guava Wood Smoked Meats, Bourbon Bread Pudding....all this and more on offer this year. See schedule below to build your crawl or just come on down and follow the funky beat!
MARDI GRAS CLUB CRAWL: SEVEN CLUBS - ONE COVER - 6pm until Close:
Square Barrels, Scarlet Honolulu, The ARTS at Marks Garage, Manifest, Downbeat Lounge, Bar35 and Nextdoor.
Wristbands available starting at 5pm at The ARTS at Marks Garage and 6pm at all other participating venues.
****This year, all entertainment and specialty foods will be featured inside Chinatown venues****


SCHEDULE - click here to download schedule image (i.e. will display the same as a photo) or click here for a PDF copy of schedule.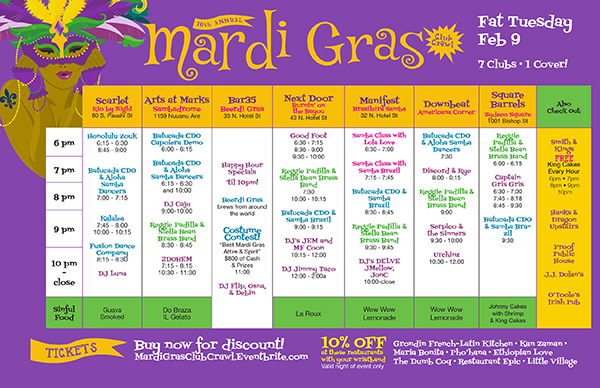 ROAMING ENTERTAINMENT
performing inside each of the above venues:
Reggie Padilla & The Stella Bean Bass Band
Aloha Samba and Batucada CDO (Brazilian percussion ensemble)


AUTHENTIC MUSIC & CARNIVAL CHEER
● 'Sambadrome' at the ARTS at Marks Garage featuring 2DoBem (Brazilian funk), DJ Caju, samba dancers, Brazilian tapas by Do Braza Hawaii + dolces by Il Gelato Hawaii
● 'Burnin' on the Bayou' at Nextdoor featuring Good Foot (soul, funk, afrobeat), traditional New Orleans fare by La Roux and Nextdoor's 'Bead Collector' cocktail
● 'Rio By Night' at Scarlet Honolulu featuring Honolulu Zouk (Brazilian zouk), Fusion Dance Company (samba fusion), Kalalea Lights (LED light show) and southern-style BBQ with a local twist by Guava Smoked
● 'Zydeco Square' at Square Barrels featuring Captain Gris Gris
● 'Brasileira Samba' at Manifest (samba lessons & contest)
● 'Beerdi Gras & Costume Contest' at Bar35
● 'Americana Corner' at Downbeat Lounge featuring Discord & Rye and Serpico and the Sinners.
Full schedule released soon!
COSTUME CONTEST! PRIZES!


10% DISCOUNT OFF ALL PURCHASES BY WRISTBAND HOLDERS AT THE FOLLOWING CHINATOWN RESTAURANTS:
(valid the night of the event only & must display your wristband)
Grondin French-Latin Kitchen, The Dumb Coq, Maria Bonita, Kan Zaman, Restaurant Epic, Little Village, Pho 'hana, Ethiopian Love, HASR Bistro


SPECIALTY FOODS & COCKTAILS:
Free KING CAKES from Smith & Kings (69 N. King St) at 6PM, 7PM, 8PM, 9PM and 10PM. The lucky person who gets the baby in each cake to receive a Smith & Kings gift certificate!
DO BRAZA HAWAII (Brazilian tapas & sweets + caipirinhas) at The ARTS at Marks Garage (1159 Nuuanu Ave).
Proudly serving Coxinha (chicken dumplings), Empedinha (mini pies (shrimp, chicken or heart of palm) with a light, flaky crust), Pastel de Carne (beef empanadas), Doce de Leite Cheesecake (cheesecake with a wonderful, Brazilian twist). All of Do Braza's scrumptious treats are handmade with care here in Honolulu by Andrea De Oliveira Quiming originally from Rio de Janeiro.
LA ROUX (New Orleans classics) at Nextdoor (43 N. Hotel St)
Onolicious Shrimp Po'boys, Jambalaya and Bourbon Bread Pudding. La Roux is owned and operated by Louisiana native, Corey Collins (from Lafayette, LA), and his wife, Sheri Collins (born & raised in Mililani).
J.J. DOLAN'S (A New Orleans favorite & Cajun pizza)(1147 Bethel St.).
Serving Shrimp Gumbo and Cajun Alligator Pizza 'til 11PM and Carnival Cheer all night!
GUAVA SMOKED (southern-style BBQ) at Scarlet (80 S. Pauhi St).
Mouth-watering smoked meats cooked with strawberry guava wood: pork and chicken. Served as you wish: kebobs (skewered w/ peppers & onions), fried rice bowls (e.g. pork or chicken fried rice bowl), pupu bowls, burger-style on a bun or as a nalo green salad (e.g. pork or chicken with nalo greens). All meats are marinated with a Kauai family recipe, slow-smoked with Hawaiian strawberry guava wood and finished off live onsite on a piping-hot grill.


SQUARE BARRELS (sumptuous southern delights)(1001 Bishop St)
Johnny Cakes with Shrimp, King Cakes, Square Barrels Hurricanes
MANIFEST (premium spirits)(32 N. Hotel St)
The Bijou - Mardi Gras cocktail: celebrate with the finest elixir featuring gin, green chartreuse and sweet vermouth
IL GELATO HAWAII (indulgent gelato - a New Orleans staple) at The ARTS at Marks Garage (1159 Nuuanu Ave).
Dark Chocolate Gelato, Tahitian Vanilla, Sea Salt Caramel, Mango Sorbetto, Acai Sorbetto, Pittaya (Dragonfruit) Sorbetto + Pitaya and Acai Bowls


MARIA BONITA (15 N. Hotel St)
Serving homemade Mexican flan


GRONDIN FRENCH-LATIN KITCHEN (62 N. Hotel St)
The Grondin Sazerac: absinthe, Sazerac rye, simple syrup, Peychaud's bitters, lemon zest


NEXTDOOR (celebratory libations)(43 N. Hotel St)
The Bead Collector - Mardi Gras cocktail: indulge in a sweet & tart euphoric treat featuring rum, huckleberry liqueur, sour and 7
THE DUMB COQ (12 S. King St)
● Food: Shrimp Fried Wraps (lemon and garlic marinated shrimp, sautéed with roasted peppers and sweet onions with jack cheese wrapped in a flour tortilla. Topped with watermelon and lime reduction slaw). Slow Roasted Pork Tacos (slow roasted pork shoulder, onion, cilantro topped with fresh pineapple and caramelized onion roasted tomato salsa). Moules Frites (10 oz. fresh penn cove mussels, white wine, garlic, parsley, topped with shoes string fries and bread).
● Cocktails: White Peach Margarita (tequila infused peaches muddled shaken with 8 months age tequila reposado and fresh lime juice). Hot Coq Margarita (bruised mandarins with cascabel pepper infused tequila fresh lime and cuervo tequila).
More special food & drink offerings will be announced soon!
MORE INFO: 
https://www.facebook.com/MardiGrasCarnaval

SPECIAL MAHALO TO OUR SPONSORS: 



Presented by: The Chinatown Arts District.
No refunds of wristband purchases.
When & Where

Chinatown Arts District

Honolulu, HI 96817


Tuesday, February 9, 2016 at 6:00 PM

-

Wednesday, February 10, 2016 at 2:00 AM (HST)
Add to my calendar