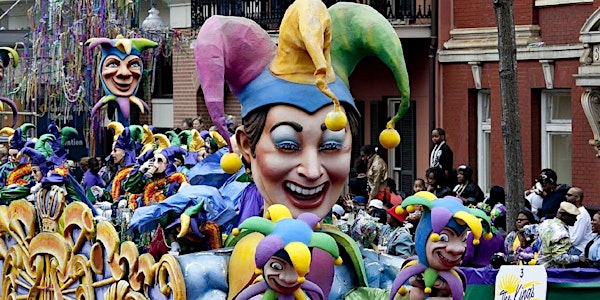 Mardi Gras Bar Crawl - Cleveland
The Mardi Gras Bar Crawl is coming Saturday February 26th, 2022! We're turning Cleveland into Bourbon Street for the biggest Mardi party!
When and where
Location
Downtown Cleveland Bars 1214 West 6th Street Cleveland, OH 44113
About this event
The Mardi Gras Bar Crawl is coming Saturday February 26th, 2022! We're turning Cleveland into Bourbon Street for the biggest Mardi Gras celebration and party! Collect beads and drink Hurricanes! It's an incredible day of green, purple, and gold New Orleans style fun!
🎉 What's included 🎉
📿 Beads, beads, and more beads!
🎭 Mardi Gras Masquerade mask! (1st 250 at registration)
🎉 16oz Mardi Gras color changing stadium cup for you drinks!
📿 No cover at participating bars with tickets!
🎭 Discounted food and drink specials at bars!
📿 Everyone dressed in outrageous Mardi Gras costumes!
🎉 Group discounts of up to 25% off General Admission!
🎭 EVERYTHING YOU NEED TO KNOW ABOUT THE CRAWL 🎭
REGISTRATION IS FROM 3PM-5PM AT:
DIVE BAR
1214 W 6TH STREET
CLEVELAND, OH 44113
DIVEBARCLEVELAND.COM
🎟️ REGISTRATION: You'll receive your beads, 16oz color changing Mardi Gras cup and wristband. If you can't make it by 5pm have a friend pick everything up for you and they will need to have your ticket.
🎟️ TICKETS: You MUST have either a printed copy of your ticket with you or on your phone. Screenshots will not work, it must be the actual ticket. If purchasing at the door it's $20 cash only!
🚌 ROUTE: You're able to go to any of the participating bars at your leisure after you register!
🍺 DRINK SPECIALS: All specials are listed below or can be found on the Facebook event page at https://www.facebook.com/events/1471165249941337
🌎 INTERACTIVE MAP: All the drink specials and bars on an interactive map are at www.mardibarcrawl.com/cleveland
💰 REFUNDS: All sales are final and there are no refunds for the crawl.
🙋 ID: DO NOT FORGET YOUR ID!! It will be checked at every participating bar that you choose to go to. All participants must be 21 years old or older.
☀️ WEATHER: Event goes on rain, snow or shine! Must be 21 to attend. All sales final, no refunds. Bar specials subject to change at bars discretion.
🎉 Participating bars 🎉
Dive Bar (Registration 3pm-5pm)
$4 Onda Tequilla seltzers
$5 Bacardi Hurricanes
$3 Coors Lite
$3 Fireball shots
$3 Abita Purple Haze beers
Barley House
$8 Hurricanes
$6 Naw'lins Dragon
$6 Irish Hurricane
$5 King Cake Shot
$6 Chicken Tenders
$6 Nachos (no chicken)
$6 Quesadilla (no chicken)
The Ivy
$3 Drafts (All)
$3 16oz Bud Light
$5 Raspberry Lemonade
$5 All Well Drinks / Shots
$3 Absolut Watermelon
$3 Jameson Caskmates / Coldbrew
$7 Vegetable Egg Rolls (3), Thai Chili Glaze, Finished on the CharGrill
$7 Breaded 4 Cheese Ravioli (5), Marinara, Shaved Parmesan
$8 Chicken Tenders (4), Choice of BBQ, Buffalo, Ranch, or Thai Chili
Velvet Dog
$3 Miller Lite
$4 Onda - Tequila Seltzer
$5 Hurricanes
$5 Bacardi cocktails
Rumor
$5 Hurricane (Light rum, dark rum, passion fruit juice, orange juice , lime, simple syrup and grenadine)
$5 Blue Hurricane (Coconut rum, blue curaçao, soda, orange juice, lime and pineapple juice)
$5 Bourbon street - Bourbon, lime and orange juice
$5 Voodoo - Gin, vodka, tequila, triple sec, sour and a splash of coke
$5 Fat Tuesday - Tequila, orange liqueur, pineapple juice and lime
SHOTS $4
$4 King Cake (Vanilla vodka, cake vodka, Irish cream)
$4 Carnival (Grape vodka, grenadine, blue curaçao, sprite)
$4 Nola (Vodka, lemon juice, simple syrup)
$5 well mixed drinks
$4 captain Morgan shots
$4 Bacardi shots
$ Malibu shots
$4 Jose Cuervo shots
$4 Jim beam shots
$3 Bud Light
$3 Miller Lite
Be safe and have a great time! Please don't drink and drive. Call a cab, Lyft or Uber, or have someone who will be a designated driver. Must be 21 to participate. Event will go on rain, snow, or shine!
HAPPY CRAWLING!