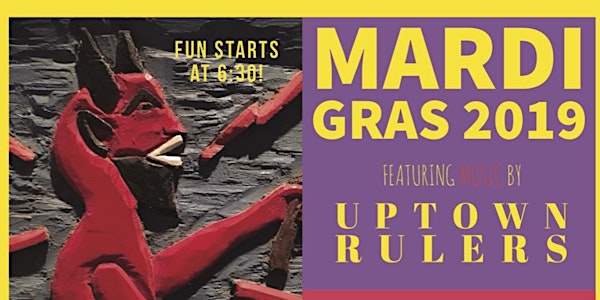 Mardi Gras at the Green Briar
When and where
Location
Green Briar Restaurant & Pub 304 Washington Street Brighton, MA 02135
Description
You'll be glad you came! It's Unbound Visual Arts' 7th annual Mardi Gras and Carnival Celebration of the Arts. It's the only Mardi Gras celebration with an arts theme in Greater Boston. It's an evening of fun and celebration for all Unbound Visual Arts members, guests and friends at the very engaging and historic Green Briar Restaurant, 304 Washington Street in historic Brighton Center. The Green Briar is located in the historic Nagle Builidng, constructed in the Queen Anne Commercial Style in 1892 and it's just as architecturally historic inside the Green Briar. We'll have a live 7 piece Mardi Gras jazz band, Uptown Rulers, complimentary appetizers, a full cash bar, an art show of UVA member's work, dancing, art slide show, a silent auction and a 50/50 raffle. Come and be part of the excitement. Costumes are optional and we'll provide the Mardi Gras masks, beads and feathers.
Share a good time with artists and other art enthusiasts from throughout the area. This year, we've added a special Open House at Unbound Visual Arts' Headquarters/Gallery from 5 - 6:30 pm, which is located almost next door to the Green Briar. The Gallery has over 50 original works of art from prior exhibits on display. The Green Briar is conveniently located on the 57, 65, 86, 501 and 503 bus lines and it's handicapped accessible.

Uptown Rulers is a local New Orleans style band featuring Chris Coughlin on Keys, Jess Fox and Scott Miller on a slew of Saxes, Scott Kremer on Bass, Philip Oullette & Ukumbwa Sauti on Drums.
Don't know what Mardi Gras and Carnival is all about? No problem. Mardi Gras and Carnival is a huge world wide secular celebration that happens every year during Winter to get us all ready for Spring. It's really a big deal in New Orleans and most Latin American and many European countries.