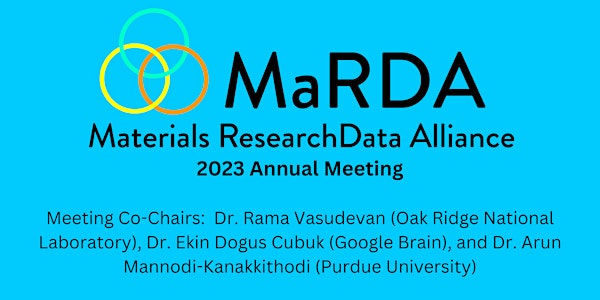 MaRDA Virtual Annual Meeting 2023
February 21 -23, 1:00 -4:30pm ET daily. Register to be a MaRDA member here: https://www.marda-alliance.org/membership-registration/
By Materials Research Data Alliance
Date and time
February 21 · 10am - February 23 · 2pm PST
About this event
About this event
The Annual Meeting is a chance to learn about MaRDA, OSTP Memorandum on Equitable Access, the CHIPS Act, and interagency efforts to support FAIR data and infrastructure to drive materials innovation.
The meeting includes ~3.5 hours of short presentations, panel discussions, student/postdoc poster presentations, and workshops each day. Participants are welcome to attend any or all days. Registration and membership in MaRDA is free and open to all materials data stakeholders interested in the mission of MaRDA
To register for this event you should also be a member of MaRDA.
You can register here: https://www.marda-alliance.org/membership-registration/
For more information or questions please email meetings@marda-alliance.org.
About MaRDA
The Materials Research Data Alliance (MaRDA) is a community-led network focused on connecting and integrating U.S. materials research data infrastructure to realize the promise of open, accessible, and interoperable materials data. Each of these elements are aligned with the goals of the Materials Genome Initiative (MGI). MaRDA provides a platform that promotes the convergence of ideas, people, data, and tools to accelerate discovery, enable new insights into materials mechanisms, and lay the foundation for both human-centered and artificial intelligence-assisted approaches to materials design. MaRDA is governed by an elected council, MaRDAC, that promotes the interests of materials data researchers nationally and internationally, and coordinates the efforts of MaRDA.