MARCUS VISIONARY // LIONDUB - MEZZANINE - FRIDAY 1.20.2012

Friday, January 20, 2012 at 9:00 PM

-

Saturday, January 21, 2012 at 2:00 AM (PST)
Event Details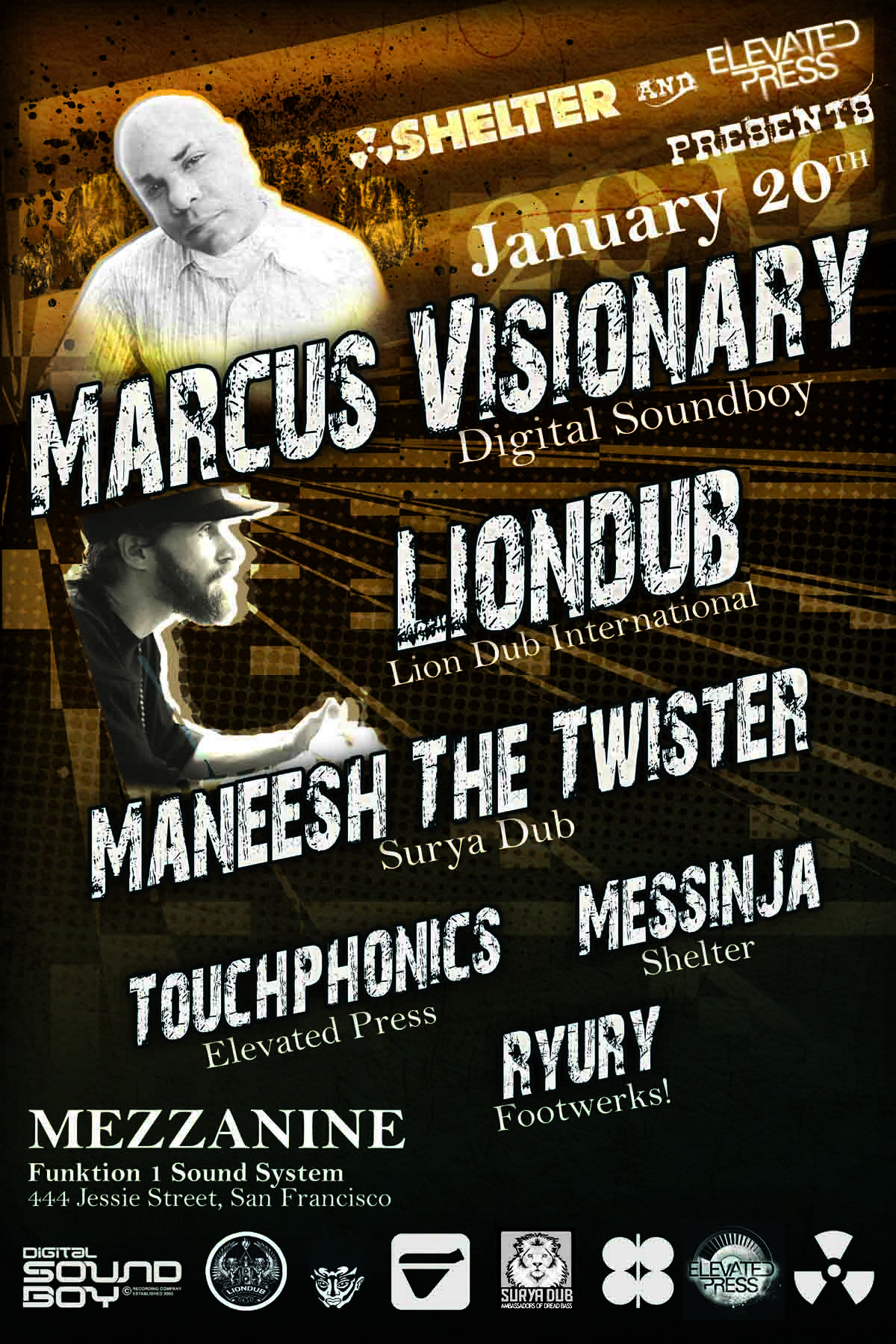 $5 SVEDKA COCKTAIL SPECIALS ALL NIGHT!
ELEVATED PRESS, SHELTER, AND MEZZANINE BRING YOU A NIGHT OF JUNGLE / DRUM & BASS / BASS MUSIC WITH:
MARCUS VISIONARY
(Liondub International | Digital Soundboy | Toronto)
Marcus Visionary has been a full time DJ, producer and promoter for 2 decades. In the early 90's Marcus was part of the Non Chalant sound system which championed the sounds of Hip Hop, Rnb, Reggae and early house. Since 1992 Marcus Visionary has been a DJ and promoter in the Toronto jungle scene and is responsible for creating early Delirium and Junglist Movement events. He currently is a resident DJ for Theory events, which has afforded him the opportunity of playing with all of the top artists in the business.

His Prophecy radio show is North America's longest running Jungle Drum and Bass radio program. This year he celebrates 15 years with partner dj Prime. You can catch the Prophecy every Sunday night from 8-10 p.m E.S.T on 89.5 F.M or www.ciut.fm.

In the last decade Marcus Visionary has been featured on many premiere labels including: Digital Soundboy, Liondub International, Play:musik, 31 Records, Revolve:r, Trouble on Vinyl, Horizon Music, X tinction Agenda, Shout, Flex Records, Hustlin Beats, On Point, Nice and Smoothe, and Dance Rock.

Marcus Visionary's sound is a fusion of dub, reggae, techno, soul, and early jungle with strict attention paid to melody and sub bass. With new music in the pipeline for Benny Page's High Culture imprint, as well as the imminent launch of his Inner City Dance label with DJ Lush, more releases to come on Lion Dub and the re launch of his ragga jungle labels Dance Rock and Rock Steady very soon. It is now 20 years in and Marcus shows no signs of slowing down for 2012 and beyond.
http://www.facebook.com/pages/Marcus-Visionary/91342874705
http://www.digitalsoundboy.com/
LIONDUB
(Liondub International | Konkrete Jungle | Breakbeat Science | Brooklyn)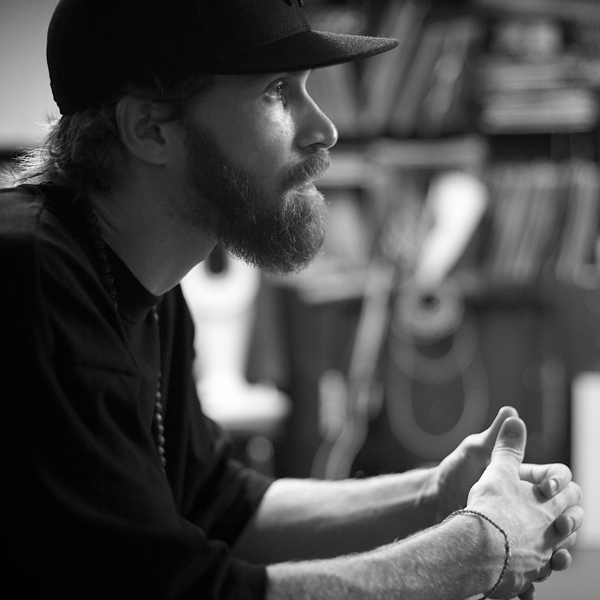 DJ Liondub comes correct. An authentic product of Brooklyn, his musical mindset was formed at the crossroads of major international bass vibrations originating from Jamaica, NYC and the UK. Inspired by the global rhythm culture emanating from the streets beneath his feet, Liondub has spent a lifetime pounding that very pavement in pursuit of his passion for bottom-heavy beats.

Armed with raw talent, right intentions, a humble demeanor and the tireless determination of a true New Yorker, he began DJing back in '91. As a 17 year old sound system selector hustling in the Lower East Side of the Dinkins-era, Liondub embarked on a journey that has since taken him to the four corners of the dub diaspora; from Jamaican Roots Reggae to the Jungle depths of the UK, from high up on Hip-Hop to down-low on Dubstep. Along the way he has studied under great masters, paid untold dues and kept it Bed-Sty real in the name of music; all-the-while sharpening skills, developing expertise and establishing critical relationships across geographic and sonic divides. From NYC he criss-crossed North America and from London he conquered Europe, all the while cultivating roots in his home-away-from-home, Jamaica. Always armed with a current arsenal of jungle/dubstep & reggae dubplate specials, Liondub's soulful, explosive, unique, and precise sets have gone down a storm on stages shared by a lengthy list of legends and luminaries including Sly & Robbie, The Fugees, Sister Nancy, Johnny Osbourne, Steel Pulse, Black Uhuru, The Beatnuts, Smith & Mighty, DJ Kush, Afrika Baambaata, Jazzy Jay, DJ Hype, Andy C, Goldie, Pinch, Loefah, Kryptic Minds, Emalkay, and Damian Marley to name but a few. Emerging from the shadows of giants, Liondub's mixes have moved him into the spotlight with recent podcast exclusives airing on urb.com and kmag.co.uk, home of the highly influential Knowledge Magazine.

Between stints as a wax warrior one can find Liondub in the studio honing the flipside of his craft. His steady stream of productions converged with the with Toronto-based producer Marcus Visionary resulting in the launch of Liondub International. The label has been sending massive waves through the sub-frequency obsessed bandwidth, peaking (so far) with "The General" featuring Jahdan Blakkamoore, a riddim co-produced with Matt Shadetek of the Dutty Arts crew that has been tipped as one of the top Ragga-influenced dubstep tracks of 2009. With ongoing support from baller jocks like DJ Hype, Rusko, Ramadanman, Remarc, Shy FX, Annie Nightingale, Fabio, Chrissy Chris and MJ Cole, and current studio projects with Jah Cure, Sizzla, Capleton, Bounty Killer, John Holt, Jigsy King, Horace Andy, and more, 2012 looks to be a year of exceptional promise for the new international imprint.

So whether behind the decks as a DJ, behind the boards as a producer / engineer or behind the scenes as a label executive, event producer and record shop buyer, it is Liondub's uncommon ability to flow between these kindred yet surprisingly disparate musical spheres that distinguishes his creative vision and defines his professional ethos. What emerges from Liondub's wide angle view of Dub history is an improbable yet fresh way forward that balances the warm soul and raw spontaneity of a Kingston Dancehall sound system with the exacting precision of a London Drum and Bass technician. That's no easy mission, but one Liondub delivers on daily.
MANEESH THE TWISTER
(Surya Dub | Dub Mission | SF)
Maneesh the Twister is founder of Surya Dub, the Ambassadors of Dread Bass. Surya Dub has won many accolades from Best Club Night, Best of the Bay, and also Maneesh was awarded Best Club DJ of SF by the Bay Guardian. He was also co-founder of the Dhamaal Artist Collective and his productions appear on the Dhamaal Soundsystem CD as well as XBOX 360 game "Project Gotham" and Sony BMG India's Shamur compilation!
Maneesh has quite eclectic tastes and spins dub reggae, drum & bass, dubstep, tropical & global beats, uk funky/garage, dancehall, glitch, bhangra, and anything with BASS. Being heavily influenced by dub reggae, he is also a resident of the longest running weekly dub & roots night in the US, Dub Mission, which is 15+ years and dubbing! Maneesh has shared the stage with legendary Jamaican producers Lee "Scratch" Perry & Scientist, Thievery Corporation, Mad Professor, Francois K, Kode 9, Adrian Sherwood (On-U sound), Mala, The Bug & Warrior Queen, Flying Lotus, State of Bengal, Smith & Mighty/RSD, Karsh Kale, Nickodemus, Z-Trip, DJ Vadim, Kush Arora, Dub Gabriel, Jah Warrior Shelter Hi-Fi, DJ G & Roommate.
http://soundcloud.com/surya-dub
TOUCHPHONICS
(Elevated Press | Shelter | SF)
Touchphonics is a heavy hitting Dj/Producer. Originally hailing from the Northeastern United States, he now claims San Francisco, CA. as home. From hip hop to drum and bass and everything in between this producer is on a constant rise through out the ranks. Always maintaining a D.I.Y. ethos, Touchphonics has embarked on his own imprint, Elevated Press Records. The label is the main output source for his productions as well as other like minded artists. Along side the label is an established residency at Shelter, the legendary Tuesday night drum and bass staple, in the heart of San Francisco. Touchphonics is a hard working determined artist who has never been afraid to take on new ventures, and to follow the path that music continues to lay out for him.
http://twitter.com/#!/touchphonics
http://soundcloud.com/touchphonics
MESSINJA
(Shelter | Culture45 | Active Mindz | SF)
Hailing from San Francisco, Frank[ie] Rodriguez (aka DJ Messinja) began his DJ path with the Native American hip hop project, Ill Nation in 1997 spearheaded by Yaiva based in Northern Arizona. Since his move to San Francisco in 2002, Frankie continued his love for Jungle and Drum & Bass music from his prior years in college radio and currently holds a residency at Shelter Drum and Bass Tuesdays located at Underground SF in the Lower Haight district. It wasn't until his bookings at reggae dancehall events that he adopted the his current alias, Messinja. As his love for music branches and progresses, his foundational influences of what shaped his musical palette throughout his years as a youth to what is surrounds him today are keenly echoed through his track selections in the dance and mix recordings.
RYURY
(Footwerks | Bassbot | SF)
Well rounded and educated in many genres of music, Ryan has much to offer when it comes to sound selection and champion mixing skills. He grew up in Youngstown, Ohio, moved to NYC and started playing major events over a decade ago. Being a regular at legendary record shops such as Sonic Groove, Breakbeat Science, Liquid Sky and more, Ryan was lucky to be exposed to eclectic sounds from the start and to have tunes handed down to him by some of the major players of the time. His travels have taken him all over the U.S., he has played countless dnb/jungle events along side many notable artists and could have written an article called, "The Finer Points of Loving Vinyl and Having to Carry It Everywhere" He now resides in beautiful SF, throws events and hosts Footwerks, He is also working on a label that will showcase diverse and forward thinking music and he has some production projects in the works. He is current with tunes, loves all music, loves the Bay Area, loves all of its amazing artists and most of all, loves you!
http://www.facebook.com/FootwerksSF
http://twitter.com/#!/footwerks
Tickets: After purchasing a ticket through Eventbrite you may either print out your confirmation email for faster entry, or bring your ID and your name is automatically added to will call.
NO REFUNDS
Mezzanine Ticket Transfer Policy: If you would like to have someone else claim your will-call spot, you MUST provide them with a photo copy of your driver's license or credit card used to purchase the tickets, along with a signed note authorizing them to use your spot (specify quantity).  Without proof and written consent, they will not be admitted inside the venue. 
All events are 21+ | Please bring valid identification. For more information visit mezzaninesf.com
Have questions about MARCUS VISIONARY // LIONDUB - MEZZANINE - FRIDAY 1.20.2012?
Contact Mezzanine
When & Where
444 Jessie St
San Francisco, 94103


Friday, January 20, 2012 at 9:00 PM

-

Saturday, January 21, 2012 at 2:00 AM (PST)
Add to my calendar
Organizer
A richly diverse gathering space, Mezzanine showcases live and electronic music from all genres – rock, dance, hip hop, soul, jazz, salsa, world beat – as well as multimedia art events, fashion shows and video/film installations. The multi-use venue boasts state-of-the-art lighting technologies with custom-built sound systems for both live and electronic music. The club caters to performances of all types; from hot shows with the newest buzz bands to intimate engagements with the world's biggest artists.