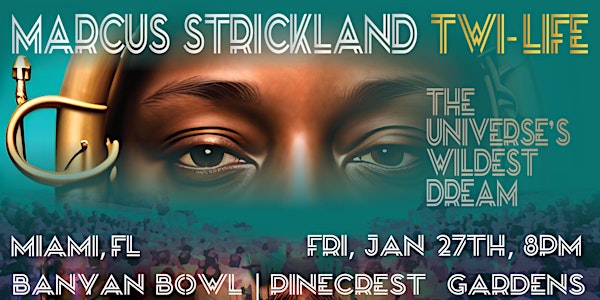 Marcus Strickland TWI-LIFE
Marcus Strickland's TWI-LIFE presents his latest Afro-Futuristic album The Universe's Wildest Dream. Experience it Jan 27 at Banyan Bowl.
When and where
Location
Pinecrest Gardens 11000 Southwest 57th Avenue Pinecrest, FL 33156
About this event
Marcus Strickland's TWI-LIFE presents his most recent album, The Universe's Wildest Dream. Experience this Afro-Futuristic soundtrack live at Banyan Bowl, Pinecrest Gardens, 11000 SW 57th Ave, Pinecrest, FL 33156 on January 27, 2023. Door open at 7 PM.
This will be night immersed in the nature and sonic soundscapes of Marcus Strickland's saxes + bass clarinet. The band features Charles Haynes on drums, Mitch Henry on organ + keys, and Dion Kerr on bass, this will be a night immersed in nature and sonic soundscapes.
The Universe's Wildest Dream, the latest release from Marcus Strickland Twi-Life, is an eclectic Afro-Futuristic soundtrack, geared towards raising awareness of the miraculous Planet Earth through Pan-African aesthetics, bringing together many genres of black music. "I figure if there's any message that can recruit more Earthlings to acknowledge, comprehend and take action towards global warming and sustainability, it is the realization that we may be the only planet that harbors life, that we are probably the universe's wildest dream," says Strickland. Comprised of works Marcus wrote during the 2020 New York City lockdown, the sound (shaped by production from both Marcus Strickland & Charles Haynes), lyrics and titles resonate with the spiritual realm and praise our existence within this vast universe.
VIP TICKETS AVAILABLE WITH VINYL
STUDENT/SENIOR 55+ TICKETS AVAILABLE