Description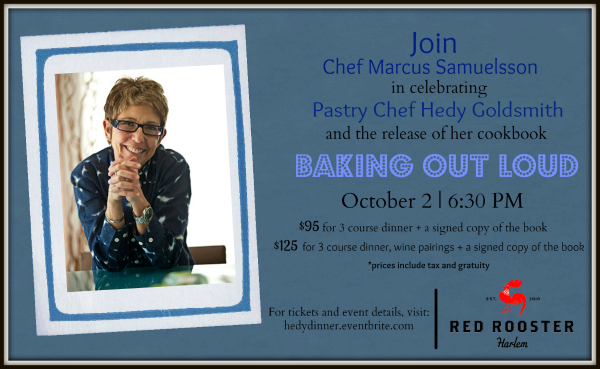 "Baking Out Loud" shows how talent, and fond memories can take something familiar and add a creative twist. "My whole life has influenced the desserts that I make, and those early salty-sweet memories and big flavors still shape my palate." In her new book she transforms All-American treats like Twinkies and popcorn into sweet and tangy "Red Velvet Twinks" and "Popcorn and Peanut Bark". Hedy's style shows the home cook how to create new, exciting and easy-to-make treats out of old favorites.
Red Rooster Harlem is hosting a dinner on Tuesday, October 2nd at 6:30pm and we want you to be there. You're invited to experience the special menu that feature's Hedy Goldsmith's favorite desserts from "Baking Out Loud".
The 3-course tasting menu is $95 ($125 with wine pairings) and the price includes tax, gratuity and a signed copy of Hedy's book. Come join us for a culinary journey with a sweet and salty ending as we celebrate "Baking Out Loud" with Hedy Goldsmith, Marcus Samuelsson and the Red Rooster team.
Appetizer
Shrimp and Dirty Rice
or
Jerk Bacon and Egg
Entrée
Snapper with Teff Ramen Noodles
or
Roasted Duck and Waffles
Collards Greens
Fall Seasonal Vegetables
Desserts
As assortment of Hedy's favorite desserts from Baking Out Loud
Organizer of Marcus Samuelsson hosts Hedy Goldsmith at Red Rooster
Located in the heart of Harlem, Red Rooster serves comfort food celebrating the roots of American cuisine and the diverse culinary traditions of the neighborhood. Named in honor of the legendary Harlem speakeasy, Chef Marcus Samuelsson brings his passion for food to the neighborhood he calls home.