Award-winning keyboardist Marcus Johnson brings his funky style of jazz to South for an evening that is sure to be a party.
About this Event
MARCUS JOHNSON with Gerald Veasley Band
April 8, 2021
Two Shows 7pm and 9pm
While pursuing his JD and MBA at Georgetown, he independently produced and distributed his first CD (Lessons in Love), which sold more than 40,000 units; a phenomenal success for an unknown independent artist's debut release. This album helped him launch his career as a renowned jazz keyboardist/pianist, and later, he released his second CD (Inter Alia), with staggering success
This success caught the attention of Black Entertainment Television (BET) founder and businessman Robert L. Johnson, who invested and partnered with Marcus to establish Marimelj Entertainment Group. Under their partnership, MEG's label Three Keys Music housed Studio 8121, a full-service recording studio, and two music publishing companies: Marimelj Music Publishing and Three Keys Music Publishing.
As head of Three Keys Music, Johnson produced and released on the Three Keys Music label national jazz artists: Michael Lington, Jaared Arosemena, Bobby Lyle, Nick Colionne, R&B singer, Alyson Williams, neo-soul songstress, Zahzarah; and smooth jazz Saxophonists Phillip Martin and Brian Lenair.
To date, Marcus has released more than fifteen Billboard charted CDs, and has the distinction of having his groundbreaking 2008 Billboard Top 20 Contemporary Jazz FLO (For the Love Of) Anthology, which consisted of three distinct CDs -- FLO Chill, FLO Romance and FLO Standards - all chart Top 10 on Billboard Contemporary Jazz Charts simultaneously.
The release of Poetically Justified (2009) and This is How I Rock (2011), which were Top 20 Contemporary Jazz CDs, solidified Marcus Johnson as the heir apparent to the funky urban groove music style and sound made famous by legendary jazz greats, George Duke and Herbie Hancock.
SAFE Re-OPENING STATEMENT at SOUTH JAZZ CLUB
While we are taking it slowly; starting with fewer tables, 50% indoor capacity, and a slightly smaller menu, we are promising to provide the same delicious food, stellar service and good old southern hospitality for which we are known.
We are carefully following all the recommendations of Philadelphia's Health Department and guidance provided by the State of Pennsylvania, and we ask that you also comply with these regulations. We want everyone; our staff, our guests and our families to be safe.
-Tickets are sold at a minimum of 2 and a maximum of 4. For exceptions please call 267-225-8018.
• Our tables will be at least six feet apart.
• Parties dining indoors will be limited to a maximum of 4 guests per table.
• Our indoor dining staff will wear masks and face shields.
• Guests are required to wear masks except when eating or drinking.
We strongly recommend reservations, as our seating is limited and we want to avoid crowds of people waiting.
We're glad to be back to work and look forward to seeing you soon.
The Management & Staff SOUTH Jazz Kitchen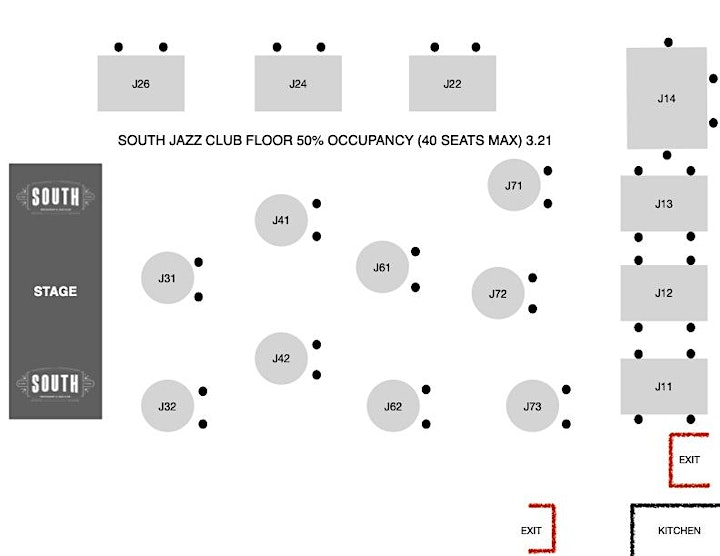 Performers
Date and Time
Location