Marcus Freed's USA Book Launch - The Kosher Sutras

Monday, June 10, 2013 from 7:45 PM to 8:45 PM (PDT)
Event Details
Book Overview
The Kosher Sutras is a Yogic-meditative-Kabbalistic guide to help calm your mind, strengthen your body and invigorate your soul. Marcus J Freed's eloquent and amusing writing makes it accessible to both beginners and experts. Also described as 'the yoga book for people who don't like yoga', Freed takes ancient ideas and teaches ways to apply them to positively transform every aspect of your life relationships, business, spirituality and more.
Master yogi Max Strom, author of A Life Worth Breathing, described The Kosher Sutras as "An inspirational and insightful offering to help navigate our spiritual journey with integrity." Felicia Tomasko, editor of LA Yoga Magazine, wrote: "Freed's eloquently written and well-released practice manual unites the Western Jewish ritual, textual, and historical traditions with the philosophy and practice of Hatha Yoga. No matter your religious tradition or background, this work will deepen your practice."
Meet the Author
For more than 15 years, Marcus J Freed's purpose has been helping people optimize their inner
talents and live to their highest potential. He has many entrepreneurial endeavours, fuelling his passion for life. Marcus founded the business consultancy Freedthinking, and developed Bibliyoga and the Kosher Sutras, helping transform the lives of thousands. A regular broadcaster for BBC national radio, and past President of the Jewish Yoga Network, Marcus has written for publications including The Washington Post, The Independent and The Jewish Chronicle, and has appeared on Fox TV news networks. A trained actor, Marcus performed his Biblical comic plays in over 20 countries and appeared in the movie Saving Lincoln. His new Youtube channel Marcus Recommends is dedicated to connecting people with great ideas and celebrating life. Marcus happily lives in Los Angeles and London. You may reach Marcus at www.marcusjfreed.com.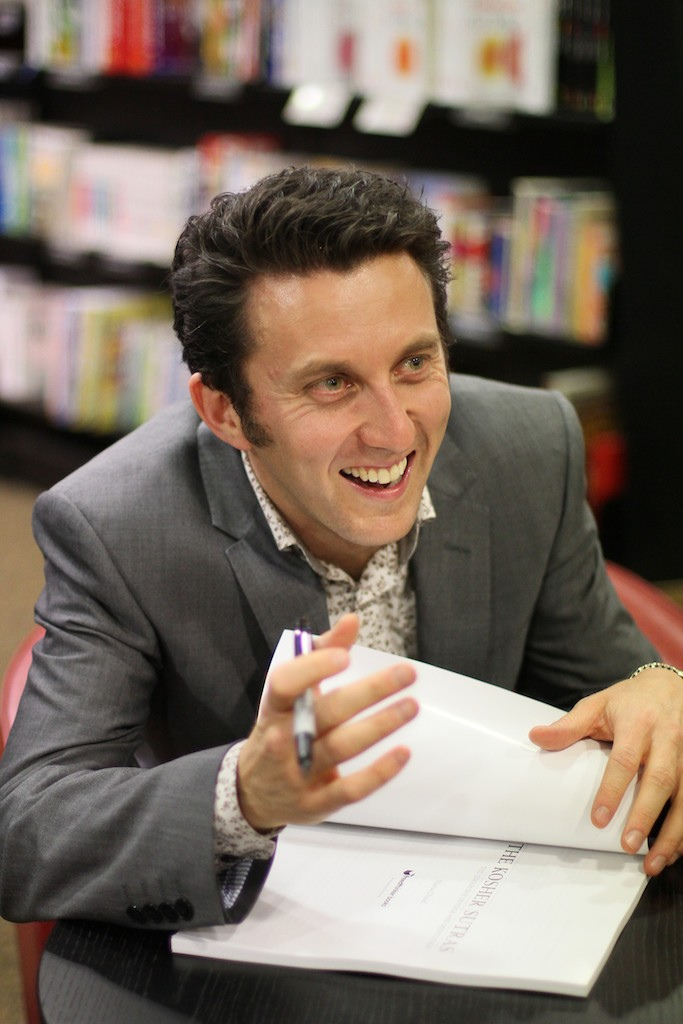 From: Philip Goldberg, author of American Veda:
"The adaptation of Eastern ideas and practices to the Abrahamic traditions – and the consequent rediscovery of Western mysticism – is one of the most important developments in modern religion.  With this book, Marcus Freed has made an important contribution to this favorable trend.  Like bagels, "The Kosher Sutras" offers value to Jews and non-Jews alike.  Yogis of all faiths will find inspiration, insight and practical tools for spiritual growth in these pages." 
Lisa Levine, author of Yoga Shalom
Marcus J Freed has produced what I consider to be one of the most important Jewish Yoga books of his generation. Marcus takes us on a physical and spiritual journey with modern insights, philosophies and deep connection to ourselves.

Elisha Goldstein, author of The Now Effect: 
Marcus J Freed is a master of his craft. Within these pages you'll find passages that give the gift of insight and practical ways to connect to a space of possibility and freedom that brings wonder back into daily life.

Rabbi Rami Shapiro author of Amazing Chesed: Living a Grace–filled Judaism
Marcus J Freed's Kosher Sutra is the first embodied Torah commentary. Blending text, his wonderful insights into its meanings, and yoga postures into a seamless multi dimensional exploration of Torah, Marcus allows you to enter into the world Torah is away study alone cannot do.
Steven J. Gold, author of Yoga and Judaism:
Marcus J Freed is a Jewish yogi and teacher par excellence. This book is an embodiment of both Marcus personally and of Jewish yoga generally. It is about the complementary blending of two ancient spiritual traditions for well-being and advancement on all levels of the body-mind-spirit continuum.
When & Where

Pico Cafe
8944 West Pico Boulevard
Los Angeles, CA 90035


Monday, June 10, 2013 from 7:45 PM to 8:45 PM (PDT)
Add to my calendar
Organizer
JConnect LA, Shabbat Tent, Jewlicious Festivals
We are one of the largest grassroots network in the country devoted to engaging young adult participation in Jewish life through music, festivals, holiday celebrations and social gatherings.
310.277.5544 | lauren.jewlicious@gmail.com |1801 Ave. of The Stars, Suite #322, Los Angeles, CA 90067