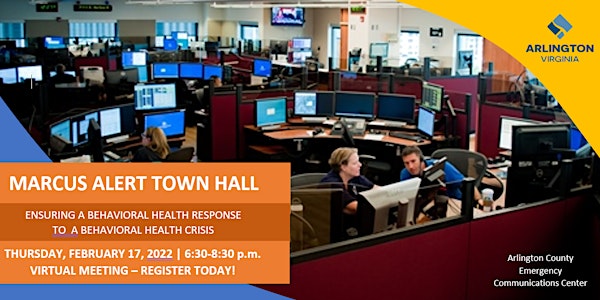 Marcus Alert Town Hall
Community meeting on Arlington County's implementation of Marcus Alert and related behavioral health crisis response measures.
About this event
The Marcus-David Peters Act was signed into law in 2020, and is named for Marcus-David Peters: a young, Black biology teacher who was killed by Richmond, Virginia police in 2018 while experiencing a mental health crisis.
According to the law, all Virginia localities must establish a local plan to create a Marcus Alert system by July 1, 2022.
The Marcus Alert is a framework that establishes specialized protocols for first responders and behavioral health professionals when responding to a crisis related to mental health, substance use, or developmental/intellectual disability.
Goals for the Marcus Alert implementation include:
Achieving positive outcomes for individuals experiencing a behavioral health crisis
Diverting individuals away from the criminal justice system and instead to resources and supports for treatment and recovery
Raising awareness and understanding of available behavioral health resources in our community
Attendees will learn about existing Arlington resources, and how they can help inform the creation of Arlington's Marcus Alert system.