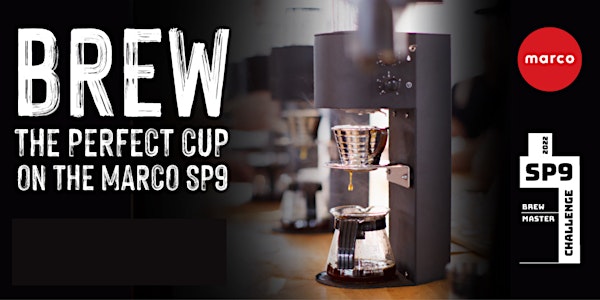 Marco SP9 Brew Master Challenge
Let the Brewing Begin! Watch as our 10 competitors go head-to-head to brew the perfect filter coffee.
When and where
Location
Victoria Arduino Australia 8 Breese Street Brunswick, VIC 3056 Australia
About this event
> Sweet Spot Prizes <
> Awesome Coffee <
> Great Food & Drink <
Doors open at 4 pm (AET)
First Knockout: 4.30-6.30pm
Cupping & Prizes: 6.30-7.00pm
Round 2: 7-9pm
Party: 9-10pm
ROUND ONE
Watch our competitors as they spin the wheel to find out what vessel they'll be using to brew.
In this rapid-fire round two competitors go head to head using the SP9 Brewer and the chosen vessel.
Coffees will be put in front of the judges for a blind taste test and only competitor will move on to the next round.
ROUND TWO
5 competitors will make it to the second round, where they will be allowed to choose their own brewing device, grind size, recipe and more.
Coffee for this round will be tasted and judged by both sensory judges and a selection of audience tasters.
JUDGES:
Demelza Jones - Founder of SameCup
Nicole Novak - Certified Q-Grader and World Brewers Cup judge.
Harry Ko - Australian Brewers Cup Champion 2022
COFFEES:
Round 1- Colombia - Eynar Ortiz (100% Washed Bourbon) HQ AAA - (86.5) - Panela sweetness, stewed pear, florals and a bright raspberry acidity.
Package - 6kg x 250g bags for competitors + ~3kg in ~150g bags for crowd giveaways.
Round 2  - 3 Coffees.**
Coffee 1) Colombia - Milton Monroy Lopez (100% Geisha  - Natural process) ML - (88) - Rich plum wine, jasmine florals, structured complex tartaric acidity, sugared red grape, guava, clean balanced finish.**
Coffee 2) Colombia - Sonia Imachi (100% Pink Bourbon - washed) ML - (88) - Structured stone fruit acidity, Honeysuckle florals, Pineapple sweetness balanced.**
Coffee 3) Guatemala - Jose Roberto Monterroso - (Finca El Morito) XGrade ML (100% Pacamara washed) - (88) - Complex sugary citric acidity, marmalade jam, white grape, very transparent, notable tropical juice on cool.
Big thanks to our sponsors: Caravela Coffee, Floozy, Victoria Arduino, Five Senses Coffee, AMC Roasters Supplies, Bombora Supplies, ECRE and Origami Brewer