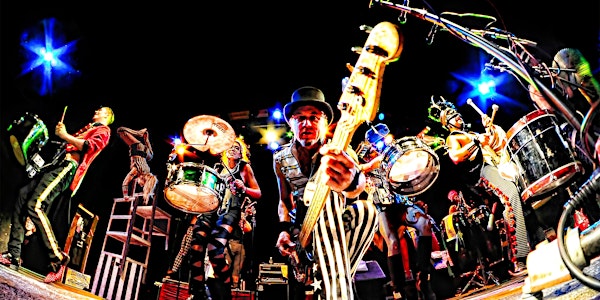 MARCHFOURTH with The Fungineers and DJ CobraWolfShark
When and where
Location
Nectar Lounge 412 North 36th Street Seattle, WA 98103
Description
12.30

Saturday

(Circus Funk)
Nectar & THE PBJ Present:
MARCHFOURTH
with The Fungineers
and DJ CobraWolfShark
$20-25 advance
21+
Nectar Lounge
412 N 36th St
BOOTH RESERVATIONS NOW AVAILABLE!
We are a majority standing-area venue with seating on our heated and covered patio as well as our newly remodeled mezzanine. All seating is first come first serve however, we do have eight booths available for reservations on our mezzanine. Booths 1-6 seat two to four people, booth 7 seats five and booth 8 seats six to eight.
All table reservations are now made at checkout.
Booth reservations are sold on a first come first serve basis.

Reserve multiple booths for larger parties and we will seat you together.

See "Additional Items" on the bottom of checkout page for available booths. If you do not see "Additional Items" unfortunately all booths are SOLD OUT.

We try our best to guarantee your reservation all night, though we ask you to arrive within 2 hours after doors open.

We no longer reserve high top tables behind booths but we encourage people to arrive early to claim available space.

We offer food service once doors officially open. See listing above for specific door time.
MARCHFOURTH
MarchFourth is a joy-inducing force of entertainment, blending brassy funk, rock, and jazz, with a visual dazzle of acrobats, stilters and more.
Their fourth studio album, MAGIC NUMBER was recorded in New Orleans, Louisiana with Producer Ben Ellman (Galactic) and Engineer/Producer Mikael "Count" Eldridge (DJ Shadow, Tycho, Galactic, Trombone Shorty) at the helm. The album is full of the captivating grooves and brassy swagger you'd expect from M4, plus a healthy dose of New Orleans magic, with guest appearance by Trombone Shorty, Stanton Moore (drums), and Matt Perrine (sousaphone). The album was fan-funded through Kickstarter (out 9/30/16).
"Perfectly merging the artistic spirit of Portland with the musical spectacle of New Orleans, MarchFourth put on one of the most complete shows of any band on any stage. From rocking big band jam tunes, choreography and feats of strength that need to be seen to be believed, MarchFourth entertains on every level every second they are on the stage…or off!" ~Rex Thomson, Live for Live Music
"From the first note to the last, the sound was pumping and the fun never stopped… It's worth noting that there are serious musicians behind all the fun. I was a music major in college and it's obvious these guys (and gals) have had lots of training and formal practice. Talented band geeks turned rebels. When one of the horn players steps up to improvise a solo, you know it's going to be a treat." ~ Tim Leffel, USAToday
"You could call MarchFourth a Vaudeville circus, or a sexy carnivalesque sideshow of animalistic proportions where all sense of decorum is beaten into submission. I call it a panoply for the senses, a celebratory feast of friends, a visually stunning performance that sears itself into your brain." ~Mike Greenblatt, The Aquarian