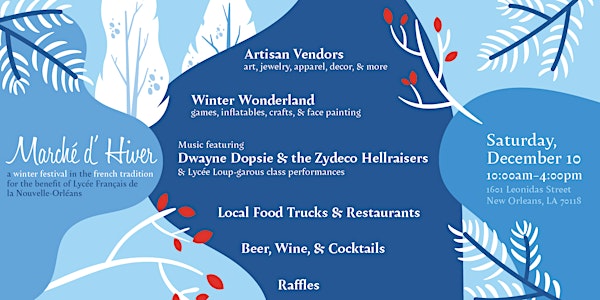 Marché d'Hiver - 2022
Marché d'Hiver, a winter market and festival in the French tradition, supporting the public charter school Lyceé Français.
When and where
Location
1601 Leonidas St 1601 Leonidas Street New Orleans, LA 70118
About this event
Marché d'Hiver, a winter market in the French tradition, is Saturday, December 10, 2022, 10AM-4PM, at the newly renovated Alfred C. Priestley school building at 1601 Leonidas St. This holiday market and festival is a school fundraiser for the public charter school Lyceé Français. There will be great food, adult beverages, kid craft & play area, live music, and amazing raffle baskets. Please come support French education in New Orleans.
Entry to the event is free and open to the public. Free entry includes full access to children's activities including crafts, carnival games, obstacle courses and face painting. To help offset the cost of this free event, we ask that you consider making a donation. Suggested donation price is $20 per child participating. If the event is canceled a refund will not be issued, as this is considered a donation.
While entry is free, e-tickets are required for all children and adults entering the event, and must be shown at gate before entry.
By reserving entry tickets and entering the event, you agree to the following:
Indemnification and Hold Harmless Clause
Marche/La Liaison shall indemnify and defend LFNO and its' officers, employees, and agents against and hold them harmless from any and all claims, losses, damages, and liability for damages, including attorney's fees and other costs of defense incurred by LFNO, whether for damage to or loss of property, or injury to or death of person, including properties of LFNO and injury to or death of event attendees, arising out of, or connected with Marche/La Liaison's operations hereunder and the production of an event on LFNO property that serves alcoholic beverages to adult attendees described herein, unless such damages, loss, injury or death is caused solely by the negligence or intentional acts of LFNO, its' officers, employees, or agents.