Marché des savoirs E-180, édition Agriculture urbaine / E-180 Knowledge Market, Urban Agriculture Edition
When and where
Location
Santropol Roulant 111 Rue Roy Est Montreal, QC H2W 1L8 Canada
Description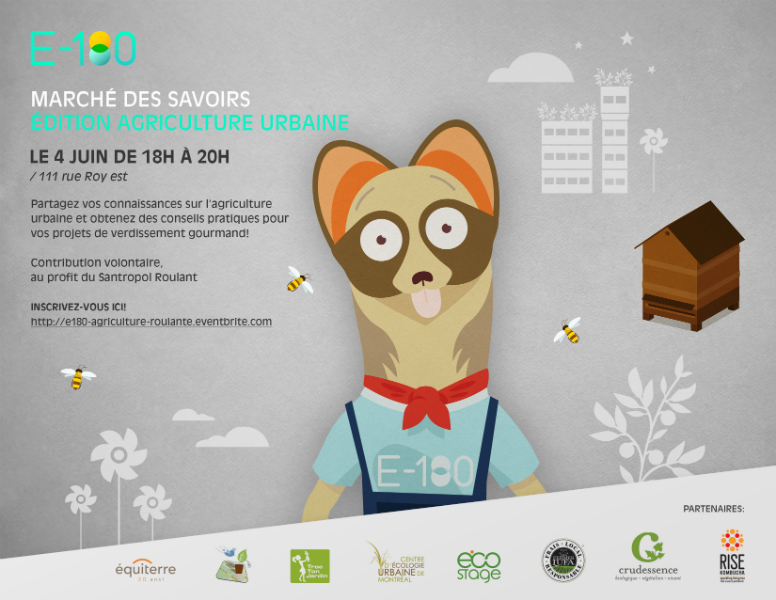 (English follows) Vous aimeriez devenir le meilleur juicer en ville? Faire pousser des bleuets sur votre balcon? Élever des abeilles sur le toit? Ou plutôt, votre pouce est si vert que vous ne savez plus par quel moyen préserver tous ces produits de la Terre…?
Mardi prochain, sur la magnifique terrasse du Santropol Roulant, se tiendra notre prochain Marché des Savoirs sur l'agriculture urbaine / jardinage: l'occasion rêvée de répondre à toutes vos questions sur le sujet, même les plus folles! (Avez-vous déjà pensé faire pousser des arachides? C'est plutôt impressionnant!)

Sur place, en plus d'échanger avec d'autres merveilleux participants venus récolter et partager des connaissances sur l'agriculture urbaine, vous pourrez aussi échanger des plants. Rien de bien compliqué: amenez votre plant dans un pot et vous pourrez, au kiosque partagé par Troc ton jardin et Plantcatching, faire le troc de votre plant contre un autre.
Au menu
Vous aimeriez avoir un accès VIP au Santropol Roulant? Une visite du magnifique toit vert aura lieu pendant la soirée. Nos partenaires seront aussi là pour guider vos délicieux projets de jardinage: Les Fermes LUFA, Équiterre, Éco-stage (Katimavik), Le Centre d'écologie urbaine de Montréal, Troc ton jardin et Plantcatching. Vous pourrez également goûter aux délices de Crudessence et de RISE Kombucha qui seront servis sur place.
Il n'y a que 100 places disponibles: inscrivez-vous maintenant! Votre contribution sera remise à l'organisme Santropol Roulant.
Ne soyez pas gênés, on a tous un pouce vert qui ne demande qu'à s'exprimer!
Pour plus d'info.

Pour apprendre à l'année, rendez-vous sur E-180!

--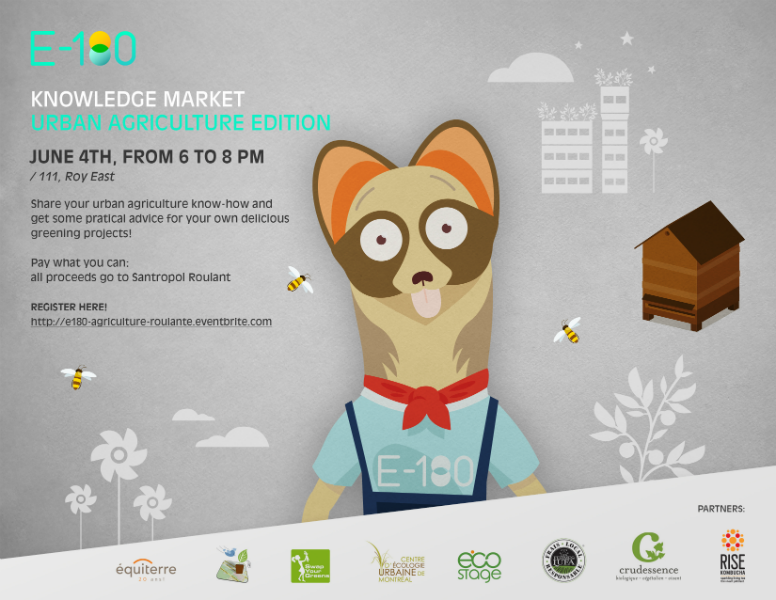 You want to know how to become the best juicer in town? To grow blueberries on your balcony? To raise bees on your rooftop? Or maybe your thumb is so green you don't know how to preserve all the produce you grow…?
Next Tuesday, on the beautiful Santropol Roulant's rooftop, will be held our next Knowledge Market on Urban Agriculture / Gardening: the perfect opportunity to answer all your questions on the subject: even the craziest! (Have you ever thought about growing peanuts? It's quite impressive!)

During the evening, not only will you have the chance to exchange knowledge with other amazing participants, you'll also have the opportunity to exchange plants. Nothing complicated: bring it in a jar and you'll be able, at the Swap Your Garden and PlantCatching booth, to swap it for a different one.
Au menu
Would you like to have a VIP access to Santropol Roulant? Join the visit of their beautiful rooftop garden! Our partners will be available to guide you through your tasty gardening projects: LUFA Farms, Equiterre, Eco-stage (Katimavik), Montreal Urban Ecology Centre, Swap Your Garden and PlantCatching. Some deliciousness by Crudessence and RISE Kombucha will also be offered.
There are only 100 spots available so register now! All proceeds will go to Santropol Roulant.
Don't be shy, we all have a green thumb that deserve to express itself!