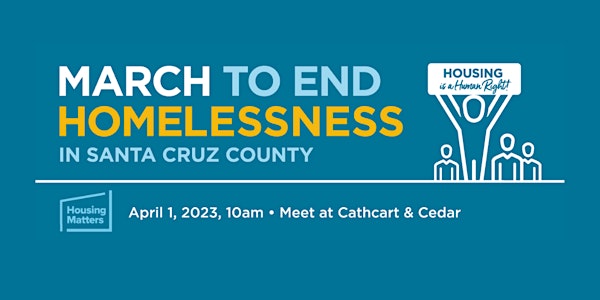 March to End Homelessness
Join our community for the March to End Homelessness this April! Come for the rally, March and festival in downtown Santa Cruz.
Date and time
Saturday, April 1 · 10am - 2pm PDT
Location
Cedar Street & Cathcart Street Cedar St Cathcart St Santa Cruz, CA 95060
About this event
On April 1, 2023, a compassionate community coalition — led by local nonprofit providers, businesses and hundreds of community members— will march and rally near downtown Santa Cruz to end homelessness. This is a milestone event, the first of its kind in Santa Cruz County; please join us as we recommit to addressing this crucial societal issue.
As a coalition of service provider partners, we take action by supporting public policy that strives to end homelessness, while further informing our community about homelessness — challenging and dispelling the myths surrounding it. We recognize that we share the goal of ending homelessness with many individuals and organizations, and we aim to break down these silos countywide, formalizing and publicizing our collaborative efforts to end this crisis.
The March is an opportunity for Santa Cruz County neighbors and friends to gather, connect and together give voice (and steps!) to end homelessness. By marching together on April 1, we will unite our community and show solidarity with our neighbors experiencing homelessness. The event will also elevate our vision for the future, building momentum for solutions to combat homelessness here in Santa Cruz County.
With a wider community reach through this event, we will expand the conversation surrounding homelessness, and continue the efforts to end homelessness in our community. Show your commitment and support by connecting with us, and marching shoulder-to-shoulder through the heart of Santa Cruz County.
Agenda:
The timeline is as follows:
10 am: Rally begins at the corner of Cathcart and Cedar streets.
10:30 - 11:30 am: March begins, and will last approximately one hour. Attendees will march along Pacific Avenue in downtown Santa Cruz.
11:30 - 12 pm: March ends at the Santa Cruz County building
11:30 am - 2 pm: Festival grounds open at the Santa Cruz County building, open to the public and those who participated in the March. Attendees interested in participating in the festival at the County Building can join in the festivities beginning at 11:30 am. The festival will include live performances, a maker's market, food trucks and a resource fair showcasing our coalition partners.
Frequently asked questions
Where is the event taking place?
What partner groups are participating in the event?
What's the route for the event?
Will there be snacks or drinks?
What items are prohibited at the march?
Are there bathrooms at the march?
Can I bring my dog, my bike and/or my stroller?
Can I participate if I use a wheelchair or have mobility issues?
Who can I reach out to for additional accommodations?
Are there opportunities for volunteering at the march?
Where can I park if I need ADA parking?
What's the plan if it rains?
What are the COVID-19 precautions?
What if I have more questions?