Description
I hope you all are getting ready for our March MUDness event on Saturday. Here is an update... March MUDness Staff will be at Sports Authority today from 4pm-7pm for Advance Check-In for Saturday's Mud Run. Be sure to skip the lines on race day. Come on by today and get your Bib Number, Shirts, Race Day Map and Goodie Bags. All March MUDness participants will receive %15 Off with this coupon and a $20 Off a $100 purchase at Sports Authority. We will also have waivers available to sign there. We will also be on site at Sports Authority to register people who have not yet registered so tell your friends. Don't forget to bring any used shoes and of course the shoes you will get muddy to donate on Saturday. These shoes will be recycled. We will have a donation box set out prior to the Mud Run on Saturday in front of the Youth Center at Nativity if you have any extra pairs to donate before the run. If you would like to download and print out your waivers and sign before you come to Advance Check-In or Race Day Check-In click here. Team and Group Heat Runners don't forget there will be prizes for the Wildest Team and prizes for the Craziest Dressed Team. Those who are in our competitive heats a reminder that there are first, second and third place prizes and trophies for male and female runners. We hope to see many of you this evening for our Advance Check-In. Have a great day!!! Justin Lantz March MUDness Staff p style="text-align: center;">
LET THE MUD BEGIN!!! March 14, 2015
http://youtu.be/u9nOWvaaycQ
This 1.5 Mile 17 Obstacle Mud Run at Nativity will leave you crying for your mommy. Are you up for the challenge?
WHAT YOU GET?
EXERCISE!!!, MUD RUN SHIRT & SUPER COOL MEDAL
WHO CAN PARTICIPATE & PRICES?
EARLY REGISTRATION: Now - February 14th
LATE REGISTRATION: February 15 - March 7
REGISTRATION AFTER MARCH 7 & ON SITE REGISTRATION: EXTRA $10 (Not Guaranteed A Shirt or Megdal)
9:00am Adult Heat (Competitive) 18 & Up: EARLY REG.-$35 LATE REG.-$45
9:15am High School Student Heat (Competitive): EARLY REG.- $35 LATE REG.-$45
9:30am Team Heat 6 & Up: EARLY REG.-$30/Per Person LATE REG.-$40 (Teams of 4 or more)
10:00am Open Heat Ages 13-113: EARLY REG.-$35 LATE REG.-$45
10:30am Kids Heat (Competitive) Ages 6-12: EARLY REG.-$25 LATE REG.-$35
Prizes:
*Adult Competitive Heat: Participants Must Complete Every Obstacle To Be Eligible For Prize.
1st Place Male & Female: $100 Worth Of Prizes
2nd Place Male & Female: $75 Worth Of Prizes
3rd Place Male & Female: $50 Worth Of Prizes
*Team Heat:
Prizes For Best Dressed
Prizes For Loudest/Wildest Team
*Open Heat:
No Prizes On Open Heat
*Kids Heat: Participants Must Complete Every Obstacle To Be Eligible For Prize.
1st Place Male & Female: $50 Worth Of Prizes
2nd Place Male & Female: $25 Worth Of Prizes
3rd Place Male & Female: $15 Worth Of Prizes
SPECIAL BONUS
Vendors, Music, Photo Booth, Refreshments
---
THE OBSTACLES!!!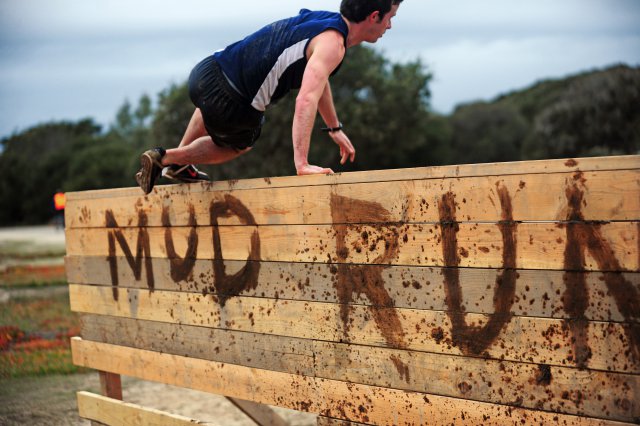 HEY JACK!!! Stacks: Giddy Up over the 12ft. of hay and Doe-See-Doe a cowboy pose. HEY while your at it look out for buckets of water round the bend!
Low Down: How low can you go? Get down and dirty on this low crawl MUDness test!
Tire Pull: We don't roll tires here we dredge them through MUD, on their side, with a rope, burning calories, and did we mention it's MUDDY!!!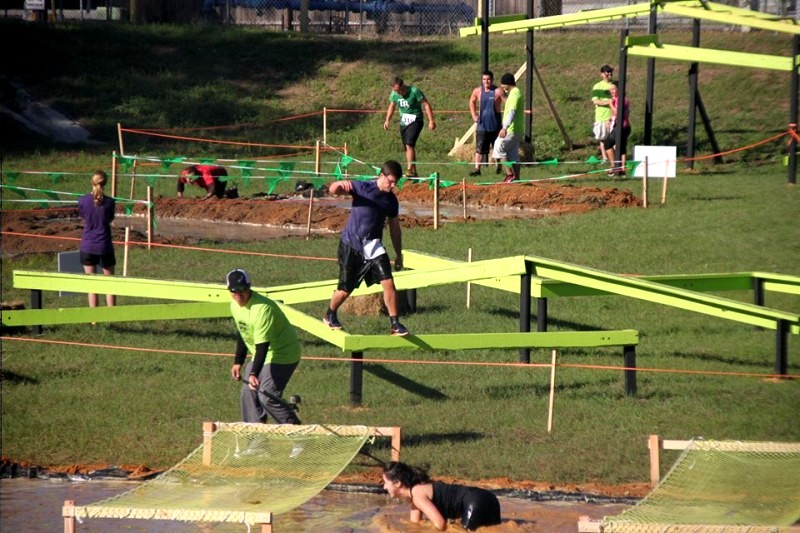 Mr. Sand Man: Participants are sure to carry their own weight as they lug sandbags down the road in this brute test of endurance and strength!!
Tire Treck: Move, Move, Move!!! It's all about the agility as participants tediously toil through tantalizing tires.
Slip N' Slide Alpine: Slide your way down Retention Hill on soap suds into the MUD. Then get up and smack your friend a high five but don't get soap in his eyes!!!
Retention Hill Rope Climb: You may need to give your neighbor a boost up from the back on this one. The muddy hill might leave your face in the mud if all you've been pumping for the last few years is gas and not iron!!!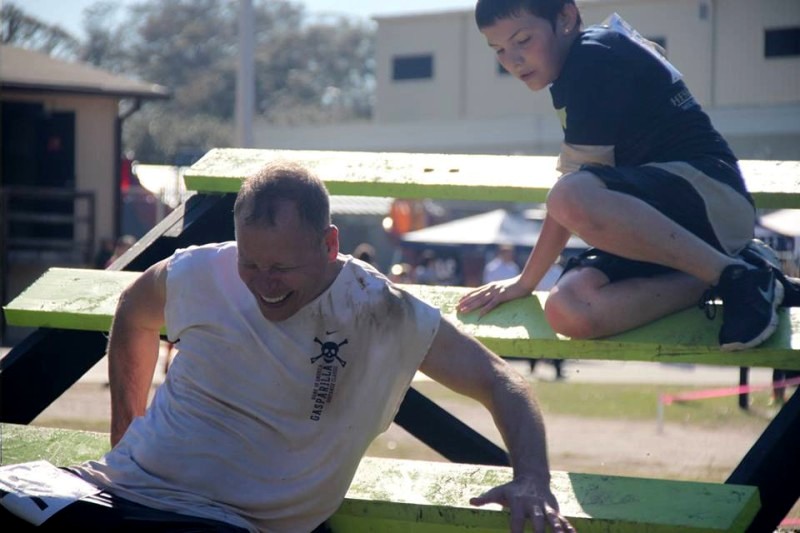 Crazy Crawl: Since we know you have this love and fascination with Mud we decided to give you some good quality one and one time!

Sewer Rat Tunnels: Scour through a 12 ft. custom tunnel equipped to drench participants.
The Wall: Participants can test their jumping skills & upper body strength as they hurdle over the 7 ft. wall.
Cliff Hanger: You can yodel but can you yodel up a cliff with your bare hands and a rope? Yodel-ley-he-hooo!!!
Steeple Chase: We all have our Ups and Downs and in this challenge you will be clearing hurdles and dipping low. Smile for the camera and keep your head held high on this one.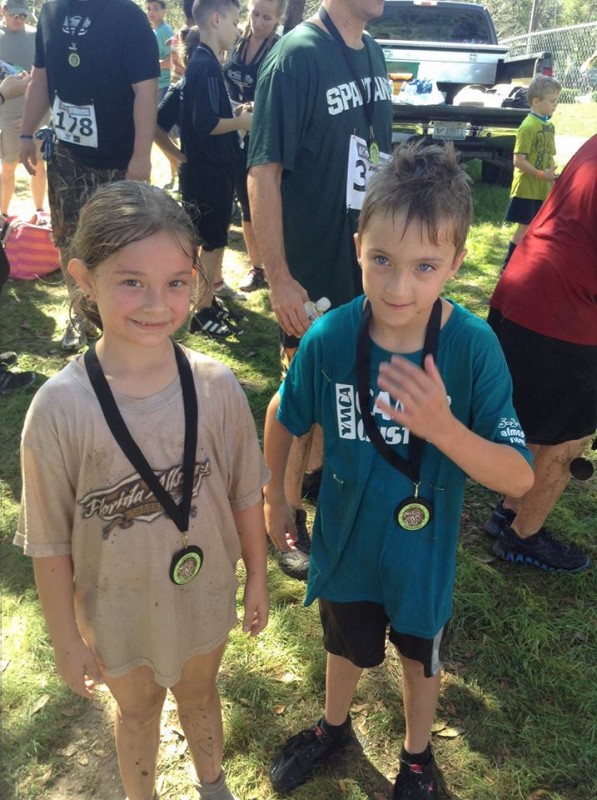 Dumpster Dive Daley: Why do people dumpster dive? Cause there's some good junk in there. Climb up into the 8 Ft dumpster, grab and old sock or some other junk and rope yourself out of this one without getting knocked over by Lauren Daley with a couch cushion. She don't want you messin' with her dumpster!!!

Fence Climb:This is the ultimate arm and leg strength test. Loft yourself up the rope fence one step at a time and flex to your friends as you strike a pose!
Web Wall: "I'm walking into spiderwebs, so leave a message and I'll call you back". Find your way through this one Gwin!
Monkey Bars: No Monkeyin' around! If you do you'll be fallin' in the MUD, with no phone to call mommy!!!
Over & Under Shower: Just so your significant other doesn't get jealous of the Mud we developed a custom Over Under Obstacle with showers. Finish the last leg of the race grinning ear to muddy ear on this obstacle!
---
What To Bring?
Guests should bring their printed paper ticket and I.D.
Please be modest in your clothing
A Water Station Will Be Provided During Race
Personal Photographers are welcome to take pictures at no cost
Arrive 1 hour before your heat to register
FAQs
Are there ID requirements or an age limit to enter the event?
Bring your ID and show up an hour before for registration. We welcome family and friends to watch the action at no cost.
What are my transport/parking options getting to the event?
Parking Is Free. Please use HWY 60 and Oakwood Ave to enter our parking lot. Bryan Rd entrance will be blocked off.
Where can I contact the organizer with any questions?
Send us an email. Youthdir@nativitycatholicchurch.org or give us a call (813)689-4147.
Is my registration/ticket transferrable?
Yes, you may transfer your registration to a different name. Please email youthdir@nativitycatholicchurch.org to do so.
Do I have to bring my printed ticket to the event?
You do not have to but just in case bring it. All you really need is your ID.
What is the refund policy?
There are no refunds. Rain or Shine we will be mud-running.