Description
We have been invited to tour the Jenison Public Schools Early Learning Childhood Center, located at 2950 Baldwin St., Jenison, MI. Mark Buczek is the Superintendent on this project and he will be giving us the tour.
Please make sure to wear:
Closed toed work shoes (no athletic shoes or sandals or high heals)

Hard hats and safety vest and safety glasses
*There will be some to borrow if necessary.
Job Site Tour will start at 5:30 pm
Dinner will follow at the Los Amigos Mexican Restaurant, a short drive from the jobsite.
Los Amigos Restaurant, 1814 Baldwin Street, Georgetown, MI 49428

Here is a Project Overview to give you a little information on the project: After the approval of a $25 million bond in May 2016, Jenison's first new school in 47 years is underway on 28th Avenue and Baldwin Street.
This two-story, 86,600 square foot building will have a total of 36 classrooms - eight of which will be dedicated to a new Spanish immersion program. Other highlights include state of the art assisted listening systems, LED lighting controls, oversized windows, two new playgrounds, and two full sized play fields.
Nicknamed the "Batman Building" for its wing-like aerial views, an initial glance at the structure's walls shows a seemingly straight and standard appearance. Walking around the premise, sweeping curves emerge among the majority of the building's walls. The rounded look supports an aesthetically pleasing design at the client's requirement, creating the need for precise workmanship and an impressive result. Installation of the walls entails customized placement of every brick and joist in use. Brick walls were used as an alternative to steel for cost efficiency, requiring less need for drywall and a more durable long-lasting result.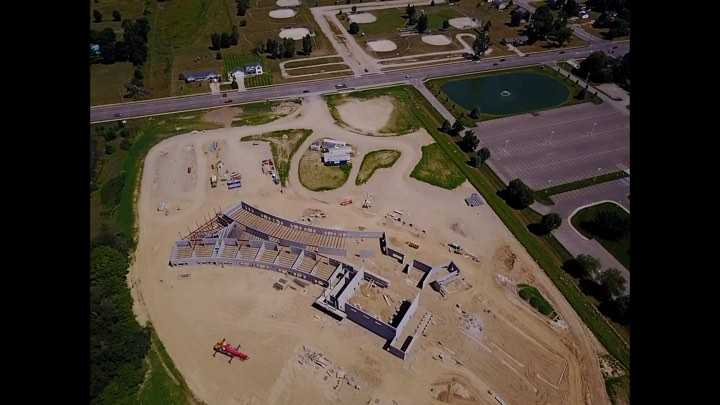 The ELCC is slated to host students at the start of the 2018 school year. Additional projects on the 2016 bond list include secured entrance updates to Jenison High School and renovations to Sandy Hill Elementary School.
(Note: Don't worry, the picture is just to show you the "batman" look of the project, it is farther along than the picture shows)