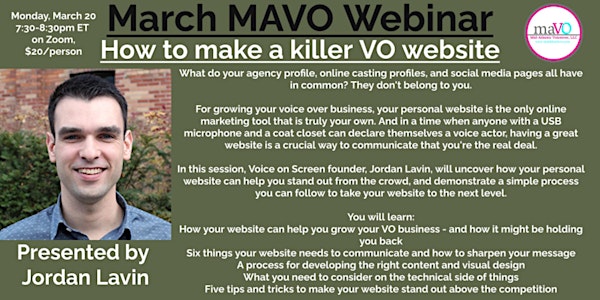 March MAVO Webinar: Jordan Lavin - How to make a killer VO website
MAVO March Webinar: How to make a killer VO website - with Jordan Lavin
When and where
Date and time
Monday, March 20 · 4:30 - 5:30pm PDT
About this event
How to make a killer VO website
What do your agency profile, online casting profiles, and social media pages all have in common? They don't belong to you.
For growing your voice over business, your personal website is the only online marketing tool that is truly your own. And in a time when anyone with a USB microphone and a coat closet can declare themselves a voice actor, having a great website is a crucial way to communicate that you're the real deal.
In this session, Voice on Screen founder, Jordan Lavin, will uncover how your personal website can help you stand out from the crowd, and demonstrate a simple process you can follow to take your website to the next level.
You will learn:
-How your website can help you grow your VO business - and how it might be holding you back
-Six things your website needs to communicate and how to sharpen your message
-A process for developing the right content and visual design
-What you need to consider on the technical side of things
-Five tips and tricks to make your website stand out above the competition
About the organizer
Mid-Atlantic Voiceover, LLC strives to offer unique, interactive, educational & networking opportunities to voice actors in the Mid-Atlantic region and beyond. These events are offered in person and online - depending on the state of the world!
There are many voice-over conferences that exist around the United States - but ours will always have a unique twist that sets it apart from the rest. MAVO is unique in that we keep the size of our conference on the smaller side on purpose. We want each attendee to have an experience where they get to work in a more hands-on setting with each guest speaker during the break-out sessions. Due to the smaller size of the event, we are able to control the size of our sessions so that they don't get overwhelming! There is usually very little or no line after a session to talk with a guest speaker and there are numerous occasions during the event where attendees can ask questions to the guest speakers. It's very much a family type atmosphere!
The main objective of our events is to help you to GET INSPIRED!! The performers and speakers for each event will be chosen due to their outstanding talents and capabilities to INSPIRE their audience! We hope that you will walk away from each event with new contacts/friends that share your love of voice-over; with new knowledge about this competitive field, and with strategies to help you towards continued success in this rapidly changing industry.