Description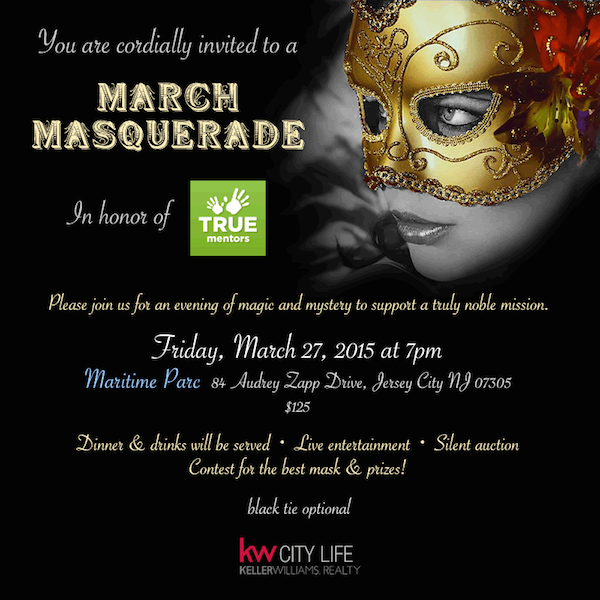 Join us at Maritime Parc in Jersey City for our first event of the year, a Masquerade Ball in honor of local youth-based non-profit organization TRUE Mentors!
With views of the stunning NYC skyline, there will be live music, a DJ for dancing, a silent auction, and more. A fresh farm-to-table buffet-style dinner with appetizers and drinks are included. All funds raised will go directly to support local organization, TRUE Mentors. Please help us make a positive difference in the lives of others in the community in which we live and work by coming out for an evening of fun.
LOCATION
Maritime Parc
84 Audrey Zapp Drive, Jersey City, NJ 07305
Event starts @ 7pm
TICKET PRICE

RSVP: $125
TRUE Mentors
TRUE Mentors stands for True Relationships Unearth Excellence; it is a one-to-one mentoring program in Hoboken, NJ. TRUE Mentors works to bring out the potential for excellence in Hoboken children ages 7-17 by building into their lives true relationships with caring adult mentors that help them unearth that potential. TRUE Mentors also offers classes and teen internship programs for children to explore and grow.
Visit their site www.truementors.org for more information.