Description
This is not your typical craft class. Make-Along is a self-guided craft workshop where participants learn new skills, explore new materials, and make great things!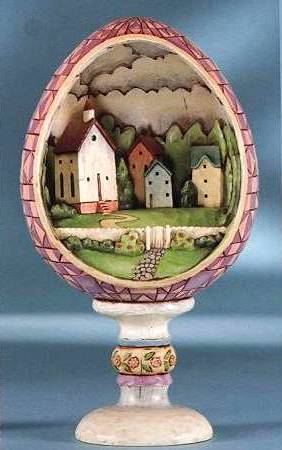 March's Topic: Miniatures—Egg Dioramas

Inspired by a weird old book we found, this month you'll make 1700's style hallowed out egg dioramas only we'll be using dremels. Consistantly one of our weirdest and most fun yearly make-alongs! If you've ever wanted to see egg-contents shoot 20 feet this is the make-along for you! Join us as we all try to make the tiniest dioramas in actual organic egg shells (and some foam ones for the vegan crowd) and fill our world's with creatures and landscapes.
Are you a beginner? We'll provide eggs, figurines, minatures, and items to help make your dioramas your own.
Are you a master? Show off your skills and inspire others! Bring a project, use our materials, and hang out in a great space while doing what you love.
(Egg sculpture at top by Jim Shore)
Organizer of March Make-Along: Egg Dioramas
NYC Resistor is a hacker collective with a shared space located in Boerum Hill, Brooklyn. We meet regularly to share knowledge, hack on projects together, and build community. Our interests range from laser-cutting to knitting, and programming to pop-up books.
All NYC Resistor events are strictly 18+, and attendees are expected to abide by our Code of Conduct, which can be found at https://www.nycresistor.com/participate/.