Description
Did you know California currently has 18 major professional sports franchises? Far more than any other US state. The sports industry is a large component of entertainment in Southern California. When you think about working in the sports industry, do you assume job positions are only available for a special privileged group or star athletes? Administrative roles in the sports industry are tough to land. Breaking through the glass ceiling can be even more difficult for women and professionals of color. In an effort to bridge the gap, LABIC and LAULYP have curated an amazing professional development and networking event. With SoCal being home to a plethora of professional teams and athletes, two new football teams coming to L.A., the billion-dollar e-gaming industry, All Star Weekend 2018, and the 2024 Olympics, we thought it only appropriate to pick the brains of the people that make it happen!
On March 15th we will host "How to Crack into Sports Management, Marketing & Entertainment" at the historic and newly renovated Miracle Theatre in downtown Inglewood. Panelists from multiple industries within sports will share their journey and provide insight on how to navigate the sports world.
Panelists include:
Kristen Ingram – Head of Affiliate Marketing, NFL Network
Johnathan Franklin – Community & External Relations, LA Rams (Dorsey Don)
Jon-Devin Carrere – Managing Producer, Spectrum SportsNet Lakers & Dodgers
Jennifer Keurulainen – Director of Competitions, Special Olympics So Cal
Arielle Moyal – Marketing Manager, BDA Sports
Jaia Thomas – Sports Attorney
Jay Tucker - Executive Director, UCLA M.E.M.E.S.
Steve Wyche (moderator) – TV Host, NFL AM, NFL Network
Please see event Details below.
Location: Miracle Theatre 226 S Market Street Inglewood, CA 90301
Doors Open at 6:30pm
Tickets are $20 for members and $25 for non-members. $30 Door.
Street Parking
Special Guest Performance by Singer Songwriter:
Nia Andrews
Partners:
Sip & Sonder™ | Black Book LA | Blavity Media | Fusicology | WLM Financial | Western Regional Diversity Conference
Open bar throughout the night and amazing food trucks will be on deck!
With dynamic panelists, great networking, an amazing guest performance, and special surprises in store, this is one event you don't want to miss!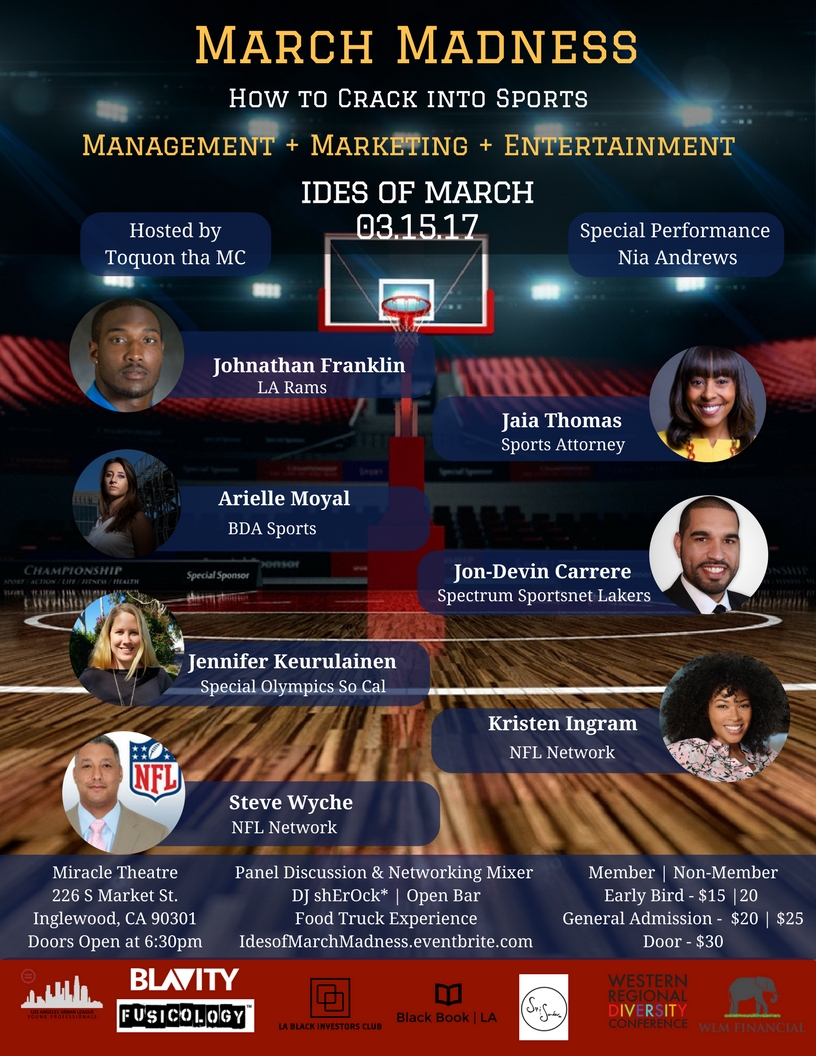 Organizer of March Madness
The Los Angeles Black Investors Club (LABIC) is a group of like minded professionals primarily from ethnic minority groups who are interested in encouraging, discussing, and learning about financial investment strategy, planning, and entrepreneurship.  It is the organization's goal to educate and encourage one another to plan for our individual and collective financial futures, build funding opportunities for entrepreneurial endeavors, educate youth on investing practices, and discuss and collaborate on financial market trends.  To learn more about LABIC, please visit www.lablackinvestorsclub.org.
The Los Angeles Urban League Young Professionals (LAULYP) is an auxiliary group of the Los Angeles Urban League and comprised of working professionals between the ages of 21 and 45.  Our members display a commitment to corporate, social, and community contributions to enhance the minority business climate in Los Angeles.  We regularly volunteer in our community through our own projects as well as the programs of the Los Angeles Urban League.  LAULYP is one of 56 chapters of the National Urban League Young Professional movement that supports the National Urban League's agenda of Education and Youth Development, Economic Empowerment, Health and Quality of Life Empowerment, Civic Engagement, and Leadership Training.  To learn more about LAULYP please visit www.laulyp.com.