Description
Celebrate the 47th Annual SF Pride Parade and the 50th Anniversary of the Summer of Love with Airbnb
Airbnb is committed to creating a world where anyone can belong anywhere. We belive tha supporting our LGBTQ+ employees and communities members is a crucial step to creating this world. We at AirPride, Airbnb's LGBTQ+ Employee resource group are so excited to invite our community to march with us in San Francisco's Pride Parade. We'll be marching to DJ tunes celebrating the 50th Anniversary of San Francisco's summer of love. Feel free to dress to the theme, bring beach cruisers, or whatever you'd like!
Anyone and everyone is invited to march alongside you - friends and family - just make sure they are registered! We can't wait to celebrate San Francisco Pride with you!
---
Check In
Location: Out contingent is meeting on Main Street in between Market and Mission. We will be on Main street in front of the Citi bank. If you are looking for us we are in the M1 section and are contingent number 132.

Time: Please arrive between 10:00am - 11:30am. All of our T Shirts and giveaways are first come first serve, so make sure to arrive early!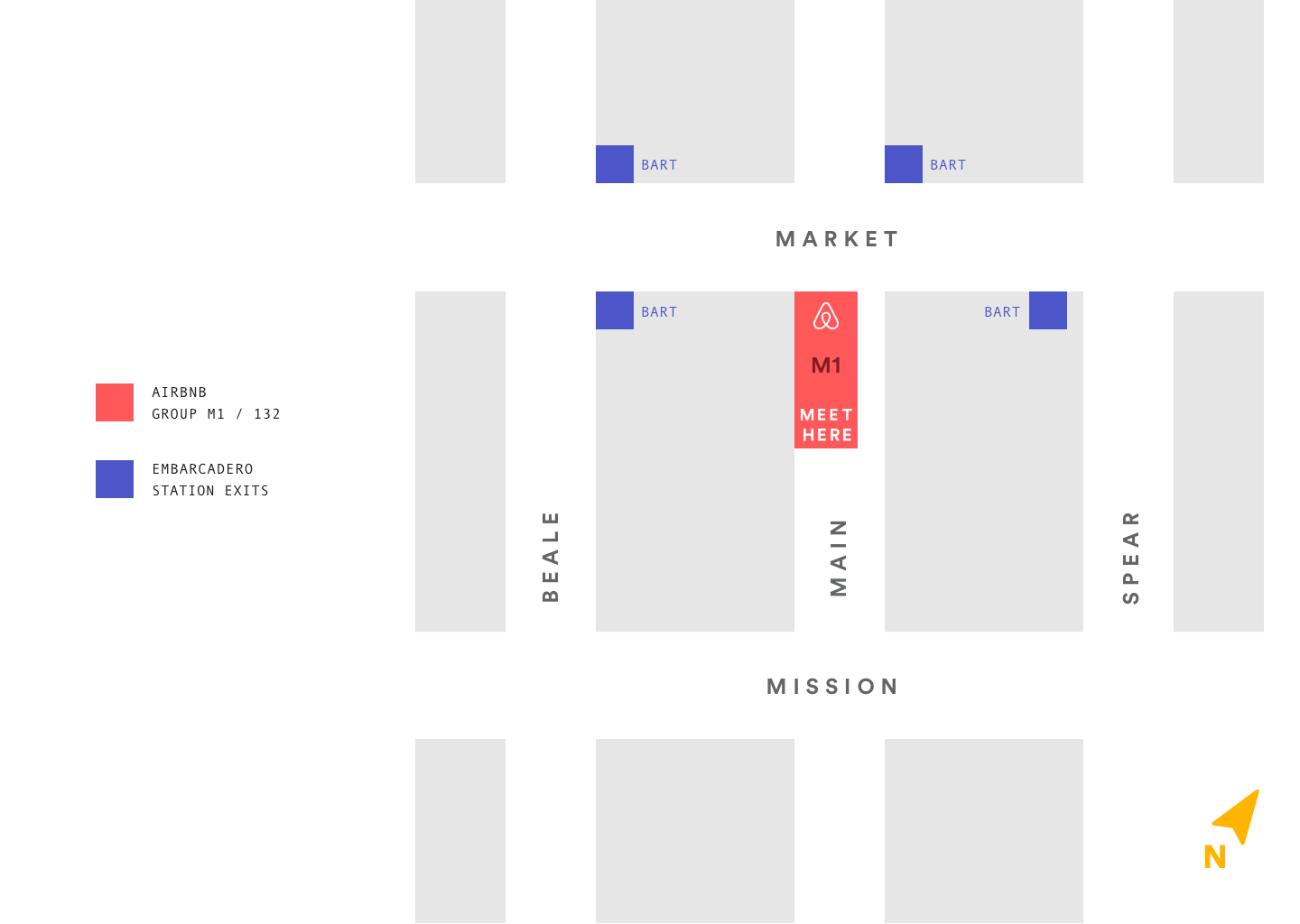 ---


Tips for Marching at SF Pride:
Make friends - we will have Airbnb team members, hosts and guests in our community. This is a great place to meet new people in San Francisco!
Bring water - no glass bottles!
Wear sunscreen!
Wear comfortable shoes!
You are more then welcome to bring your doggy friend - just make sure to have water and pick up after them :)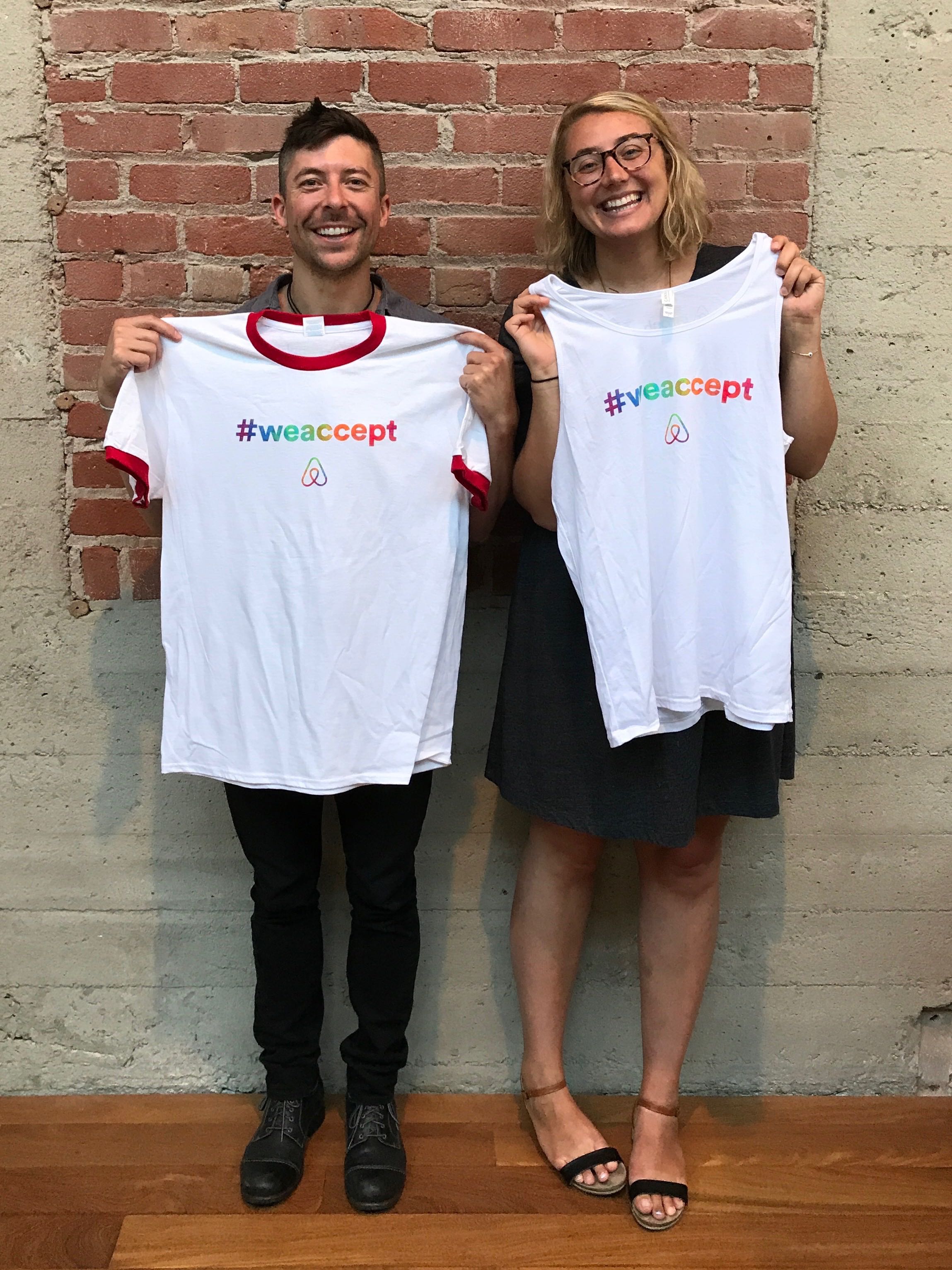 ---
We're taking photos and video during the event.

Airbnb reserves the right to use any photograph or video taken during the parade by the Airbnb team without the expressed written permission of those depicted — but of course we'll always try show your good side! Airbnb may use the photograph or video in its products and to promote them in publication or other media material produced, used, or contracted by Airbnb including but not limited to: print, television, online, social media, emails, etc.

By joining the fun on or near the Airbnb float, you are agreeing to let Airbnb use your image or likeness. Please let the photographer (or his/her assistant) or a member of the Airbnb staff know if you'd prefer that Airbnb not use your image.

Most importantly, thanks for being here, and enjoy the parade
---
Additional information from the SF Parade Organizers:
GETTING TO THE ASSEMBLY AREA
We recommend public transportation to get to the Assembly Area. The assembly area is easily accessible by MUNI or BART, using the Embarcadero Station and the south of Market exits. Driving anywhere near the Parade Assembly area or Celebration Site is extremely difficult. Parking is not permitted in the assembly area and will be restricted elsewhere.
ACCESSIBILITY WAITING AREA Accessibility seating will be provided in front of 77 Beale Street for those who cannot stand for long times while waiting for the parade to start. As your contingent marches by, you can make your way to Market Street and join in, however, if you are riding in a vehicle, we recommend you stay with your vehicle in the Assembly Area.
PARADE FLOW AND DELAYS Contingents will enter the Parade route in order: Block A followed by Block B and so on. We strive to keep the flow of the parade moving; however, delays are sometimes unavoidable. Not everyone in your contingent needs to be in position early. Only one person needs to in position to secure your spot.
PARADE ROUTE The parade will kick off at 10:30 AM sharp. The Parade will follow west on Market Street, from Spear and Beale Streets, and proceed to the end of the Parade, at Market and 8th. The Parade will turn south (left) on 8th Street. Maps will be with your packet.
PORTABLE TOILETS Portable toilets are located at the northern end of each block throughout the Assembly Area. Additional portable toilets are located at the Command Center at 77 Beale Street. Please do not use portable toilets as changing rooms. Staff and Volunteers should be given priority to the front of the line to allow them to get back to work quickly.