March ICG Real Estate 1-Day Expo

Saturday, March 7, 2015 from 10:00 AM to 6:30 PM (PST)
Event Details
ICG's Real Estate 1-Day Expo
Saturday, March 7th from 10:00-6:30pm


WHEN:  SATURDAY MARCH 7TH FROM 10:00 AM TO 6:30 PM
WHERE:  SOUTH SAN FRANCISCO CONFERENCE CENTER NEAR SFO
255 SOUTH AIRPORT BOULEVARD
SOUTH SAN FRANCISCO, CA 94080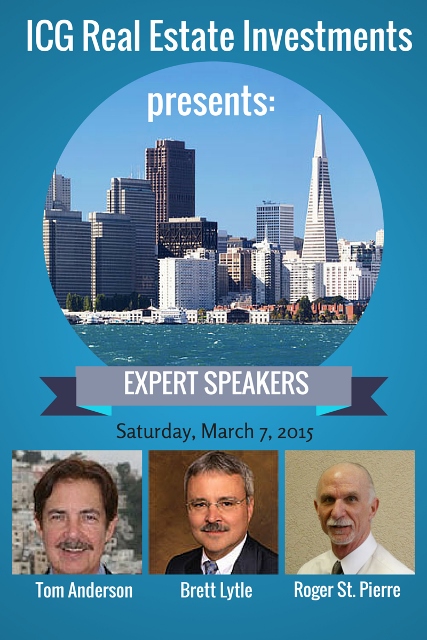 LECTURES FROM OUR GUEST SPEAKERS

TOM ANDERSON
Using your IRA funds to invest in real estate: how-to,  leverage, legality and more

BRETT LYTLE
Asset protection: updates and new changes, effective and cost-effective protection

ROGER ST. PIERRE
Getting loans for IRA-bought real estate, non-recourse loan, all in complete detail 
New markets and updates on all markets. Special deals. Extensive Q&A. Roaming experts. Incredible cash-flow opportunities!
Attorney Brett Lytle will update us on the new reality of asset protection and how to navigate the multiple needs of the investor in protecting their assets. Tom Anderson, President, Retirement Industry Trust Association (RITA), Founder and Vice Chairman, PENSCO Trust Company on buying real estate through your self-directed IRA. Roger St. Pierre, Sr. VP First Western Federal Savings Bank, on how to get a non-recourse loan for buying real estate out of an IRA - details included. Richard Advani of Wells Fargo will discuss new loans available. More lenders will present new loans for domestic and foreign investors.                                                                                 
SEE BELOW FOR WHAT ELSE IS PLANNED FOR THIS EXCITING EXPO!
MARKETS: Teams from the most interesting and relevant markets will be present. Special real estate deals will be presented with incredible CASH FLOW opportunities. DALLAS will be present with great new deals. OKLAHOMA CITY will present special new-builds. ATLANTA will be present, as well as HOUSTON and TALLAHASSEE. Many other markets will be there as well. Please visit www.icgre.com for more information about what we do.
LENDERS: Roger St. Pierre will cover non-recourse loans for IRA purchases. Loans are starting to become more available for many segments of investors and investment entities. Even foreigner loans are starting to become viable. We will discuss the latest loans, what is likely to emerge and how to maximize your borrowing potential. Many new loan programs will be discussed.
NETWORKING: We always dedicate a generous amount of time for networking and an interactive Q & A with our roaming team of experts, speakers and other like-minded investors. Don't miss out on your chance to participate in this critical expo. It sells out every quarter we offer it! The event is a fantastic opportunity for learning from other like-minded investors.
EXTENSIVE Q&A: The Q&A sessions are interactive, also one-on-one Q & A, and lots of learning takes place.
Price: $20/person or $35/couple
Lunch is NOT included.
 Plenty of free parking available.
FOR MORE INFORMATION: 
CALL: (415) 927-7504 or (800) 324-3983
E-mail: info@icgre.com or visit www.icgre.com. 
From one of our investors:  
"I have been investing with ICG for fifteen years, and the return on my investments has been consistently in double digits, and beyond in some cases. Adiel Gorel's "in the trenches" experience and expertise has been invaluable over the years, dealing with the ups & downs of real estate markets as well as my own family's growth and life transitions. I invested most recently in the Oklahoma market, and Adiel's hands-on guidance resulted in yet another smooth investment transaction. I highly recommend him!"
---David Talby
                                                                                           

 
March ICG Real Estate 1-Day Expo