March Forum: Sustainable Apparel 101

Wednesday, March 18, 2015 from 6:30 PM to 8:30 PM
Event Details
It takes over 700 gallons of water to manufacture one cotton t-shirt and one-third of a pound of pesticides to grow the cotton used for its production. The manufacturing process for a pair of jeans uses approximately 400 mega joules of energy and emits as much carbon dioxide as driving 78 miles. And that is just the beginning, since almost half of the environmental impact of an apparel item comes from consumer use and "end of life," resulting in 14.3 million tons of textile waste generated every year in the United States alone. Curious to know what all this means and what we can do to limit the environmental and social impacts of the clothing we wear every day?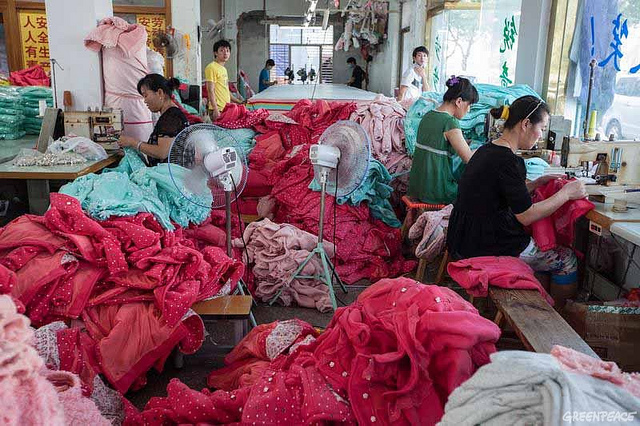 This month, our forum will explore the subject of eco and ethical fashion. We will discuss the current state of the industry and introduce designers and manufactures working to build a greener future for the apparel sector. Don't miss this intimate conversation and have your questions answered by thought leaders in the field of sustainable apparel.
This forum is free and open to the public!
Date: Wednesday, March 18, 2014
Time: 6:30-8:00pm
Location: Bard MBA Classroom
1150 6th Avenue, 5th Floor
New York, NY 10036.

Our speakers will include:
Kate Black, Editor-in-Chief at Magnifeco.com, Creator of EcoSessions 
Kate Black is the founder and editor-in-chief of Magnifeco.com, the digital source for eco-fashion and sustainable living. Kate is also the founder of EcoSessions, a global platform bringing together designers, industry, and consumers to discuss change. She is regularly featured on the Huffington Post and is highly in demand as a speaker on ethical fashion at regional and national green living events. Her book Magnifeco: Your Head-to Toe Guide to Ethical Fashion and Non-toxic Beauty, will be released in August.
Melissa Cantor, Co-Founder & Editor at Ethica 
Melissa Cantor is the co-founder of shopethica.com, an online ethical and sustainable fashion boutique. Prior to launching shopethica.com, she was a lifestyle journalist whose work was published by New York magazine, CNN and NBC. She also created digital and social content for brands including Tiffany & Co., L'Oréal and Ralph Lauren Fragrances.
Francisca Pineda, Creative Director of BHAVA, Founder of Ethical Fashion Academy 
Francisca Pineda is an award winning fashion designer with over 15 years of experience in apparel and accesory design. She is creative director of BHAVA, a cruelty-free footwear and accessory brand. An advocate for ethical practices in the fashion industry, Francisca launched the Ethical Fashion Academy in 2012, a community-focused initiative that organizes educational events featuring industry leaders and a yearly hands-on educational Sustainable Design Workshop in Costa Rica. As an adjunct professor of sustainable design at the Fashion Institute of Technology, she is passionate about inspiring the next generation of designers and entrepreneurs to incorporate a holistic approach to sustainability.
co-hosted by Net Impact Bard MBA

When & Where

Bard MBA Classroom
1150 6th Avenue
5th Floor
New York, New York 10036


Wednesday, March 18, 2015 from 6:30 PM to 8:30 PM
Add to my calendar
Organizer
GreenHomeNYC
A community-oriented, volunteer-run organization, GreenHomeNYC's mission is to promote an energy efficient and sustainable built environment and to support green professional development in New York City.
The organization provides sustainability information to the general public and technical education to advance sustainability careers through a diverse array of programming, events, peer-to-peer mentoring and networking opportunities. 
GreenHomeNYC is a New York State registered, 501(c)3 tax-exempt nonprofit corporation.
March Forum: Sustainable Apparel 101