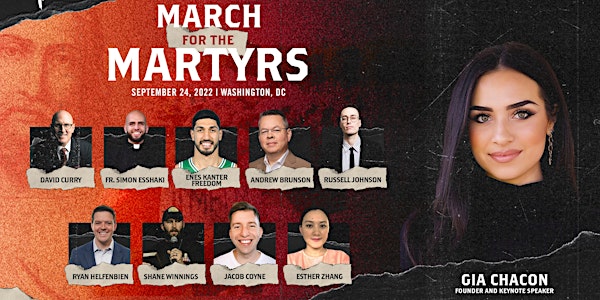 March for the Martyrs: Stand with Persecuted Christians Around the World
Stand in solidarity with persecuted Christians around the world at March for the Martyrs!
When and where
Location
National Mall Independence Ave SW & 15th Street NW Washington, DC 20002
About this event
Every year, the number of Christians persecuted for their faith continues to increase. Despite the growing crisis of Christian Persecution, the issue is widely ignored by the media and often overlooked within our communities of faith. You can change that.
Be a voice for persecuted Christians at March for the Martyrs on Saturday, September 24th in Washington D.C.
Schedule:
3:00 - Kick-Off Rally on the National Mall (Sylvan Theater, near the Washington Monument)
4:00 - March for the Martyrs procession
5:00 - Night of Prayer for the Persecuted at The Museum of the Bible's World Stage Theater
There is no fee to register!
On September 24th, we will gather at 3 o'clock on the National Mall at the Sylvan Theater for a kick-off rally before the March for the Martyrs begins. There you will hear from survivors of persecution, sing praise and worship, and be encouraged as we prepare to march to stand in solidarity with persecuted Christians worldwide. The March for the Martyrs procession will depart from the National Mall, go through the streets of Washington, and conclude at the Museum of the Bible.
Once March for the Martyrs arrives at the Museum of the Bible, participants will enter the World Stage Theater for our Night of Prayer for the Persecuted.
The Night of Prayer for the Persecuted is a powerful evening. You will hear from survivors, learn from Christian Persecution experts, and come together in prayer for our brothers and sisters who are suffering for their faith. Expect to learn, be challenged, and feel emboldened by the courageous witness of the persecuted Church.
This event includes powerful ecumenical lineup of speakers, including Gia Chacón, founder of FOR THE MARTYRS; David Curry, president and CEO of OPEN DOORS USA; Enes Kanter Freedom, former-NBA player, and human rights activist; Esther Zang, survivor of Christian persecution in China; Jacob Coyne, evangelist and founder of STAY HERE LIVE; Fr. Simon Esshaki, Iraqi Catholic priest and media personality; Pastor Andrew Brunson, survivor of a two year political imprisonment in Turkey and teaching elder of the Evangelical Presbyterian Church; Jason Jones, filmmaker, host of THE JASON JONES SHOW and founder of THE VULNERABLE PEOPLE PROJECT; Shane Winnings, evangelist and media personality; Russell Johnson, lead pastor THE PURSUIT NW; and Ryan Helfenbein, executive director of STANDING FOR FREEDOM CENTER.